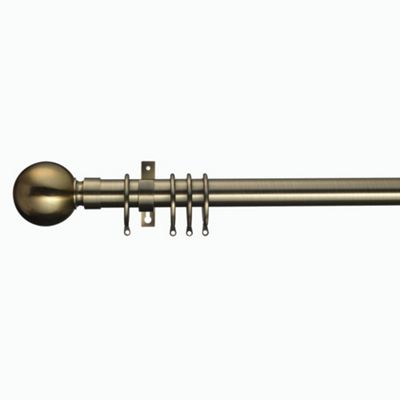 Purchasing new curtain poles for your home decor needs can be a painstaking process if proper planning is not involved in the process. There are many things to consider prior to obtaining curtain poles that a person may not think about before the purchase. It often takes more than picking out poles that are aesthetically pleasing. Taking accurate window measurements is one of the first steps that need to be performed so that the curtain pole fits the window space properly.
In addition to measuring, the shape of window must be taken into account, and the weight of the curtains to be hung is also a determining factor for which curtain poles to buy. Finding curtain poles that not only meet the size and shape requirements for windows but are designed to support the weight and style of the curtains makes any room more aesthetically appealing. Curtain poles can be purchased in retail stores, home improvement stores, and on eBay.
Measurements for Curtain Poles
Obtaining proper window measurements is essential in order to find curtain poles that fit a window area adequately. Things that need to be taken into consideration when measuring include not only include the width of the window space the rod will cover but also the height of the curtains to be hung as well.
Measuring for Curtain Length
Measuring a window space to include curtain length is important because how wide the curtains are needs to be taken into account in order to obtain the correct width for the curtain pole. If the curtains are extremely wide or larger than the window space, additional room on either side of the window frame needs to be included in the measurements. It is important that the curtains fit the pole so that when they are drawn open, there is adequate room on the pole to maximise the amount of light that enters the room. If the window space is large, it may require a curtain pole support bracket to be placed under the rod and that needs to be a consideration when purchasing curtain poles.
Measuring Window Width
Another factor that should be taken into account is the window width. Things to consider when measuring window dimensions is how far on either side of the window frame the curtain poles are placed. A curtain pole that is placed closely to either side of the window frame needs to be measured from one end of the window frame and across the width of the window to the other side, making sure to allow an additional one inch on either side. This allows for the window space to be covered adequately while still leaving enough room for bracket placement.
Curtain Pole Styles
There are various styles of curtain poles available that are on the market today and being able to distinguish the styles of various poles along with their notable characteristics is helpful in choosing the right one for a window. Below is a chart that has suggestions for curtain poles that will work well in various rooms within the home.
| Pole Style | Notable Characteristics |
| --- | --- |
| | Available in various lengths; designed to stretch to meet window requirements |
| | Designed from materials that are easy to bend, such as plastic or metal; works well in areas with arches |
| Swing | Enables curtains to move more freely when opening windows; best used with light curtains |
| | Designed to support heavier curtains; often available in styles that include spin rings for easy installation; usually used for mounting curtains within a window frame |
| Traverse | Curtains are hung by hooks that are pre-attached to a rod that allows for opening curtains by pulling a cord |
The types of curtain poles listed above also come in varieties that allow for hanging one or more rows of curtains. They are made from a variety of materials and have various decorative features that allow them to match the decor of any room. Understanding what style of pole is needed for various curtain choices also plays an important part in deciding which poles to purchase.
Curtain Poles Add Aesthetic Value
The curtains are not the only things that add style and flair to a room. Curtain poles can dramatically change the look and feel of any room and are easy to match almost any decor. They no longer need to have strictly utilitarian purposes although those are beneficial. They also can come with many decorative accessories. There are many features that decorative poles have that make them extremely attractive and versatile.
Curtain Pole Sets
Curtain poles come in a variety of styles and are also constructed from a variety of materials as well. There are many poles and pole accessories that can add value to your purchase when buying in bulk. These sets will usually come with complete hardware sets and curtain pole brackets for installation and offer a variety of models to choose from, such as single and double curtain pole sets.
Single curtain poles sets are ideal for replacing poles that have become worn or have broken. They come in a variety of styles that are ideally suited for a variety of window sizes and are perfect choices for small corner windows. Depending on model of pole chosen, they are relatively inexpensive compared to buying multiple sets are also often quicker to install too.
Double curtain pole sets are ideal choices for people who want to add a layered look to their window theme. They are usually constructed to be one complete unit that has the decorative pole showing in the front, and attached to the underside or back of the pole is a second pole. The outer pole is the one that will be seen by people and can have attractive accessorial features, such as finials. Finials are decorative caps that are placed on each end of the curtain pole. They are fashioned in many in many different styles and colours. Since the second curtain pole of the attachment is hardly seen, it typically will have less decorative caps on the ends. Besides having a double rod assembly, this type of pole also commonly has added features that allow it to be adjustable as well.
Curtain Pole Finishes
There are also a variety of finishes for curtain pole models. People often choose some of the finishes to match the other finishes of the room that the poles are placed in.
| Finish Types | Description |
| --- | --- |
| | Highly luminous metal finish that has a reflective surface |
| | Designed to make the rod appear older to match antique styles of decor; can come in various colour shades that are tinged with a charcoal colour |
| | Luminous metallic finish that resembles the look of gold |
| | Luminous metallic finish that is warm brown in colour |
| | Slightly luminous metal finish with muted colour tones |
| | Luminous metallic finish that is a light white silver |
| | Luminous metallic finish available in warm and cool tones |
Although those are not the only finishes that curtain poles are available in, they are some of the more popular choices for window treatments. There are many other styles of curtain poles that come in a variety of materials, such as wood poles and plastic poles as well.
How to Buy Curtain Poles on eBay
Purchasing curtain poles on eBay is a simple and convenient way to find the exact type of pole that can suit any room in the home, or elsewhere too for that matter. One of the features that makes this online marketplace so simple is that it you can search for the item you are looking for from the eBay homepage or at the top of any one of the pages. There are numerous search option filters that can help narrow the results returned by entering categorical information, along with advanced search options that also allow you to filter results by seller, price, and location.
Reading feedback remarks from prior customers is always helpful before deciding on a final purchase. Top-rated sellers have a highly positive history for items that they have sold and delivered to their customers, which can make purchasing items from them even more convenient. Oftentimes, there are even sellers who will be willing to allow their customers to pick up an item if they are located in close proximity to the buyer.
Conclusion
Buying curtain poles for window treatments is not a hard process if you follow the basic guidelines to go by. Trying to purchase curtain rods without taking the proper measurements and considering the style of window frames can surely be a nightmare. Taking proper measurements and understanding what types of curtain poles work best with the window types that they are chosen for can help eliminate the frustration of purchasing poles that have to be altered, returned, or exchanged.
By also taking other factors into consideration such as curtain pole sets styles and finishes, it is easy to find poles that will add aesthetic value to any room in which they are placed. Although purchasing curtain poles for rooms may not seem like it requires additional planning, following the suggested steps outlined in this guide can make the task of adding new ones to home decor much more enjoyable.