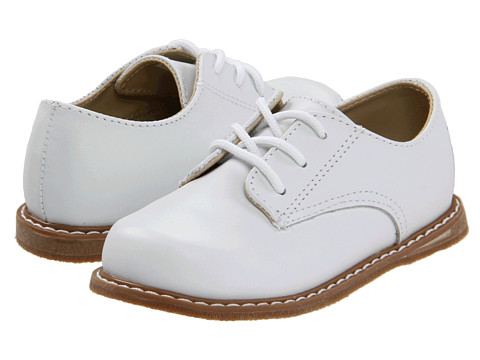 Do you want your boy to look sharp and walk around in durable shoes? Then consider buying designer boys' shoes. What was once a type of shoe that provided much more style than comfort has evolved into a type of shoe that hits a homerun on looking and feeling good. Brand name boys' shoe designers have combined innovative colours and patterns with the shoe components of rugged endurance. Many of the designer names that parents may favour for themselves, such as Hugo Boss, now offer a range of shoes for boy's. Parents can find designer boys' shoes that possess tough rubber soles, impervious steel toes, and waterproof materials. Moreover, parents can have all of these features and a pair of boys' shoes that express artistic flair.
Parents can find designer boys' shoes at upscale department stores and retailers that specialise in selling boys' shoes. They can also go online to comparison shop, including a visit to the leading online auction site, eBay. Before parents begin shopping for designer boys' shoes, they should learn about properly fitting their boys for designer shoes, the popular designer boys' shoe brands, and where to find designer boys' shoe bargains.
Designer Boys' Shoes Buying Tips
Growing boys mean growing feet. Boys can change shoe sizes more than once within the same year. Therefore, parents should periodically check their boys' shoes to make sure they still fit and that they have not started to wear. Worn areas appear near seams and beneath the sole. Look for bulging sides that reveal shoes that are not wide enough. The tips of designer boys' shoes may bend upwards, signaling the shoes are not long enough.
Once parents determine that it is time to shop for new designer shoes, they should follow a few general time-tested rules. Boys are more likely to agree with parent clothing selections when they have some say in the matter. Therefore, bring boys along for the designer shoes shopping experience. Look for stores that specialise in selling children's footwear. Sales representatives at children's footwear stores receive better training on how to handle reluctant children. Finally, stay within a predetermined budget. Today's trendy shoes turn into tomorrow's unnecessary expense.
Fitting for Designer Boys' Shoes
Obtain an accurate measurement of a boy's shoe size. This is accomplished by trained shoe sales professionals who utilise the Brannock foot measuring device for customising shoes to fit abnormal foot sizes. The following are some things to remember for properly fitting boys for designer shoes.
Measurement
Boys should stand during the measurement and they should have both feet measured. Wait until later in the day to measure a boy's feet for designer shoes, since feet swell after a day of physical activity. One foot, typically the right foot, is larger than the other. Buy designer boys' shoes that fit the larger of the two feet.
Foot Extension
Make sure boys fully extend their feet inside of the designer shoes. Boys tend to crunch their toes, and toe crunching does not provide parents with an accurate assessment of the designer shoe fit. There should be 1.25 cm of room between the edge of the shoe toe and the tips of a boy's feet.
Rapid Growth
Parents understand the growth spurts that boys go through, and thus, they tend to buy shoes that are too big in order to save money on new designer shoe purchases. Do not succumb to this cost savings temptation. Oversized shoes present safety issues, such as boys tripping over themselves and developing foot problems, because they compensate for the large size of their shoes.
Do Not Be a Heel
Many foot specialists believe the heel is the most important area to protect in the foot. Designer shoes that are pressed too tight against the heel can cause heel blisters. Designer shoes that are too loose cause bruising in other parts of the foot.
Instant Comfort
One of the myths about boys' designer shoes is that boys need time to break in the shoes before they feel comfortable. There is no such breaking in period for any type of shoes, much less for boys' designer shoes. Boys should immediately know if a pair of designer boys' shoes provides support and comfort.
Below are the UK shoe sizes for boys aged five to 16. Height is measured in centimetres (cm).
| UK Boys' Sizes | Height (cm) | Year |
| --- | --- | --- |
| 10 | 110 | 5 |
| 11 | 116 | 6 |
| 12 | 122 | 7 |
| 13 | 128 | 8 |
| 1 | 134 | 9 |
| 2 | 140 | 10 |
| 2.5 | 146 | 11 |
| 3 | 152 | 12 |
| 4 | 158 | 13 |
| 5 | 164 | 14 |
| 6 | 170 | 15 |
| 6.5 | 176 | 16 |
You should keep in mind that all boys' feet grow at a different rate, and this chart is just a general guideline to size. It is common for boys to wear shoe sizes that may not always correlate with the standard size for their age.
How to Choose Designer Boys' Shoes
Designer boys' shoes should have some type of fastening mechanism, such as velcro, laces, or buckle clip. Backless and slip-on designer shoes may appear chic, but boys run the risk of foot injuries by wearing shoes that may fall off their feet. Designer boys' shoes should possess patterned or textured soles that provide traction even on slick surfaces. In addition, the soles should be made of thick, sturdy material that protects the feet from pain and injury, yet flexible enough to bend when the foot bends. Ask the children's shoe sales representative to recommend designer boys' shoes that are constructed with breathable materials. Canvas and leather offer unparalleled durability and both materials keep boys' feet cool and dry. Designer boys' shoes that absorb and repel moisture eliminate blisters and other foot discomfort issues. When in doubt, stick with one of the popular designer boys' shoes.
Popular Designer Boys' Shoes
Persuasive sales copy and likeable television commercials may prompt parents to choose certain brands of designer boys' shoes, but the fact remains that the most popular designer boys' shoes garner favourability because of their style and functionality. Four brands stand above the rest in the designer boys' shoes market. Here are the brands and their most noteworthy designer boys' shoes.
Timberland Kids Earthkeeper Boots
Parents who want to protect their boys' feet from cold and snow should consider the Timberland Kids Earthkeeper Boots. Constructed with a two-strap velcro fastener and a pull tab for easy access, these boots offer rugged durability and stylish fashion. Intricate stitching and supple dark brown leather highlight the aesthetic appeal of the Earthkeeper Boots. The lightweight, non-skid rubber sole allows boys to roughhouse inside and the mesh footbed provides ultimate breathability in the harshest climate.
Tommy Hilfiger Boys' Navy Suede Snow Boots
Tommy Hilfiger is commensurate with style, and the boys' navy suede snow boots do not disappoint parents who want their boys to stand out in a crowd. The textured outsole complements the red stripes, suede, and waterproof fabric that keep the feet warm and dry. Each boot contains a padded shaft to provide comfort, and mesh lining for absorbing and releasing moisture. Parents love the stylish royal blue laces and tongue.
Lacoste Europa White Sneakers
From the company that is known for its iconic crocodile, these white velcro sneakers fit snugly around the feet, without applying much pressure against the skin. The three velcro straps are easy to release and the sturdy, yet pliable sole provides support and comfort. Blue and white stripes that line each grip sole adds a visually appealing final touch.
Vans Velcro Sneakers
Boys who wear Vans Velcro Sneakers can barely feel the supple materials used to construct the shoes around their feet. The rubber outsole provides additional spring in each step, while the velcro fasteners ensure the sneakers remain snug around a boy's feet. With a cushioned insole and gripped outsole, Vans combines functionality with a cool black design.
How to Find Designer Boys' Shoes Bargains
Designer shoes typically cost more than other types of boys' shoes. However, parents can utilise four strategies to stay within their budgets.
Out of Season
Like any other type of shoe design, boys' shoes are designed, and constructed, for specific seasons. Stores, such as Nieman Marcus, need to clear out end-of-season designer shoes to open space for new season designer shoes. High-end department stores run sales to ensure they recoup some of the money they invested in seasonal shoes. Look to buy boys' designer sandals at the beginning of autumn and designer winter boots towards the end of March.
Used Shoes
Who said designer boys' shoes have to be new? Check out local consignment shops, donation centres, and garage sales for boys' designer shoes that match a boy's foot size. Better yet, go online to the leading auction site, eBay, to find practically brand new shoes at discounted prices. eBay sellers offer brand new designer boys' shoes for less than retail value because either the shoes do not fit or the sellers have changed their mind about the shoes.
Buying Designer Boys' Shoes on eBay
Parents find a wide selection of designer boys' shoes on eBay. They simply type a few keywords into eBay's search engine and then navigate through the search results pages. You can type "boys' designer shoes&" to start a search or type specific keywords that reduce the number of search results pages. For instance, typing "boys' Ralph Lauren shoes&" or "boys' designer boots&" shortens the amount of time of analysing the search results. Once you find a seller that offers the type of designer boys' shoes that match your shopping criteria, you can go to the seller's product page to review accepted payment methods, delivery terms, and return policies.
As you navigate through seller product pages, you may notice the top-rated seller ribbon that eBay awards to its most reputable sellers. These sellers have established a reputation for selling high-quality products and offering generous return policies. Consider these sellers, as well as sellers who have received positive customer feedback over the past year for selling boys' clothing. eBay buyers review customer feedback on sellers' product pages. Once you build a business relationship with a seller, you can buy directly from that seller by visiting the seller's eBay store.
Conclusion
Parents can find designer boys' shoes for every season. From Tommy Hilfiger boys' boots in the winter to Vans Velcro Sneakers during the summer, boys can walk around in some of the most stylish shoes available. Moreover, designer boys' shoes also incorporate features that ensure durability and comfort. Boys benefit from pliable rubber soles that provide support and mesh inner lining that allow designer boys' shoes to eliminate moisture build up inside of a pair of designer boys' shoes. Designer boys' shoes are much more than a crocodile or polo logo.
The evolution of designer shoes also includes affordability. What were once boys' shoes for the wealthy now have mass appeal because parents can find designer boys' shoes at discounts. All they have to do is wait for off-season sales, buy slightly used designer boys' shoes, or comparison shop by simply searching the name of the designer boys' shoe. Savvy parents implement all three money saving strategies, as well as visiting eBay to find sellers who offer brand new designer boys' shoes at incredibly low prices. Since boys experience unexpected growth spurts, parents need to know how to find durable and stylish designer boys' shoes in a short amount of time.