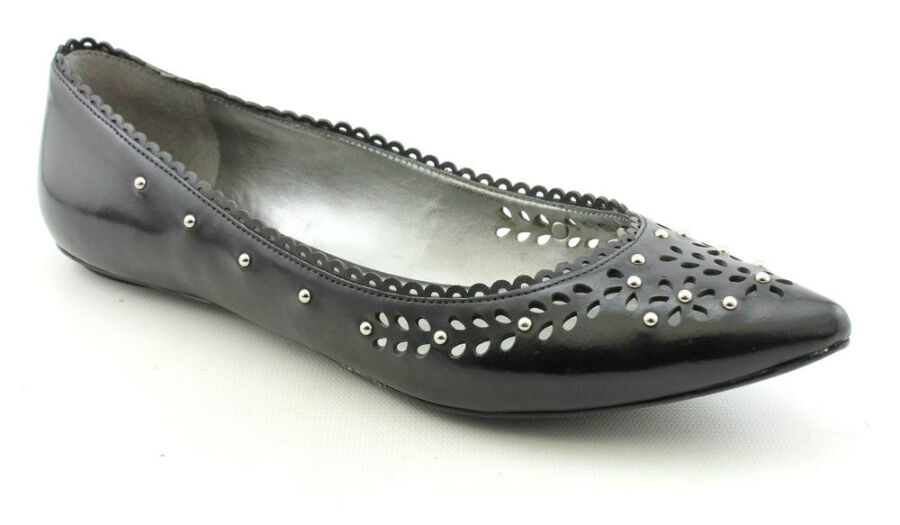 A good pair of designer flats make a statement about a woman. What that statement is depends upon the woman purchasing the flats. Like any pair of good shoes, designer flats can be more comfortable and last longer than a pair of off-brand flats. Many people prefer flats, both designer and off-brand, because of the shoes' lack of a heel. This makes them easier to wear, particularly in places where you are standing for a long period of time. Flats are considered as a dressy, yet comfortable, alternative to a high heel shoe.
Several fashion designers make high-end flats. These shoes are usually well designed, sturdy, and are supposed to last a long time. Women's designer flats can be purchased from shoe shops, department stores, and through websites, such as the popular auction site eBay. If you are considering buying a pair of designer flats, you should know your size, the different designer brands, and how to spot a fake.
Finding the Correct Size of Designer Flats
A designer flat that does not fit well can be as uncomfortable as any shoe. Since many people wear flats to work, social activities, or events, comfort should be a top priority. There are a few ways to determine your size for any shoe, including designer flats. One of the easier ways to measure feet for flats is to stand on two pieces of paper and have a friend trace your feet. This provides a template to compare shoes against and it allows you to measure the length of your feet. To measure the length, just use a tape measure or tailor's tape measure. Place one end of the tape measure at the end of the longest toe and measure to the heel of the foot. This can be done on the template or on your actual feet.
To measure the width of a foot you need a tailor's, or flexible, tape measure. Wrap the tape measure around the highest and widest part of the foot; this should give you an accurate width. After this is done, the measurements should be compared to a size chart to find the alphanumeric shoe size.
Size

(UK)

2

2.5

3

3.5

4

4.5

5

5.5

6

6.5

7

7.5

8

8.5

9

9.5

10

11

12

13

Length (cm)

20.7

21.2

21.6

22

22.4

22.9

23.3

23.7

24

24.6

25

25.4

25.9

26.3

26.7

27

27.3

27.9

28.5

29

Width

N-AA

6.7

6.9

7.1

7.3

7.5

7.6

7.8

8.0

8.1

8.3

8.4

8.6

8.7

8.9

9.0

9.2

9.4

9.7

10.0

10.3

Width

M

7.7

7.9

8.1

8.3

8.4

8.6

8.7

8.9

9.0

9.2

9.4

9.5

9.7

9.9

10.0

10.2

10.3

10.6

10.9

11.3

Width

W

8.6

8.8

9.0

9.2

9.4

9.5

9.7

9.9

10.0

10.2

10.3

10.5

10.6

10.8

10.9

11.1

11.3

11.6

11.9

12.2

Width

WW

9.6

9.8

10.0

10.2

10.3

10.5

10.6

10.8

10.9

11.1

11.3

11.4

11.6

11.8

11.9

12.1

12.2

12.5

12.9

13.2
The length and the width are both very important because flats that are not long or wide enough may pinch or constrict around the feet. A good fit is also necessary because of the swelling that may occur if a person is on their feet all day. If the shoes do not fit properly, one can do damage to toes, ankles, knees, hips, and back. The size may vary slightly with different designers, such as with clothing.
Designs and Designers
Like anything in the fashion world, there are a variety of designs and designers of flats. There is the open-toed flat that is very popular for warmer climates, and amongst those who want to show their toes. This could be a pair of strap sandal-like shoes or shoes where the toes just peek out. This type may be worn for both casual and formal occasions.
The other main design is the closed-toe flat. The closed toe is more of a business alternative to the open-toed flat. The flats can be worn with dresses, business suits, skirts, jeans, and shorts. They are one of the more versatile pairs of women's shoes. Each of the major designers make both of these styles.
The more well-known designers can be found online at sites like eBay, or in high-end specialty shops. The top 10 designers are Jimmy Choo, Manolo Blahnik, Marc Jacobs, Chanel, Prada, Giuseppe Zanotti, Burberry, Steven Madden, Ltd., Tory Burch, and Stuart Weitzman. Each of these designers offer both heels and flats.
How to Recognise Fake Designer Shoes
Since designer shoes are usually expensive, the practice of making copies of these shoes and selling them under the designer's name is fairly common. Some of these copies are sold at slightly cheaper prices than the real ones. People are often fooled by these fake shoes and end up spending a lot of money on something that is not as durable, or that is not from the designer he or she expected. A few tricks to identify a fake shoe help buyers spot a fake from the real thing. The first thing that needs to be done is to research the shoes that you want. Look at the logo, stitching, and overall design of the shoe. Find out what designers are charging for the specific shoe that you want.
Too Good to Be True
One of the easiest ways to pick out a fake is when the price is too good to be true. Some of the designer flats can cost several hundred pounds. If the shoe that you are looking at is way below the price from the designer, it may be a fake. This is not to say that all low-priced designer labelled shoes are fakes, just that a buyer should be wary and check into the seller's reputation.
Ask Questions
Anyone who is selling a product should answer questions about the product. This goes for shoes as well as any other product. Reputable sellers are happy to answer questions about shoes. If the seller is evasive or refuses to respond to questions, especially online, it can indicate that the shoes are not real designer shoes. Requesting close detailed pictures from all angles is an excellent idea. Asking the seller for information on the material, quality, and wear on the shoes is also a good thing to do. If the seller refuses to answer the questions, or dodges them, then it should tell you that there is something wrong with the deal.
Read Buyer Reviews
Many places offer buyer testimonials or feedback. Checking the reviews provided by previous customers is always a good thing to do. If you ask for reviews or feedback on a seller and they are not forthcoming, it is a sign that he or she may not be reputable. Many sellers, including those on eBay, have feedback sections that can provide you with valuable information. The feedback does not have to all be positive because there are instances where things go wrong, but there should definitely be more good than bad.
Buying Designer Flats on eBay
All of the ways to tell if a seller is on the level apply to eBay, as well as any other store. eBay is a great place to pick up designer flats. They offer a wide selection of different designers. eBay also has both new and used flats. All you have to do is type "designer flats" or a specific designer's name into the search bar and click on search. This displays the different listings they have for designer flats or for that specific designer.
eBay has the added benefit of having feedback in the form of a star rating, and a way to read specific comments about a seller. There is also a section where you can ask the seller questions or request more pictures of the product. A buyer can also check with the community on eBay to find out about the different ratings and feedback scores. On eBay, you can also see the location from which the shoes are coming. Usually, if they are new they come from a factory or from an authorised dealer, if they do not come from these sources, some investigation may be in order.
Conclusion
It is possible to get designer flats for a good price. You have to make sure that the flats fit well, are authentic, and are from the designer that you want. Most designers have different styles for their shoes, and each designer has their own unique signature. Although it is not difficult to purchase designer flats, a person needs to be cautious about where and from whom he or she purchases them. There are many sellers that try to pass off fake versions of designer flats to unsuspecting customers. You can avoid this by checking feedback or reviews, asking questions, and researching the product that you want.
A good place to look at a selection of designer shoes is the popular auction website, eBay. Not only does eBay have a wide selection, they also have easy-to-access feedback, reviews, and seller information. By looking at this information before bidding or purchasing a designer flat, you can avoid the usual pitfalls of accidently purchasing a fake.