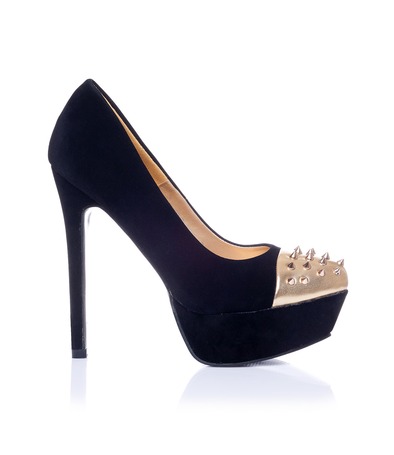 Designer heels are not just footwear, they also make a fashion statement and have been created carefully by their designers. Unlike shoes that are mass produced, designer heels have a unique design and are crafted by trained professionals. Most of the designer shoe is made using machinery, but some parts can be stitched or painted by hand. Designer heels are known for their high quality and durability, and they are significantly more expensive than other shoes. Wearing designer heels has the air of prestige and sophistication and boosts your style. Popular designers of heels are Jimmy Choo, Gucci, and Christian Louboutin.
Designer heels elevate the back of the feet from the ground to various heights and can start as low as a kitten heel and go as high as a platform stiletto heel. Some designer heels are so beautiful that they are almost artworks in their own right.
When shopping for a pair of designer heels it is helpful to understand the styles of heels, their features, materials, and sizes. Designer heels can be bought from the designer's boutique, department stores, or online retailers such as eBay where many styles, colours, and brands await the footwear connoisseur.
Styles of Designer Heels
Although designer heels have unique designs, there are some broad classifications that can help the buyer to navigate the world of designer footwear. The shape of the heel largely determines how comfortable the shoe is to wear and which outfits they can be worn with.
Designer Stiletto Heels
By definition, the dagger-like stiletto heel is very high and narrows at the tip. This can create a sexy look, but it also makes wearing the heels a difficult task. However, with enough practice, every woman can master high heels. Start by wearing them for short periods of time, and then increase the time as the muscles in the back, legs, and feet adapt, and the pressure becomes less pronounced on the balls of the feet.
Designer Wedges
The wedge heel is solid and in the form of a triangle under the sole of the shoe. Shoes with a wedge heel can be as high as stilettos, but the wedge runs under the full length of the foot supporting the heel and the other parts of the sole making the wedges more stable. Compared to stiletto heels, wedge heels are more comfortable to wear and require less practice to learn how to balance in them. Therefore, designer wedges can be worn casually or to work for a whole day.
Designer Kitten Heels
The kitten heel is characterised by its short and slender shape. Kitten heels are favoured by tall women or women in professional environments who want to wear heels, but do not want to add too much height or instability. Kitten heels are comfortable and work with any outfit from day wear to evening wear.
Other Designer Heel Types
Some of the lesser known heel types include heels that are shaped like cones or prisms. Spool heels are narrow in the middle and extend again at the tip. Designers are frequently coming up with novel ideas to make heels even more noticeable.
Features of Designer Heels
While the heel is one the most important features when it comes to designer heels, there are other features to consider when choosing a favourite design. The shape of the toe as well as the fastenings on the shoes influence their appearance and functionality.
Toe Types for Designer Heels
The first consideration about the toe is whether it is open or closed. Open toes can show off all of your toes or offer just a peek at them. The latter case, includes the peep toe style. Closed toes can be pointed, round, or square. The pointed variety is considered to be the sexiest of all, while the round toe can have a cute look and the square toe is the most conservative of all the types.
Fastenings for Designer Heels
Many designer heels are of the court shoe style and have no fastenings. However, designer heels can be fastened with leather laces passing through the well-positioned eyelets of the shoe. An array of straps can also be used around the ankle or across the middle of the foot. Some straps are simple and elegant, while others are chunky with large buckles. The choice of fastening depends on personal preferences and, occasionally, practicality. A pair of designer heels without any straps or buckles is easier to slip on, but some women may prefer the security of straps that hold the feet in place.
Materials for Designer Heels
Leather is the most widely used material for designer heels, but synthetic materials can also be used. Using a synthetic material does not mean that the designer heels are worth less as excellent design and workmanship are the bulk of the cost of the shoes.
Leather Designer Heels
Many designer heels are made of natural leather that looks good and is durable when cared for properly. Leather designer heels are healthy for the feet because they allow the skin to breathe and prevent bad odours. Moreover, leather heels stretch and mould to your feet, offering a comfortable wearing experience, eventually.
Suede is a type of leather with a soft, napped finish. Suede heels can be durable, but they cannot be exposed to water unless they have been sprayed with a protector, and even then wearing them in rain is not encouraged.
Synthetic Designer Heels
Faux suede imitates suede and is easy to wear because it is stain resistant and easy to clean. Many faux suede heels can also be exposed to water. Other synthetic materials, such as faux leather and polyester are also used. Synthetic materials require less care and can usually be worn in rainy weather.
Sizing Designer Heels
When shopping for designer heels, the buyer is investing in a pair of high quality shoes created by top designers. As they cannot be tried on before they have been purchased on eBay, it is essential to pay close attention to the shoe size before you buy them. Determine where the heels were manufactured and find the corresponding size from the following table.
| | | | | | | | | | |
| --- | --- | --- | --- | --- | --- | --- | --- | --- | --- |
| UK | 1 | 2 | 3 | 4 | 5 | 6 | 7 | 8 | 9 |
| US | 4 | 5 | 6 | 7 | 8 | 9 | 10 | 11 | 12 |
| Italy | 34 | 35 | 36 | 37 | 38 | 39 | 40 | 41 | 42 |
| France | 35 | 36 | 37 | 38 | 39 | 40 | 41 | 42 | 43 |
Many designer heels are produced in Italy and France, but sometimes shoes created by European designers can also be manufactured in the United States. When choosing the size, be careful, as Italy and France use similar numbers, but the sizes differ. Sizes also vary from one designer to the next, so a UK size 5 by one designer may be small compared with a UK size 5 by another designer. When researching the shoes, find out whether the sizes run larger or smaller than usual.
Buying Designer Heels on eBay
If you are familiar with designer heels brands, you can start your search on eBay by typing in the brand and the type of shoes that you want. For example, Gucci, Vivienne Westwood or Ralph Lauren. You can pair the designer name either with the shoes' colour, material, heel type, toe design, or fastenings. Some example searches are "Gucci stilettos", "black Jimmy Choos" and ''Marc Jacobs Heels''.
If you do not have a particular preference for a designer then start by browsing the full selection of shoes by typing "designer heels". This yields many results and you can get some inspiration. You may also sort the results by price.
Read the Item Listing
After you have found the pair of designer heels that you would like to buy, take some time before you make the purchase. Designer heels are not just any shoes, but pieces of art and this is also reflected in their price. As with other investments, consider the purchase and research well before taking any further steps. If possible, browse the photos included in the eBay item listing in order to find signs of authenticity on the designer heels. Look for labels and tags in that case of new shoes. If you are looking at used designer heels, pay attention to their condition and the known characteristics of the shoes, such as the iconic Louboutin red soles.
Ask the Seller
If you are unsure about something, feel free to ask the seller. Remember, that buying a pair of designer heels is a big decision and should not be taken lightly. A considerate purchase will pay off with a beautiful pair of shoes. The seller can also inform you about his or her refund and exchange policies, postage and packaging fees, and payment methods. These details should be listed with the item description, but when in doubt, ask. Also, read the seller's feedback and browse his or her ratings. Top-rated sellers provide the best service and make buying the designer heels a simple process.
Conclusion
Designer heels are created by top footwear designers and valued for their durability as well as their unique style. More expensive than other shoes, designer heels are sure to make an impression and therefore they should be chosen carefully. Designer heels are an investment in beauty and style and you should think through the heel height and materials that you desire in order to make the right choice.
The most characteristic part of the shoe is the heel. Both its shape and height can vary from cute kitten to dagger-like stilettos. The toe can be either open or closed, and some shoes have fastenings, such as ankle straps or buckles. Many designer heels are made of durable and flexible natural leather, but synthetic materials are also used.
The world of designer heels is available on eBay, whether they are brand new or used, they are works of art to treasure and wear.