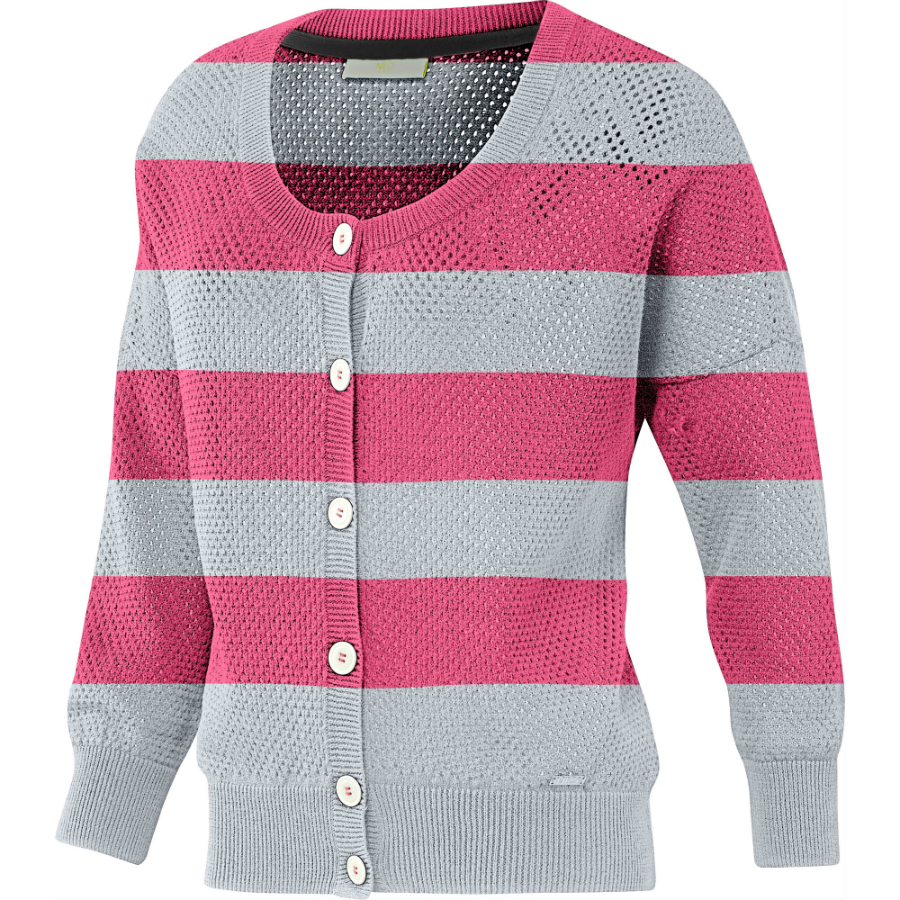 Cardigans are among the staples of a woman's wardrobe whether she is young or old, tall or short, extravagant or thrifty. It is versatile enough that it can be comfortably worn around the house and still be stylish enough for the workplace or formal occasions.
It stands to reason that someone designed every cardigan that has been sold. So what does it mean when an item is explicitly described as "designer"? For major brands, it is about authority rather than the direct input of a celebrity couturier. The person designated as designer is responsible for the work of the creative talent employed by the brand. They supervise, give advice, make suggestions, but seldom do they make the garment from start to finish.
In smaller scale enterprises though, the designer does a lot more of the hands-on work; the smaller the scale, the more work the designer undertakes in person. Ultimately, in cottage studios that make distinctive and individual products for an exclusive clientele, the designer most probably does just about everything.
There are several advantages from buying a "designer" product. The materials used in production are likely to be carefully selected. The garment will probably be better fitting and more comfortable to wear, all other things being equal, and the visual impact that it makes will probably be a consideration too. This guide aims to bring together some of the best advice available and summarize it into a handy and useful collections of tips to guide buyers to a successful purchase.
Preliminary Research
For someone looking for fresh ideas about the way they dress, a good place to start when thinking about designer cardigans is to look at the variety of garments that come under the heading, the kinds of materials that are used to make them, and the niceties that make the difference between a designer's touch and a routine piece of knitwear.
Types of Garment
The classic cardigan is a jacket made of knitted fabric. Although the name comes from a military gentleman who was involved in the campaign that also gave us the balaclava, the style was not unknown to civilisation beforehand. Having said that, knitting is a more recent invention than weaving, and knitted garments are more familiar to European cultures than some of the well-known ethnic styles that designers work with.
The most common type of cardigan features a long back, hanging from shoulders to hips, and long sleeves. There are variants though, most commonly the shrug and the bolero. Either type can be made with knitted fabrics, but sometimes they are cut from light, woven materials. Typically, too, they are shorter at the back and in the sleeve.
Perhaps the twinset deserves a space of its own because it has occupied some diverse positions in the fashion spectrum, from being the desirably stylish garment worn by such iconic film stars as Marilyn Monroe, Grace Kelly, and Audrey Hepburn in the 1950s and early 1960s, to being a staple of the work wear wardrobe favoured especially by secretarial staff and teachers. The classic twinset features a relatively tightly fitted jumper, often decorated with jewellery, and a looser cardigan jacket worn over it.
Women's Cardigan Fabrics
Among natural fibres, the most commonly used is wool. A designer label might use particular types of wool, such as lamb's wool or merino. Another highly prized material is cashmere, which is harvested from goats, while other, more exotic wools can be harvested from camels, llamas, alpacas, vicuña, and rabbits, which yield the distinctively fluffy angora wool.
The care of fine wool can be an issue; dry cleaning is often a better way of preserving the colour and shape of a woolen garment. The same is true of silk, and although this material is normally associated with woven fabrics rather than with knitwear, it is sometimes used in more exclusive designer cardigans. Cotton is a viable and common material too and has the advantage over wool of generally being machine washable. The same goes for man-made fibres, which in addition lend themselves to more vivid and brilliant colouring than natural fibres. Fibres can be blended to draw together the respective benefits of different properties, colour, warmth, and resilience.
Women's Cardigan Finishes
After the material, the next major criterion is the finish. It is the embellishments and thoughtful touches that distinguish a designer look from run of the mill cardigans.
Sleeves
The first consideration is length, and in Britain, as in many parts of the world, the season comes into the calculation with a short sleeve being ideal for summer, a long sleeve for the winter, and a three-quarter length fitting neatly in between. The most usual ways of joining a sleeve to the body are either a set-in style, which runs from the underarm seam to the shoulder, or the Raglan (named for another military figure), which runs from the underarm seam to the neck. A kimono sleeve is wide and loose, while several variants on the ruche, or puffed, or lantern look make a fancy alternative.
Down the arm, there are again a number of choices. Some notably floppy styles flare radically from the shoulder and then taper from the elbow to the wrist. Others are wide from the shoulder but are gathered more at the last moment near the wrist, while others again flare without any gathering to create an angel-wing look. Once a sleeve has been gathered, there is still scope for a flounce or ruffle as an alternative to a plain finish.
Collars and Trims
Most often, cardigans follow the neckline in a simple fashion, but a designer can add several touches to make the garment more distinctive. One way is to make a coat-type folding collar, which can have the added virtue of being extra warm and available to gather round one's ears in cold weather. Often, the collar and trim will be styled in a different colour and sometimes even in a different material.
The front of a cardigan is where trims are most often used, although sometimes they appear on sleeves too. As well as the collar, the closure can be detailed to offset the look against the main body, and pockets can be styled in a similar way. These open edges can also be finished with more elaborate trims, such as ruffled detailing or Spanish-style Flamenco edging, which is typically crocheted for a more lacy effect.
Embroidery and Embellishment
A crocheted pattern is one way of adding a substantial level of embellishment to the finished cardigan and need not be restricted to trims. Like embroidery and stitched-on elements, such as sequins, most often, such decorative details are displayed on the upper front panels and parallel positions on the sleeve. This kind of decoration lends itself to costly materials and highly skilled finishing.
One other aspect of a designer cardigan that does not fit easily under any particular heading is symmetry versus asymmetry. Some of the more eye-catching designs on the market adopt an asymmetric approach, which means that, seen from the front, one side is quite different from the other, either being patterned differently, or being longer or shorter.
Fastenings
The success of the cardigan has a lot to do with its flexibility because it can be worn open or closed, according to the mood of the moment. When it comes to closing them, there are essentially three options. One is to have no front fastening, but instead to use a belt when need be. The second is a zipper. Zips can be light and delicate, or they can be chunky. The third option is probably the most common, which is to fasten with buttons. These come in many shapes and sizes, but essentially there are two kinds: through-stitched and shanked. The former have visible holes, which offer another opportunity for finishing detail with the choice of thread colour either matching or contrasting with the button and the underlying fabric. With a shanked button, the thread is not visible.
Women's Cardigan Size Guide
Below are two tables that show the relationship between measurements and size codes. The first table shows UK standard sizes and the relevant measurements in inches and centimetres.
| UK Size | Bust | | Waist | | Hips | |
| --- | --- | --- | --- | --- | --- | --- |
| | Inches | cm | Inches | cm | Inches | cm |
| 6 | 31 | 78.5 | 23.75 | 60.5 | 33.75 | 86 |
| 8 | 32 | 81 | 24.75 | 63 | 34.75 | 88.5 |
| 10 | 34 | 86 | 26.75 | 68 | 36.75 | 93.5 |
| 12 | 36 | 91 | 28.75 | 73 | 38.75 | 98.5 |
| 14 | 38 | 96 | 30.75 | 78 | 40.75 | 103.5 |
| 16 | 40 | 101 | 32.75 | 83 | 42.75 | 108.5 |
| 18 | 43 | 108.5 | 35.75 | 90.5 | 45.75 | 116 |
The second table compares UK sizes, evaluated as above, compared to other measuring systems, and the international textile industry standard sizes. Use the UK line as a guide to the equivalent numbers in a variety of other systems, and the small/medium/large lettering system.
| Country | XS | S | M | L | XL |
| --- | --- | --- | --- | --- | --- |
| UK | 6-8 | 8-10 | 12-14 | 16-18 | 18-20 |
| USA | 4-6 | 6-8 | 10-12 | 14-16 | 16-18 |
| France | 34-36 | 36-38 | 40-42 | 44-46 | 46-50 |
| Germany | 32-34 | 34-36 | 38-40 | 42-44 | 44-46 |
| Italy | 38-40 | 40-42 | 42-46 | 48-50 | 50-52 |
| Australia | 8-10 | 10-12 | 14-16 | 18-20 | 20-22 |
| Japan | 7-9 | 9-11 | 13-15 | 17-19 | 19-21 |
The best way of taking measurements is to get someone to help, ideally a professional clothes-maker. The bust measurement should be taken at the fullest extent of the chest while wearing the undergarment likely to be worn beneath the cardigan. The waist measurement should be taken at the pinch of the hourglass, typically just above the hipbone or a little above the navel. The hip measurement, correspondingly, should be taken at the widest extent of the hips.
Buying Designer Women's Cardigans on eBay
Finding designer women's cardigans on eBay can be an involved process, even before reaching the point where you start finding designer women's cardigans. Getting there takes a bit of time and foreknowledge, so a good idea is to do some research using the search engines. Google and Bing are both good places to start. Other options include Yahoo, and there is one site favoured by British users especially, called Ask or, as it used to be known, Ask Jeeves.
Equipped with your research results, the quickest way to get underway on eBay is to type keywords into the search bar on the home page. Some searches, like "women's cardigans" will generate a lot of results, while a more detailed search such as "women's silk cashmere cardigan" will yield fewer, if any. It is often a better strategy to settle on some main search terms, and then to filter results by selecting criteria to eliminate aspects that you are not interested in. Try searching specific designer brands such as Marc Jacobs and Vivienne Westwood.
Given the specialist nature of designer clothing, it is also a good idea to check out your seller's feedback reports. Comments will often be specific as well as enthusiastic, helping you shape your choice. Once you have made a successful purchase, help others by telling them about it in the same way.
Conclusion
There are so many different styles, materials, and colours of designer women's cardigan available in the marketplace that someone could easily go shopping every day for a year and never run out of ideas. With such a wide variety of options, the easiest thing might be to browse eBay's virtual racks and make an impulse purchase. All the same, it can be worthwhile to invest some time in weighing up the various styles and materials available. With so many things to take account of, such as the season, the occasion, or the location where the cardigan is going to be worn, the chances are that the time invested in researching what is available will pay off time after time.
As well as the wide range of products offered for sale all through the year, eBay makes researching and buying easy with an array of convenient tools and resources designed to ensure that you can get the cardigan you want with full confidence in your purchase.