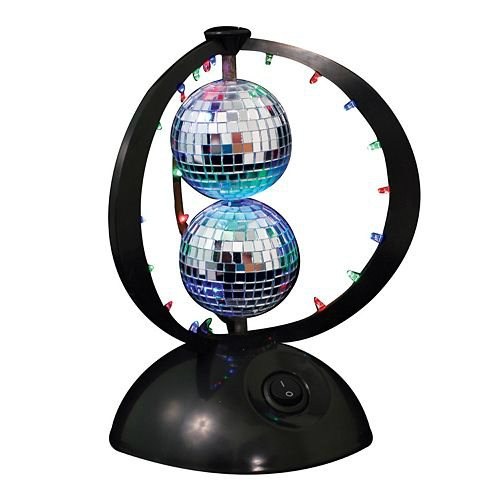 Lighting has been used to enhance live music and dance clubs since electric lighting was introduced in the 1920s, with the biggest innovations in specialised lighting effects coming in the rock and disco eras of the 1960s and 1970s. Today, the best club or party scene is the one that provides the ultimate in music and lighting effects.
To simulate club or party lighting effects in the home, or in a school or community hall, the buyer needs to purchase disco lights specifically designed to be easy to use. DJs and clubs use disco lights that are a variation of stage lighting and require learned techniques and skills to display and control the light effects. The type of disco lights mentioned in this guide differ from the types of disco lights used by professional DJs in their gigs.
A party is not complete without music and the right mood or atmosphere. What better way to enhance and liven up the party atmosphere than with disco lights. A shopper can find disco lights at specialty stores, electronics shop, or online. eBay offers shoppers the widest selection of quality disco lights. The assortment of disco lights found on eBay reflects current party and club lighting trends as well as the latest in disco lighting technology. For the buyer to make an informed purchasing decision, they should carefully consider the different types of disco lights, the general features of disco lights, and how to position the disco lights in a space.
Types of Disco Lights
The different types of disco lights can also be used separately or grouped together with similar or different types of lighting. They may come as a single lighting device or grouped and used with additional accessories such as hanging or mounting brackets, and stands. The most common types of disco lighting effects include strobe lights, the ever iconic mirror balls, laser lights, six-way LED party lights, and projectors.
Strobe Lights
Some of the earliest disco lights were strobe lights. Strobe lights can be white or multi-coloured, are fairly inexpensive, and can be positioned around a room or dance floor by either hanging them from the ceiling or allowing them to stand by themselves. Strobe lights blink rapidly, creating an optical illusion of slow motion through intense illumination of the subject or area. The light is supplied from a xenon flash lamp or tube that rapidly charges and releases the energy in the form of an intense flash of light. Strobe lights can also be synchronised with the music's tempo or beat. Recent advancements in light technology have introduced laser and LED strobe lights, providing energy-efficiency while maintaining the strobe effect.
Mirror Balls
The classic disco ball or mirror ball is an iconic symbol of the 1970s disco dance craze. These retro lights are usually featured hanging from the ceiling, with the ball slowly rotating above the dancefloor. A spotlight illuminates the different mirrors on the disco ball. The light is reflected off the individual mirrors. The result is spots of light swirling across the walls and ceiling. Some mirror balls offer multi-coloured mirrors. They come in different sizes that range from miniature versions to very large disco balls. For small areas or dance floors, a mirror ball rotating in the centre of the room provides a good focal point for the lighting display. For larger areas or dance floors, a dual rotating mirror ball affixed at the centre of the room enhances the effect of one disco ball. This popular setup can also be used with smaller areas, too.
Laser Lights
Laser lights can be purchased as LED laser lights or traditional laser lights. Traditional laser lights use electromagnetic radiation that releases photons to create directional beams of light. These beams of light, through the use of mirrors, provide multi-coloured light displays. LED laser lights, a modern technological advancement for DJ disco lights, are more energy-efficient, and have a much longer lifespan than traditional disco or laser lights. They provide a quality LED light display that outperforms traditional light displays. Laser lights come in different colours, can rotate and flash patterns, and be programmed and synchronised with the music. When using laser lights, the user must be careful to not shine the laser light into a person's eyes, as this can harm someone's vision.
Six-Way LED Party Lights
A six-way LED party light uses six colours of LED lights: two red, two blue, one green, and one yellow. The party light can be placed on a flat surface or sideways to display light on the ceiling or walls. When the music is played, the party light is activated, displaying a series of lights that chase each other in sequence, lighting up one after the other.
Projectors
Projectors are a type of DJ disco light that now uses LED lights or lasers instead of halogen lights to project or reflect light off a coloured mirror to create a pattern of shapes, such as stars or flowers. These multi-coloured patterns are motion- and music-activated. Many projectors come with a tripod or stand. With advanced technology, disco light projectors could soon evolve into exhibiting 3D holographic displays.
The following table highlights the basic types of disco lights. It focuses on the light technology and general features.
| Type of Disco Light | Light Technology | General Features |
| --- | --- | --- |
| Strobe Light | White, multi-coloured, xenon flash lamp, laser, LED | Music activation and synchronisation |
| Mirror Ball | White, multi-coloured, illuminated by a spotlight | Different sizes, single or dual operation |
| Laser | Multi-coloured, laser, LED | Music activation and synchronisation |
| Six-Way LED Party Light | Multi-coloured, LED | Music activation and synchronisation |
| Projectors | Multi-coloured, laser, LED | Motion and music activation |
The table above illustrates the types of light technology used, and some basic features of the different types of disco lights. Most types of disco lights provide energy-efficient light displays that are programmed and synchronised to music. They offer multiple colours and appealing patterns.
Location and Room Size
The location and room size are important factors to consider when selecting the appropriate disco lights. Disco lights can be used in private homes, clubs, at concerts, or any location that requires a quality light display to enhance the party's music or programme. Disco lights should be used indoors, because they are not usually weather- or water-proof. For a small room or area, too many disco lights with powerful illumination can be overwhelming to the observer. The illumination may be visually bothersome or aesthetically overdone to the point of detracting from the overall quality of the light display. For a large room or area such as a dance floor, not enough disco lights and illumination can diminish the overall atmosphere or mood. This takes away from the intended effect of providing a high quality, vibrant light display.
Buying Disco Lights on eBay
eBay offers a wide variety of quality brands of disco lights at affordable prices. The brands include the basic types of DJ disco party lights, such as strobe lights, mirror balls, laser lights, six-way LED party lights, and projectors. eBay also offers the buyer the opportunity to find hard-to-find brands of disco lights not found in other stores. eBay offers a vast selection of disco lights for any occasion.
To shop for disco lights on eBay, the buyer should go to the eBay homepage and type in 'disco lights' in the search bar. If the buyer knows the specific type of disco lights, they can enter that information in the search bar also. This directs the buyer to a page of listings for disco lights. Most of the listings indicate if the item is new or used. The listings also describe specific features about the disco lights and if any accessories come with them.
The buyer can also sort the listings based on the sellers' feedback scores. One can simply select 'eBay Top-Rated Sellers' under the heading 'Seller on the results page. By choosing this search filter, the local search engine sorts the listings by sellers who have achieved high rankings in the areas of quality customer service the quality of the merchandise they sell.
Conclusion
Pulsating disco lights, synchronised to music, injects a palpable vibe into a party. They complement the music, providing special effects and entertainment for the guests. They help energise the party's atmosphere. eBay provides popular types of disco lights for any use or location. These include flashing strobe lights, glittering mirror balls, beaming laser lights, colourful six-way LED party lights, or projectors painting the walls and ceiling with light patterns, like graceful stars or flower patterns. These different types of disco lights offer advanced LED technology, combining energy-efficiency and durability. The disco lights come in different sizes, and can be used in various indoor locations. When designing the lighting effects for a party, it is important to consider the party venue's size and location. Whether hosting a small, intimate party with close friends or throwing a larger, more elaborate party on a grander scale, eBay offers a huge selection of quality new and used disco lights and accessories for any occasion.