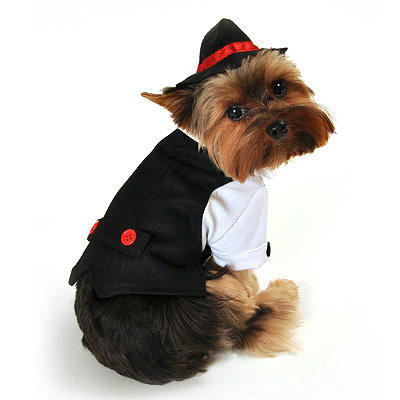 As the saying goes 'a dog is a man's best friend,' and having a dog around is one of the best experiences in life. Dogs are really fun, and what better way to show love and affection for any dog than by buying them a novelty costume? There are dog costumes available for all kinds of occasions, from Halloween to birthdays, and even weddings. Dogs look cute and amusing in costumes of all types, and whilst they are perhaps not for everyday wear, they are a really fun way to interact with any dog.
A wide range of dog costumes can be found online on websites such as eBay, and more unusual costumes, as well as bespoke dog costumes can be found for an affordable price. Cute dinosaur costumes and bumblebee outfits for Halloween are great choices for small dogs who want to stand out in a crowd.
Types of Dog Costumes Available
There are as many different types of dog costumes available as there are breeds of dog. Some costumes will look best on small breeds of dog, and some will suit larger dogs better. Here are just some of the dog costumes available to buy on websites such as eBay:
Dinosaur costumes
Bumblebee costumes
Princess costumes
Jockey costumes
Ladybird costumes
Bunny costumes
Many of these costumes are really fun and amusing, and are a great choice for parties or special occasions. Owners can purchase dog costumes to match their own, for fancy dress parties, and most costumes can be found in a range of sizes ranging from XS to XXL, to suit most sizes of dog.
Dog Costumes for Halloween
When choosing a dog costume for Halloween, it is practically mandatory to pick something really fun and unusual, and eBay has a great range to choose from. Halloween is a time when everyone likes to dress up and go a little crazy, and dogs will have a great time in their costumes. Popular Halloween outfits for dogs include:
It is possible to find these and many more types of costumes for Halloween online, and eBay has a wide range available to buy in both used and new condition. It is important to ensure that the costume purchased fits the dog correctly, and by measuring the length of the dog's body and collar size before ordering, a perfect fit will be achieved.
Dog Costumes for Birthdays
Dressing a dog up for birthdays (whether it is the owner's or the dog's birthday) is a fun and festive way to celebrate. There are many different types of outfits and accessories available to purchase for birthdays, such as formal dog shirts – great for little boy dogs – and 'Birthday Girl' or 'Birthday Boy' dog t-shirts, which are always a popular choice.
It is even possible to buy fun accessories such as birthday hats and bandanas for dogs online, and eBay has a wide range available to choose from. By purchasing dog costumes and accessories for birthdays online, it is often possible to find a better deal than when purchasing on the high street. For owners who are holding a dog birthday party, shopping online is the perfect opportunity to find hats and streamers to make any party go with a bang.
Dog Costumes for Christmas
Dressing a dog up for Christmas is really good fun and helps everyone to get in the Christmas spirit – after all, humans get to wear fun outfits for Christmas, so dogs should be allowed to as well! There are Christmas hats, coats, Santa and elf outfits and even Christmas booties available for dogs online, and eBay has a great selection to choose from.
Santa outfits for dogs usually come with a Santa hat and matching booties, which will be popular with the whole family – these look great on all dogs. Buying a Santa outfit as a Christmas gift is a great way to show any dog that they are a loved member of the family.
Wedding and Funeral Dog Costumes
Whether owners are holding a dog wedding (it is unusual, but it does happen) or involving man's best friend in their own wedding celebrations, it makes sense to ensure that they are dressed to impress. The following wedding and funeral dog costumes are a great choice:
| Type of Costume | Suitable for |
| --- | --- |
| Dog Tuxedo | Great for small breeds (although also available in larger sizes), this is perfect for weddings or formal, black-tie events where a dog has to look smart. |
| | This usually includes a tail coat with built-in shirt and a bow-tie collar. A very cute option that is ideal for weddings. |
| | Perfect for little dogs who want to be a bridesmaid or for owners who are holding a dog wedding. |
| Formal shirts | These are great for any formal occasion and usually come with a collar tie or collar bow tie included for a smart look. |
Whilst it might seem frivolous to dress up a dog for a wedding or funeral, dogs are part of the family and are very important in many people's lives. Owners want their dogs to look as good as they do for important occasions, and by shopping on websites such as eBay, they can find a range of outfits and accessories for any formal event such as a wedding, funeral or important dinner.
Fun Dog Costumes for Everyday
Sometimes, fun dog costumes can brighten up daily life. Dogs dressed as fairies, ballerinas and even Star Wars characters can bring a smile to the faces of adults and children. By shopping online on websites such as eBay, it is easy to find a wide range of fun dog costumes to suit all tastes and budgets.
Costumes based on popular films and TV shows are always a great choice, and it is easy to find Superhero costumes such as Batman online. Children love to dress up pretty little dogs in tutus, fairy costumes and princess dresses, and this is a great way for children to bond with their puppies.
Choosing the Right Size of Dog Costume
It is important to choose the right size of costume for the dog in question, and this can only be achieved by measuring the dog. It will normally take one person to distract the dog with treats whilst the other person measures, and there are three measurements which need to be taken:
Body length – the dog needs to be measured from the collar to the tip of his tail (or where the costume will end) in inches.
Collar – measure the dog's collar circumference in inches.
Belly – some dogs will need to have their belly measured to ensure a perfect fit.
It is possible to find dog costumes in a range of sizes, from XS to XXL on websites such as eBay, and the following table outlines the general range of sizes (although this can vary depending on the manufacturer, so always check product descriptions on individual listings):
| Size | Body length (inches) | Chest (inches) | Neck (inches) |
| --- | --- | --- | --- |
| XS | 8-9 | 11-12 | 8 -9 |
| S | 9-10 | 13- 14 | 9- 10 |
| M | 10- 11 | 14 – 16 | 10- 11.5 |
| L | 11.5- 12.5 | 16 – 17.5 | 11.5- 12.5 |
| XL | 12.5- 13.5 | 17.5 – 19 | 12- 13.5 |
| XXL | 14- 15 | 20 – 22 | 13-14 |
If wavering between two sizes, the larger size should always be chosen, as it can normally be adjusted to fit. Most costumes purchased online can be exchanged for a different size, provided they are returned in excellent condition, but it is important to check the individual listing when shopping on eBay, to check that the seller accepts returns and exchanges.
Choosing the Perfect Costume for Your Dog
Choosing the perfect dog costume is a matter of personal preference, and the budget available, breed and size of dog and owner's personal taste will all come into play. If an outfit is being chosen for a special occasion, such as Christmas or a wedding, it is easy to search for these online, and eBay have a wide range to choose from. For fun, everyday outfits, it is important to look at the size and breed of dog and think about what would look cute.
Shopping online can often inspire owners when hunting for the perfect costume. If there is a picture of a similar dog wearing a costume, it can often draw people towards making a purchase. Generally, small dogs look the cutest in costumes, but some people love to dress up larger dogs too, and provided the dog enjoys it, there is no reason not to.
How to Buy Dog Costumes on eBay
The easiest way to buy dog costumes online is to explore eBay. Just go to the drop-down menu of categories at the left-hand side of the main Home page. Click on the list and this will open up a menu of sub-categories. Click on Pet Supplies and a more condensed menu will appear. Select Dogs and from here go to Clothing and Shoes, which you will find approximately one-third down the list of options under Sub-Type. Alternatively, 'Dog Costumes' can be typed into the search bar at the top of the page.
There are many different types of novelty dog costumes to choose from, and searches can be narrowed using a certain term if looking for a specific outfit. Just type the words related to the search, such as 'Bumblebee Costume', into the main search box. For further tips on how to search eBay, go to the Search Tips page.
Conclusion
Dog costumes are fun and are a great way to include the dog in family activities. By dressing up a dog for Halloween, birthdays, weddings and other special occasions, the dog becomes part of the family, and children love choosing new costumes for their dogs and dressing them up. It is important to remember that dogs probably do not want to wear funny costumes every day, in the same way that humans would not want to do this.
Costumes are not always comfortable for dogs to wear for long periods of time, but by choosing one which fits well, and by saving them for rainy days or special occasions, costumes can become a fun part of any dogs' wardrobe. eBay has a great range of dog costumes for all occasions available to choose from, and there is something to suit all tastes and budgets.