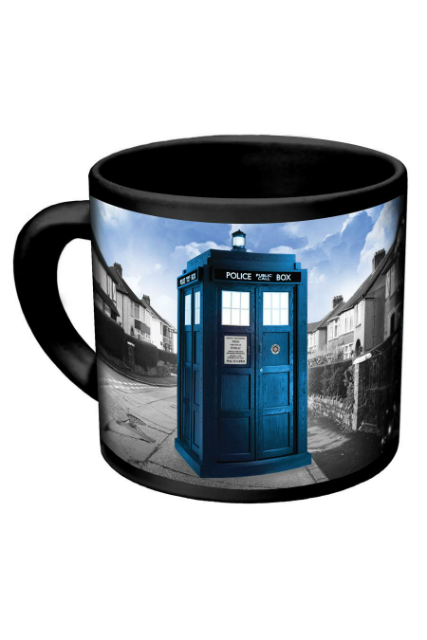 There are many collectable mugs available on the likes of eBay. From antique mugs, to film character mugs, there is a wide choice listed for purchase.
However, one of the most popularly themed mugs that are vastly collected are those made with a science fiction theme.
With Doctor Who being such a popular television programme amongst science fiction lovers and being one of the most widely watched television shows across the United Kingdom, both in its original format between 1963 and 1989, as well as its return in 2005, there is an enormous amount of collectable items based on characters and storylines available to purchase.
There are a number of different types of available for purchase and collection ranging in style, theme, material, age and condition.
This guide is provided with the intention of giving advice on the most secure and cost-effective ways of purchasing Doctor Who collectable mugs..
Materials of Doctor Who Mugs
In any mug collection, there are a number of mugs made from a variety of materials. Whilst some materials are more popular than others from a manufacturers point of view (due to cheaper production costs), other materials are more widely valued by collectors who enjoy the fact that they own a Doctor Who mug made from a rarely used material. Here are some of the materials used in the production of Doctor Who mugs that are available for purchase from eBay:
| Doctor Who Mug Material | About |
| --- | --- |
| Plastic | Plastic Doctor Who mugs are rare. This means that they may be of a high collectability, depending on their quality and condition. Mugs of this nature may be more similar to a mug that comes with a flask and is not recommended for regular use as an everyday mug. Plastic mugs tend not to be very well suited to heat insulation, so for that reason are not widely used. However, the fact that it may not be used regularly could play into the fact that it could be highly collectable as it will be in good condition. Plastic mugs are also very durable due to their synthetic nature. This means they are less susceptible to damage and therefore maintaining its condition is not as hard as other materials used. There are plastic mugs available with a variety of different Doctor Who character designs, as well as being available in a range of different sizes. |
| China or Porcelain | China is also a material widely used in the production of Doctor Who collectable mugs. Despite their fragility when it comes to damage when dropped or chipped, china or porcelain mugs are good insulators of heat, meaning that the drink inside the mug stays hotter for longer, unlike a plastic mug. The inexpensive nature of their production means that they are also cheap to buy, which may lessen their collectability somewhat. However, mugs made from china or porcelain are well suited to being painted or printed on, so there is a wide variety of Doctor Who china mugs available featuring a number of different designs, themes and styles. |
| Ceramic | Doctor Who mugs that are ceramic in nature are one of the most popularly made, purchased and collected amongst hobbyists and collectors. Ceramic mugs are often covered with powdered glass to give it a high gloss finish. This finish makes designs stand out further and adds an extra touch of quality to the mug. This is one of the reasons why ceramic Doctor Who mugs are so popular. Ceramic mugs of this ilk are also less susceptible to damage than china or porcelain mugs, and are extremely resistant to the likes of corrosion, scratching and shattering when dropped. Ceramic Doctor Who mugs come in variety of styles and designs featuring a range of prints. They are often considered to be of the highest collectability due to their high quality and damage resistant nature. |
Type of Doctor Who Collectable Mug
As well as there being many different materials used for Doctor Who mugs that are acquired by collectors, there are also a varying number of types and themes available. For example, whilst some collectors prefer Doctor Who mugs that are character based, others prefer ones with slogans from the show printed on them. Some of the more popular types of Doctor Who collectable mugs are below:
Character Mugs: Character Mugs are those that have printed pictures of characters from the show on them. With Doctor Who having such a vast number of characters appearing across all 794 episodes, there is a high volume of character mugs available on auction sites such as eBay. Most popularly, mugs of this ilk are emblazoned with the face of the Doctor. The number of different Doctors available is varied, with most of the Doctors from the show being represented in the Doctor Who collectable mug world. There are also mugs with pictures of companions, such as Amy Pond or Rose. As well as this, there are also mugs purchasable for collection that are designed with pictures of enemies of the Doctor, such as the Daleks.
Novelty Mugs: Mugs that are considered novelty are of a high collectability. In the world of Doctor Who mugs, novelty hot drink receptacles include mugs of various different shapes and sizes. For example, there are collectable Doctor Who mugs available in the shape of the Tardis, as well those shaped around the design of the Dalek.
Slogan Mugs: Slogan Mugs are common amongst those who enjoy the experience of acquiring and collecting Doctor Who mugs. These are mugs that are printed with the various different slogans of the various different Doctors that have appeared throughout the years. Various catchphrases such as 'Bow Ties Are Cool', a famous quote from one of the doctors, and also the Daleks' catchphrase, 'Exterminate!' are ever present throughout the Doctor Who mug collection world, and are readily available on the likes of eBay for affordable and sensible prices.
Personalised Mugs: There are sellers on eBay who offer the service of personalising Doctor Who mugs to suit personal taste and requirements. For example, if one wanted a certain slogan from a particular Doctor, or if one wanted a picture of a certain alien or companion, the seller would print the desired design on a mug. These personalised mugs are common and popular on eBay and are available for reasonable prices. They are collectable due to their personal nature.
Condition of Doctor Who Collectable Mugs
If Doctor Who mugs are being purchased purely for collection, then there condition can play a role in the price that is to be paid for them:
New Doctor Who Mugs
New Doctor Who mugs being purchased on eBay should come in a box that is unopened. Mugs that are new should, without doubt, be in a better condition than those that have been used.
Used Doctor Who Mugs
There are a number of things to look out for when buying a used Doctor Who collectable mug::
Damage: If the mug is damaged in terms of being chipped or having a faulty handle, the mug should not be of a high value or collectability. Look out for signs of damage in the images that should be provided by the seller.
Fade: If a Doctor Who mug is old, the design on the outside of the mug may be fading. Again, if this is the case, then it should not be worth as much as a Doctor Who mug with a design that is in good condition.
Stains: If a Doctor Who mug has been used for the consumption of hot beverages then it may contain staining. If it has been used for coffee or tea then there may be permanent stains at the bottom of the mug. Product descriptions written by the seller should indicate this, as should the images provided.
Conclusion
With the choice of Doctor Who mugs being so vast, reading up on the types and materials of mug available can really make the difference between making a sensible purchase and buying a product that may not be ideal for a collection, or for use as a receptacle for a hot beverage.
Whether it is a mug with a slogan from the show, or a mug designed in the shape of the Tardis,, eBay provides ample opportunity for collectors and buyers to purchase their desired item at rational prices.
Remember to make use of the filter tabs and keyword search bar to tailor the finding of specific products to personal taste, as well as looking out for the condition and quality of the mug before making a transaction.