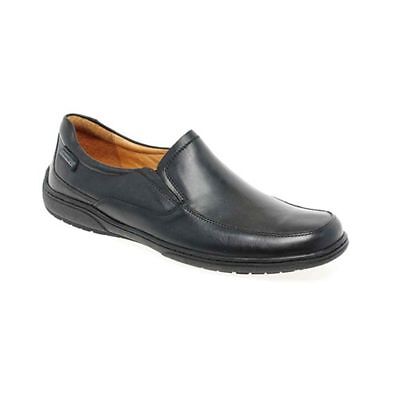 Dress slip ons are shoes that come in a range of styles, colours, materials, and brands. Dress slip ons are worn to semi-formal and formal occasions. Some men like to wear dress slip ons to the office, while others may enjoy wearing them to a dinner or a special date. When looking for a pair of dress slip ons, it is helpful for the buyer to already have a sense of what he wants. He should consider the type of material the shoes are made from, the style of heel and toe he prefers, as well as the colour of the shoes. Men have the choice of buying dress loafers or dress boots, and finding the right fit of shoe is vital for the wearer's comfort. Dress slip ons are sold at any men's shoe stores, department stores, and designer fashion stores. Buyers can also find them online at retailers such as eBay, where one may access a wide range of dress slip ons that can meet the needs.
What to Look for When Buying Dress Slip Ons
Dress slip ons are a type of men's dress shoe that slip onto the foot, without the use of lace up closures. The men's slip on first launched onto the fashion scene in the 1930s as a casual shoe and was referred to as a loafer. Over the decades, the loafer has developed into both a casual slip on and a dress slip on. The dress slip on is commonly worn with a range of semi-formal and formal outfits. Dress slip ons are worn with work suits, lounge suits, and casual evening attire. There are a few different styles of dress slip ons to choose from, in varying materials, colours, and sizes.
Material Quality in Dress Slip Ons
Dress slip ons range significantly in price. Top quality 100 percent Italian leather designer shoes can cost several hundred pounds, while a pair of synthetic dress slip ons may be purchased for less than 100 pounds. When it comes to buying dress slip ons, it is useful to have a budget in mind. A predetermined budget can help a buyer decide whether he should look for leather shoes or synthetic shoes.
Dress Slip Ons in Leather
Leather dress slip ons are among the more expensive type of slip on shoes available. Some men prefer leather slip ons for their quality, durability, and comfort. Leather slip ons look very stylish and, if properly cared for, can continue to look in top condition even after years of wear. Expensive designer brands, such as Gucci and Versace, often use top quality calfskin to make their shoes. Calfskin is a type of supple, soft leather that offers the durability one can expect from an expensive pair of designer leather slip ons.
Other top quality brands use stiffer leathers such as cordovan. This type of leather is not as soft and flexible as calfskin, but it softens up once worn in and is designed to shape to the wearer's foot shape. Once worn in, cordovan leather slip ons provide the wearer with a comfortable and hard-wearing pair of dress shoes that are likely to offer years of comfort.
Synthetic Dress Slip Ons
Synthetic dress slip ons are ideal for those on a tight budget, as they can cost significantly less than an equivalent pair of leather slips ons. Because synthetic is not a natural fibre, synthetic shoes may cause feet to sweat. This may lead to the shoes developing an unpleasant smell that can be difficult to get rid of. Synthetic dress slip ons tend to be less durable than leather slip ons, and wearers can find stitching coming apart or the soles splitting from the upper part of the shoe over time. Synthetic slip ons can also start to crack or peel across the top of the shoe at the crease.
Synthetic dress slip ons may be made from artificial leather, which is a fabric that has been coated several times with an oil mixture until the desired thickness has been achieved. The coated fabric is then dyed and may be stamped to resemble a leather hide pattern. Some synthetic dress slips ons may also be made from plastic leather. Sometimes referred to as pleather, plastic leather consists of artificial leather coated with a plastic layer.
Heel Styles in Dress Slip Ons
The ideal height for a men's dress slip on heel is up to 3-cm high. Only men who want to appear taller should consider a heel height above 3 cm. Slip on boots often have a slightly higher heel than that of a tradition dress slip on. The robus heel is a flatter heel, less than 2 cm in height. A slip on with a pitched heel refers to the heel being set at a slight angle. Non-pitched heels are set perpendicular to the floor.
Toe Styles in Dress Slip Ons
Dress slip ons tend to have a slightly rounded or pointed toe. Some fashion trends have seen an increase in popularity of the very pointed toe for dress shoes. However, some men find the extreme pointed toe uncomfortable to wear. The main options when it comes to choosing a toe style are plain toe, a full brogue, or a cap toe.
The plain toe is more common and refers to a toe with no stitching, pattern, or added material across the top of the shoe. Full brogues, sometimes referred to as wingtips, feature a toe cap that is pointed and extends along each side of the shoe. Its perforated pattern extends over the top of the toe and along the sides of the shoe. A cap toe slip on, or half brogue, features a perforated pattern fabric cap over the toe only. It does not extend along the sides of the shoe. The cap toe is less dressy than a full brogue, but is considered more stylish than an oxford.
Colours in Dress Slip Ons
When it comes to men's dress shoes, black slip ons are the popular colour choice. They go with any outfit and are worn with formal suits. The man who wants to wear a pair of brown dress slip ons may try teaming it with a brown outfit. When looking for dress slip ons to match a navy or grey outfit, one may like to try a pair of tan-coloured slip ons. Other colour choices include oxblood, camel, and white.
Styles of Dress Slip Ons
When it comes to the styles of dress slip ons, there are two main categories: the slip on loafer and the slip on boot. Over the years, both styles have moved from being considered casual shoes to being acceptable as dress shoes.
The Dress Slip On Loafer
The dress loafer is designed like an oxford shoe without the laces. It may feature tassels or metal decorations across the top of the foot. The dress loafer sits low on the ankle and is a popular choice for semi-formal occasions, when lace up shoes are not necessary.
The side gusset loafer features a small band of elastic on each side of the shoe. It makes getting the shoe on and off a little easier.
The Dress Slip On Boot
The dress slip on boot, sometimes called the Chelsea boot, is a slip on boot that extends just above the ankle. Originally designed as a casual or work boot, several fashion designers have created some very attractive men's dress boots. Slip on Chelsea boots feature elasticised sides for getting on and off the foot easily.
Finding the Right Sized Dress Slip Ons
It is recommended that a prospective buyer tries on dress slip ons in the middle of the day. Feet swell as the day progresses, and trying shoes on in the morning may lead to getting shoes that feel cramped and uncomfortable after a few hours of wearing them. Try dress shoes on with the socks one plans to wear with them. When looking at a pair of dress shoes for a special occasion, it is ideal if the buyer wears the outfit he plans to wear for the occasion.
The following table provides a list of the different shoe sizes used around the world. For example, a man who wears UK size 8 shoes requires a US size 42 European size.
| | | | | | | | |
| --- | --- | --- | --- | --- | --- | --- | --- |
| UK Size | 7 | 7.5 | 8 | 8.5 | 10 | 11 | 12 |
| Euro Size | 40 | 41 | 42 | 43 | 44 | 45 | 46.5 |
| US Size | 7.5 | 8 | 8.5 | 9 | 10.5 | 11.5 | 12.5 |
Sizing between different shoe brands can vary significantly. Some men find they are a half or whole size different from one shoe brand to another. It is recommended that buyers try on the shoes to get an accurate fit before making a final purchase decision.
Buying Dress Slip Ons on eBay
The easiest way to begin a search for dress slip ons on eBay is to type "men's dress slip ons" into the search bar located on any eBay page. The search provides listings for the slip ons available for sale on the website. To further refine a search, buyers may use the search category options available on the website. Categories include searching by shoe size, style, condition, price range, brand, colour, or material.
Once a buyer has found a pair of dress slip ons he would like to purchase, it is advisable to check out the seller's delivery costs as well as the estimated delivery time of the item. Some sellers offer a choice of delivery options. Some delivery services allow the buyer to track and trace the item's delivery progress along the way. To ensure a smooth buying experience, a prospective buyer is well advised to do his research on a seller's track record in customer service before placing an order on eBay.
Conclusion
Whether one is looking for a pair of black patent leather dress slip ons for a formal event or a pair of brown brogues to wear to the office, there are a few things a man should know about dress slip ons. Before embarking on a process to buy dress slips on, one should have a sense of the preferred material of the shoes, the styles of heel and toe, as well as the desired colour of shoes. The two main style options of slip ons for men include loafers and boots. Both these styles may be worn as dress shoes. Dress slip ons can be quite expensive, so it is recommended that buyers try the shoes on or verify the size before making a purchase. With its plethora of options in dress slip ons for men, eBay makes it easy to find and locate that ideal pair of shoes that one is looking for at a competitive price.