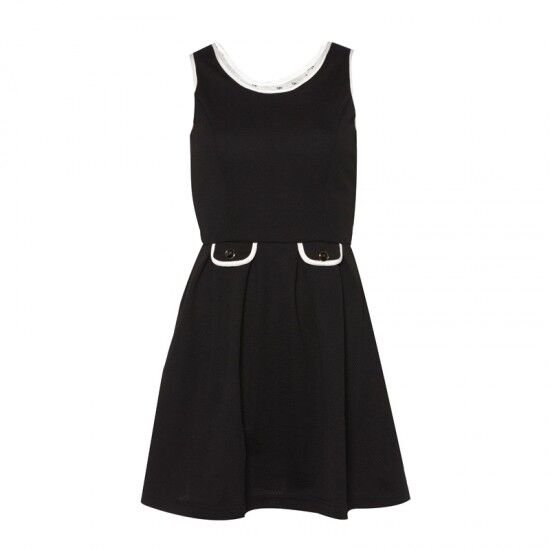 Every corner of the world seems to open up to the intrepid traveller who is willing to take some time off the beaten path. Whether you are travelling overseas or simply planning a weekend getaway in the countryside, packing is an essential part of planning a trip. After all, nobody wants to be stuck on the other side of the world without their toothbrush, let alone proper shoes or clothing. For women, a decent lightweight travelling dress can certainly be a useful item. The right travelling dress should be able to fit each woman's body type, come from breathable fabric, and not be constricting in any way. The dress should also be able to do double-duty on special occasions, though a woman can also pack a party dress if she wishes. While dresses fit for travel are often sold in department and clothing stores, they can also be found online. Websites like eBay allow women to purchase exceptional dresses for fantastic prices.
Travelling Basics
Travelling can be a delightful adventure, but it can also have its ups and downs. Rushing about from cab to plane to train, coupled with all of the walking around in-between, can sometimes leave a person worn down. Factor in wet or cold weather, and travelling can quickly become a stressful time, especially if the person is wearing the wrong clothes for the occasion. Selecting non-constricting clothes for travelling is a basic step that can make the journey much more comfortable. After all, you will probably be sitting, standing, and walking during most of your journey anyhow.
Think Ahead
Wearing tight pants that pinch the waist or don't allow your legs to breathe will quickly make you uncomfortable. Wearing high heels becomes exhausting, and even a bulky sweater that was once comfortable in the cold morning air, can become hot and heavy during the afternoon hours. Therefore, many women chose to wear an informal dress for travel. Travel dresses are not form fitting evening gowns; instead they are lightweight day dresses that can easily be paired with a sweater or jacket for layering.
Best Travel Dress Styles
Dresses come in all different shapes and styles, but several types prove to be exceptional choices for travel. One of the very first things to note is the waistline of the dress. If you are going to do a lot of sitting, don't choose a dress that is tight or gathered at the waist, since this can be just as uncomfortable as wearing pants. Instead, choose a style that either lacks a waistline entirely, or has a high or low waist. This includes empire dresses, drop-waist dresses, and A-line dresses. The chart below lists some of the best styles for travel dresses.
| Dress Style | Waistline | Description |
| --- | --- | --- |
| A-line Dress | None | A dress that has a straight silhouette with a slightly flared hem. |
| Tent Dress | None | A dress with a pleated, flared hem. |
| Empire Dress | High | A dress with a high waist underneath the bust and a straight silhouette. |
| Drop-Waist Dress | Low | A dress with a low waist either at or below the hips and a straight silhouette. |
| Tunic Dress | None | A dress with a straight silhouette. |
Secondly, choose a dress based on its hem length. Since you are going to be sitting quite often, be careful when selecting a short dress not to go too short. The hem might look perfectly fine while standing, but it can quickly ride up your thighs while sitting.
The Danger of Long Hemlines
Dresses with long ankle-length hemlines aren't recommended for those that plan on doing a bit of walking. While walking about, long hemlines tend to get stepped on, and can become quite dirty in a hurry. For this reason, dress styles with a flaring skirt, such as the A-line or the tent, are only recommended for shorter hem lengths. The ideal length for a travelling dress is one with a hem either at, or slightly beneath, the knee. This allows the fabric to stay in place while seated without inhibiting walking.
Styles and Body Types
Everyone aims to look stunning while wearing their travel dress, even if they are suffering from a case of jet lag. One of the best ways to look fabulous no matter how you feel is to choose a dress that is based on your specific body type. There are four different body types for women: banana, apple, pear, and hourglass. All of them, except for the hourglass, take their name from the fruit they resemble.
Specifics of Each Body Type
Banana types have almost the same dimensions for their bust, waist, and hips. Apple types have larger busts and waists in conjunction with small hips. Pear shapes have small busts with large waists and hips. Finally, the hourglass has large hips and bust with a small waist. If you are not sure which body type you belong to, use a measuring tape to take your measurements.
Choosing the Right Style
An important thing to remember when selecting a style, is to choose a dress that accents the features you want to bring out. For example, banana body types who want to accent their bust should chose an empire cut with a halter top. This cut makes their bust seem bigger, while the straight drop of fabric makes their hips seem curvier. Empire gowns also look fantastic on apple body types for the same hip-accenting reasons. Try to stay away from a halter cut that only makes the already top-heavy apple, seem even bigger.
Matching Your Options and Style Preference
A sleeveless or string top that slides over the shoulders is a better choice for those that are trying to avoid looking top-heavy. Pear-shaped body types should aim to choose a style with a lower waist, such as the drop-waist dress. This creates a longer, leaner torso silhouette without too much emphasis on the hips. Lucky hourglass figures look smashing in almost any dress style and can even pull off waist-less cuts like the tunic dress. However, curvier hourglasses might want to stay away from dresses with straight cuts.
Material
Ideal travel dresses typically use airy fabrics that allow the body to breathe underneath the dress. When it comes to travel dresses, cotton is king. Lightweight and breathable, cotton dresses can also be machine washed so you won't have to scramble for a dry cleaning location during your trip. Synthetic, stretchy fabrics made out of a nylon blend are also a superb choice, but they do not feel as soft as cotton. Stay away from any fabrics that need dry cleaning. Linen, for example, is just as lightweight as cotton, but because a linen dress needs to be dry cleaned, it does not make a smart choice for travel.
Layering
Weather conditions can easily change at moments notice during travel. One might leave a cold and blustery city only to exit the airplane only to be greeted by hot and balmy seaside air. Therefore, dressing in layers is the best way to travel. Pair up your travel dress with a simple jumper that matches the colour and accents the style of the dress to wear when it is cold. You can also wear a sleeveless undershirt or a slip to fit underneath the dress. Try to avoid wearing stockings, however, since they will constrict your legs. If you are concerned about colder temperatures, wear a dress with a long calf-length hem to keep warm.
Quick Tips for Packing
Having a set of quick-reference tips regarding how to pack the right dress for your travels, is a great way to remember important advice on travelling in style . Before you leave, you should have an itinerary in mind of where you want to go and what you want to wear. However, travelling is also about being spontaneous, so if you are able to, pack a couple different dresses for any festive occasions that might arise. Wear a lightweight travel dress on your trip that can double as a day dress for any formal events. Pack a black dress for special occasions, such as dinner at a charming restaurant or a night on town. If you are the partying type, bring at least one club dress along with you. Try to bring dresses that only need to be machine washed, not dry cleaned.
Buying Travel Dresses on eBay
There are two modern ways to shop for dresses, either in the store or through an online website. Store bought dresses allow the customer to try them on before purchase, but they also carry high retail prices. Many savvy customers prefer shopping online using a website like eBay because the prices are generally lower than those at their local retail stores. The selection found on eBay, is unmatched by most retail stores, since eBay includes brands and styles from all over the world. You can choose anything from a brand new designer dress to a used party dress and everything in between. Searching on eBay is bound to bring many results in fashions that meet your approval.
Buying the Right Size Dress on eBay
Sizing a dress online can be difficult, since you cannot try it on before you buy. The solution is to measure your bust, waist and hips before you make a purchase. Some sellers include links in their auction to size charts, but others do not. If needed, consult with the manufacturer's size chart to make sure the dress will fit. In certain cases where the designer has no size chart available, use one that outlines the average dress sizes. Some sellers have a return policy that provides for either a full refund or a different size, but others do not. Make sure you understand the seller's return policy before bidding on any item. If the return guidelines seem unclear, ask the seller before placing a bid.
Conclusion
Travelling in the right dress makes it easy for you to enjoy yourself and take in your surroundings without having to worry about sporting uncomfortable clothing. Start with selecting a dress style that is made of a lightweight fabric like cotton. Make sure the hem of the skirt is at medium length, usually around the knees, instead of at either the ankles or the thighs. Pick a style that is non-restrictive around the waist so that you will be extremely comfortable. For a fabulous fit, select a dress that looks ideal with your body type, and not one that works against it. Dress in layers to keep warm and account for changing weather conditions that will inevitably arise on your journey. For longer trips, pack several other dresses and let your travel dress double as a fun outdoor dress on your trip. Buying a dress on eBay allows you to save money, and consulting a size chart ensures that the dress will fit your body like a dream come true.