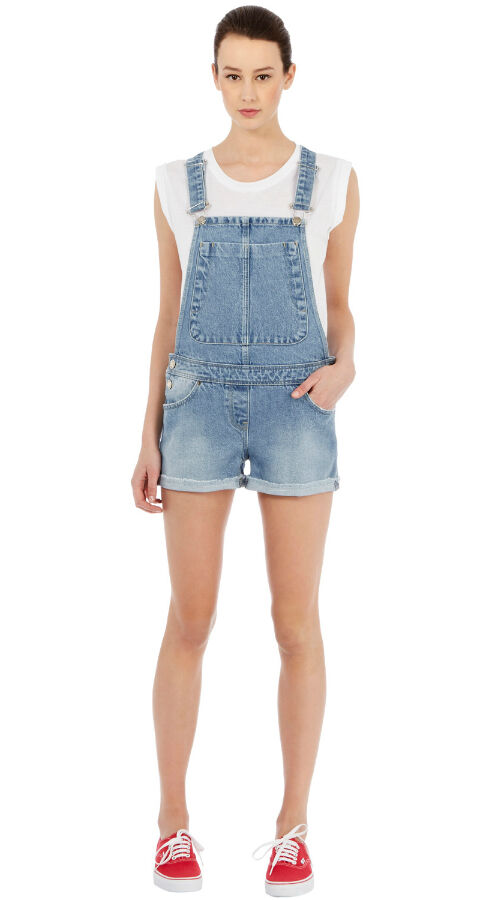 Dungaree shorts have long been associated with tomboys and farm lifestyles. The old-fashioned moniker that has been the stigma of overalls in general have served to keep them out of the fashion worlds sight since they were invented. But like many things in the fashion world, it was only a matter of time before the overall made its way into the wardrobes of women in one form or another. The Dungaree short is a form of overall that is made from lighter fabrics and colours than the classic work trousers. Dungarees have steadily increased in popularity over the years as more and more women discover their versatility and comfort as a casual and fun article of clothing. Dungarees are no longer just for use in the fields. Women who are considering taking the plunge and purchasing a pair of Dungaree shorts should first understand when and how to wear them along with the particular fabrics and styles available to suit their needs.
What Are Dungaree Shorts
Dungaree shorts are a variation of the classic Dungarees that were named after a village in India known as Dungri. The British had a fort near this village and they used the coarse cotton fabric made by the villagers to make sails and tents. The fabric became known as dungaree, and was later used to make rugged clothing that became popular as work clothes. During World War I, bibs were added to the trousers and women working in factories adopted the Dungaree overalls as their work attire because of their function and comfort. Eventually, the overalls were adapted to be worn as shorts and the course and rugged fabrics were softened considerably to make the Dungaree shorts lighter and much more comfortable to wear in warmer climates.
Today, Dungaree shorts are a common feature in many women's day to day casual wear wardrobes, and their unique appearance and versatility have made them a fashion trend that will apparently remain relevant for quite some time. Dungarees have historically been known as functional articles of clothing that were worn for protection and because of the many pockets and loops that allowed tools and other items to be kept easily within reach. Today's womens Dungaree shorts are no longer needed for protection or carrying various items, but they serve as versatile and relaxed shorts that can be worn for many different casual events.
When and How to Wear Dungaree Shorts
Dungaree shorts can be a wonderful accessory to any womans wardrobe. Dungarees are ideal for beach wear and other similar occasions where comfortable and simple casual wear is the rule. Dungarees can easily be slipped on over a bikini for a wonderfully playful look that is perfect for a day by the sea. Loose fitting Dungarees are a great alternative for other casual occasions such as informal get togethers, picnics, luncheons, or a fun day of shopping. They offer a sense of youth and exuberance that is tempered by casual comfort. Dungarees are a great alternative attire for warmer weather, and their baggy characteristics make them easy to wear over leggings should the weather turn slightly cooler.
Dungarees have a slightly tomboyish appearance that creates a unique contrast when coupled with more feminine articles of clothing. Simple V-neck shirts are an excellent accessory to Dungarees as well as tank tops and tube tops if one is more daring. Dungarees that are made of deeper coloured denim can easily be accessorised with heels and a button down top for a more refined appearance. When paired with light coloured accents, denim Dungarees can cover a wide spectrum of fashion occasions. They also can be found in different fabrics, colours, and styles to spruce up any casual wardrobe.
Fabrics for Dungarees
Dungaree is known as its own fabric but is commonly confused for denim. Denim is a separate fabric with qualities similar to dungaree, so the two are often mistaken for each other. The course fabric in the original Dungaree outfits have long given way to softer and more versatile fabrics when it comes to womens clothing. There are several different types to choose from along with an excellent assortment of colours and patterns.
Cotton
Cotton is an excellent alternative fabric used to make Dungaree shorts. It is lightweight and breathable and can holds colours very well. Cotton is a durable fabric that is soft to the touch, so it is ideal for use in shorts or other casual attire.
Denim
Denim is the classic fabric used to make Dungaree shorts. Denim is a durable fabric that is soft to the touch and becomes more comfortable and appealing as it wears in. Denim will fade with wear as well as washing, and the shorts take on a unique appeal as the Indigo colour fades. Denim Dungarees can be worn to beach or they can be dressed up with heels for more fashionable events. Denim goes with many different accessories, making it the most popular fabric for Dungaree shorts.
Corduroy
Corduroy is a unique Dungaree fabric because of its soft and luxurious texture that helps to formalise the appearance of the shorts. Corduroy can be accompanied by button down shirts and more reserved colours for a smart casual appearance that can accomplish things with Dungarees that cotton and denim cannot.
Linen
Linen is the lightest fabric used to make dungaree shorts. It is ideal for use in hot weather and is exceptionally comfortable to wear. Linen Dungarees have a sharper look to them because of the lustre of the fabric and its sheer characteristics. Linen is ideal for afternoon shopping trips or luncheons, and can add a sense of style to any casual Dungaree outfit.
Different Styles of Dungarees
Dungaree shorts come in different styles that offer variations to suit different fashion needs. The overall bib is the classic design of Dungaree shorts and features a classic bib in the front that extends up from the waistline of the shorts and partially covers the chest area. Two straps run up and over the shoulder from the rear waistline of the shorts and connect to the top of the bib. The sides are usually open down to the waistline of the shorts. Bibs at the front of the shorts can be of various sizes and heights from all the way up just below the neckline to just above the navel region. Other variations of the Dungaree merely have suspenders running up from the waistline over the shoulders and attaching to the rear waistline of the shorts. They can also come in a halter top appearance, but the classic overall look is the most commonly found.
How to Buy Dungaree Shorts on eBay
Once you have decided to purchase a pair of Dungaree shorts online, the next step is utilise the powerful search tools available through eBay to find great deals on your next pair. Simply navigate to the eBay homepage and enter a keyword such as "womens Dungaree shorts" into the search box. A list of available auctions will be displayed to contain the keyword selected. You can browse through the various auction until you find a pair of Dungaree shorts you like, or you can refine the search by selecting various categories that will narrow the results to a more manageable number. If you already know the exact type of Dungaree short you are looking for or the specific brand, you can enter that information directly into the search box and all auctions that relate to that information will be displayed.
Once you have found a pair of Dungaree shorts that appeal to you, take a few moments and verify the feedback rating of the seller prior to committing to the purchase. The eBay community prides itself on providing honest feedback on each seller after they complete and auction. This feedback tells future buyers what they can expect when dealing with this particular seller. Sellers with good feedback ratings can be relied upon to conduct their auctions with honesty and professionalism.
Conclusion
Dungarees are no longer an old-fashioned article of clothing useful only on the farm. With colourful accents and feminine accessories, Dungaree shorts have come a long way towards becoming a very contemporary fashion trend. Dungaree shorts are cute and comfortable, and they can be worn for nearly any type of casual occasion in which shorts are considered appropriate. The various types of fabric used to create Dungarees make them capable of being easy to accessorise and match with fun and playful garments that can be worn with them for a great warm weather look. The Dungaree has definitely come a long way from its origins as a work outfit, and it can be a wonderful addition to any wardrobe as the temperatures climb.
Buyers should make sure to shop around prior to making a commitment to purchase any Dungaree shorts. Exploring the various styles, fabrics, and colours available will help a buyer understand which type of Dungaree will go best with their planned ensembles. A great place to research various styles and shop for great deals is on various online retail outlets and auction sites such as eBay.