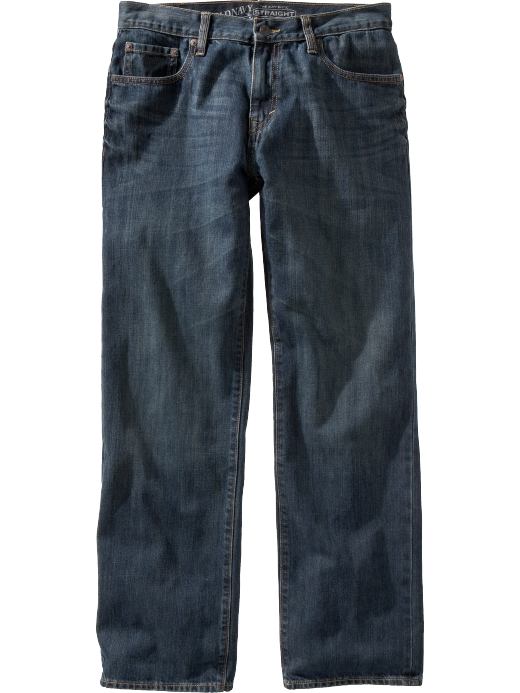 Men ' s jeans originated out of a need for working men to have a pair of trousers that were capable of standing up to rigours of manual labour. In the late 1800s, Levi Strauss began selling jeans to miners that were made of durable denim and had copper rivets placed in the areas that were most vulnerable to splitting of the seams under heavy use. These jeans became popular with the miners because the denim fabric was very sturdy and held up well against the dirt and heavy abuse associated with mining and they were also very comfortable to wear for long periods. Jeans became a standard article of clothing worn by men in more rugged industries, and as their popularity increased, they became fashionable as casual and rebellious clothing of younger people in the 1950's. This guide explores the elements that give jeans their durable reputation and popular appeal, and how one can find the best deals when shopping for a new pair of durable jeans.
What Make Jeans Durable
Jeans are made from different weights of denim depending on the purpose the jeans were designed for. Designer jeans tend to utilise thinner and lighter denims while rugged workwear utilises the thickest and heaviest. Softer and more flexible denim is usually less durable but more comfortable, so it is used in jeans that are made for casual comfort. The more durable denim is much stiffer and is initially much less comfortable to wear, but like all denim, it will eventually break in and become very comfortable.
The weave characteristic in denim is what makes the jeans so much more durable than standard cotton trousers. The weave type actually doubles the layers of material and packs them together more tightly, which creates the heavier fabric needed to resist wear and tear. This results in a fabric that is perfectly suited for more rugged applications, and since jeans are only made from denim, they are the ideal clothing of choice when a durable pant is required.
What to Look For in Construction
Durable jeans will feature several elements that are usually not found on trousers designed for casual usage. Jeans use sturdier construction techniques and superior fabric to create pants that will hold up to abuse that would ruin lesser quality trousers.
Fabric
Denim is the key fabric in the construction of jeans and it is used because of its durable nature and comfortable feel. Denim is constructed from cotton, which means it will have a propensity to shrink when washed and dried. Shrinking and expanding is one of the occurrences that serves to weaken fabrics when is repeated over time. Most denim utilizes a process known as sanforising, which stretches the fabric prior to washing and stabilises it to prevent drastic shrinkage after washing. Sanforisation ensures that denim will not shrink more than one per cent in size over the life of the jeans, which virtually eliminates a major factor that contributes to the weakening of the material.
There are also various thicknesses of denim that are used to construct the jeans depending on how rugged they are intended to be. The lightest denim used to make jeans is around 141 grams of fabric, which is used mainly in designer jeans or skinny jeans. The heaviest and most durable denim weighs in around 439 grams, which makes it useful for heavier duty usage such as found on carpenter or work jeans.
Stitching
The stitching and finishing of the seams on the jeans is as critical to the overall durability of the product as much as the fabric used to construct them is. Buyers looking for durable jeans should inspect the stitching on the jeans to make sure that it is straight and even in length through the pant. Threads must be properly secured at the ends of the stitching to prevent loose ends that can unravel. The stitching on the seams must appear smooth in order promote comfort during wear, and smooth seams usually indicate quality stitching as well. Properly constructed jeans will utilise rivets to reinforce highly stress areas that see the most wear such as around pockets, belt loops, and zipper areas. If the jeans have buttonholes, they will be tightly stitched and have no loose threads. The hems on the jeans must be flat and even and have no loose ends as well. Jeans are only as durable as their weakest area, and if the best denim in the world is improperly stitched, the jean will not hold up to rugged wear.
Look for Well Known Brands
There are several brands of jeans that have made a reputation for themselves because of their dedication to the use of good quality materials and construction techniques. Levis have long been known as the originator of the contemporary blue jean and for good reason. Levis pioneered the use of copper rivets to increase the strength of stitching and they designed their original jeans to be used in the rugged and dangerous world of coal mining. Wrangler and Carhartt are other brands that are well known for the rugged, no-frills construction. There are many other well known brands as well that the buyer cannot go wrong with when searching for durable jeans. Many of these manufacturers dedicate complete lines of jeans toward men who work outdoors in rough environments and require a durable jean to get them through the day.
Types of Durable Jeans
There are a few variations of jeans on the market that are specifically made to be used in rugged situations where toughness and comfort are important qualities that a man looks for in a durable and quality-built jean. These jeans will feature reinforced stitching in critical areas and thicker material than standard denim jeans. Some jeans introduce blends of other materials into the denim to help make them more comfortable to wear over long periods.
Dungarees
Dungaree is known as a fabric with nearly identical weave characteristics of denim. The difference is that dungaree fabric is dyed prior to weaving where denim is not. Dungarees are also a type of jean that is designed specifically as a durable work jean. Many dungarees have suspenders or are designed as overalls and for painters and construction workers.
Carpenter/Contractor
The contractor or carpenter jean is a well made denim jean that features many different cargo style pockets and loops that are ideal for men to carry small tools with. Carpenter jeans will be loose fitting and usually have reinforced stitching and even additional material added to the knee area since carpenters spend so much time bending and kneeling while on the job.
Stretch Jeans
Stretch jeans are a popular design that features the blending of a stretchy fabric called Elastane with denim to create a material that stretches under stress. There are various percentages of Elastane that are blended with the denim to create varying degrees of stretchiness. The percentages usually fall within one to four per cent Elastane mixed with the denim. The benefit of the stretchy material is to create a durable denim that has flexibility built into it without having to break the jean in. The stretch fabric gives as men bend and walk so the jean is neither stiff nor uncomfortable to wear.
How to Buy Durable Jeans on eBay
Once you have decided to purchase a new pair of durable jeans, the next step is to take advantage of the powerful search tools available to you on eBay. eBay makes shopping both safe and easy by providing you with a nearly unlimited number of jeans to choose from. Simply go to the eBay homepage and enter a keyword into the search box such as "men's work jeans". eBay will return a list of all the available auctions that feature work related jeans. From here you can simply browse through the listing to find the right jeans for you, or you can refine your search by choosing various categories such as brand or size that will further narrow your search. If you already know the brand and type of jean you are looking for, you can also simply type that information into the search box and eBay will take you right to all the auctions that feature that particular jean.
Once you have decided on a pair of jeans, make sure to check the feedback rating of the seller prior to committing to the purchase. The eBay community takes advantage of buyer feedback and comments to rate each seller on how they perform through each transaction that occurs on eBay. Sellers with positive feedback have made an effort to conduct their transactions in a professional manner that is dedicated to making their customers happy. Reputation is everything to a seller on eBay, so only purchase from those who have earned their excellent rating.
Conclusion
Durable jeans are a unique article of clothing because they are a combination of a durable fabric with a comfortable to wear pant style. Most clothing is a compromise of some sort between comfort, style, and durability. Many comfortable trousers are made of lightweight cotton or material blends that are both attractive and easy to wear, but they have very little resistance to wear and tear and are nearly useless as heavy work clothes.
Jeans, however, are a unique blend of the comfortable aspects of cotton, with the durable weave and tightness of denim joined together to create the perfect pant for work and play in rugged environments. These jeans feature fabric and stitching that is designed for strength and wear resistance from the start, and they come in various styles and cuts that will satisfy the needs of men in all types of work environments. Durable jeans are a vital article of clothing that every man should have in their wardrobe, if not for work, than for those times when comfort and durability are needed for rugged outdoor play.