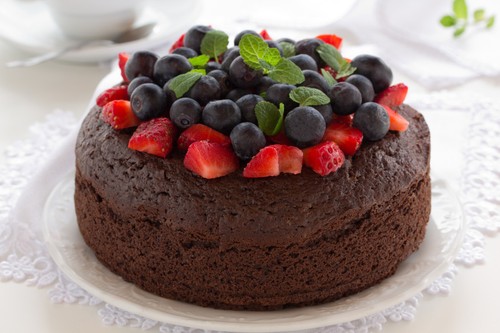 Whether cake decorating is a hobby or you want to bake a cake for a special occasion, there are a number of techniques that you can use to add edible cake decorations to baked goods. From simple powdered sugar toppings to elaborate fondant creations, making your own decorations is relatively easy if you have the right edible cake decorating supplies. Supplies range from basic decorating essentials, such as food colouring, to more high tech nice-to-haves, such as a printer and printer cartridges that use edible ink.
Learn about the types of edible cake decorating supplies available before you start shopping for everything that you need. Cake decorating allows you to reveal your creative side and use colours, textures, and designs to create something special and unique. If you are unsure of the techniques required or need a little bit of inspiration, consider buying a cake decorating book for guidance. Edible cake decorating supplies are available from a number of sources such as bakeries, supermarkets, and sites like eBay.
Edible Colouring for Cake Decorating
Food colouring is probably the item that is used most often when decorating cakes. Food colouring can be used instead of edible ink to paint designs onto fondant or icing sheets.
Food Colouring
Food colouring is required to tint most types of icing. Some varieties come ready mixed, while others can be dissolved in water. Choose vibrant colours for younger children or more muted shades for elegant decorations. Food colouring pastes tend to produce richer colours, but can be watered down to adjust the hue. Mix and match colours to create your own.
Edible Inks
Edible inks are available in a variety of forms. If you would like to print cake decorations with a printer, then opt for edible ink cartridges. Make sure that your printer has been cleaned thoroughly to remove any traces of normal ink and consider having a dedicated edible ink printer as the two ink types cannot be used at the same time. This type of printing can be quite expensive.
Low-tech edible inks come in bottles for painting and calligraphy, in markers and pens, and as airbrushes. Use edible paper to create a stencil and an airbrush or coloured icing to transfer the design for a quick decorating option with spectacular results. If you do not want to buy all of the supplies required, consider buying ready made cake toppers.
Edible Cake Coverings
One of the easiest ways to decorate a cake is to cover the baked item with icing or fondant. It is also possible to add edible cake toppers or designs that use edible paper.
Cake Toppers
If you do not want to spend a lot of money on the equipment required to make your own cake toppers, buy ready-made products that can be added to your cake simply. These are available in a range of designs and can be customised to suit your needs. Many bakeries and online sellers are willing to use your own design to create a personalised message.
Icing Sheets
Icing sheets are made of icing that is backed with a thin layer of plastic. They are extremely versatile, hold and display colour well, and can be used with any type of icing, including marzipan, fondant, chocolate, whipped cream, and buttercream, and on frozen surfaces. Remember to remove the backing before applying the decoration.
Designs can be printed onto icing sheets using an inkjet printer and edible ink. Icing sheets are most suitable for photos and larger images as the colours are more vibrant and the images crisper and clearer. Icing sheets blend into the iced surface better than wafer paper and can be cut to size using a craft knife.
Fondant
Fondant, also known as roll-out icing or sugarpaste, can be used to create decorations like ribbons, flowers, and other delicate items, or to cover an entire cake to provide a smooth surface. Cutters, similar to those used to shape biscuits, can be used to cut fondant into small or delicate shapes. Some forms of fondant harden when they dry, while others do not. It is best to confirm how the finished product behaves before buying to ensure that you know what to expect.
Fondant can be coloured before or after it is shaped. Some designs benefit more from coloured fondant and look more detailed when touched up with a pen. For example, veins and details can be added with a pen to green fondant leaves. Highlights can be added using glitter or spray.
Edible Paper
Rice or wafer paper is a popular choice with bakers as it is thin, translucent, and has a pleasant taste. It is versatile and often used to wrap nougat and other sticky sweets. As it is easy to see through, tracing a design onto rice paper is effortless: just place the rice paper over a design on normal paper and trace with edible ink. The image can be coloured with edible markers before being sealed with piping gel and transferred to the cake. Wafer paper should be used when printing delicate accents like leaves or butterflies as the paper's texture is more suited to these decorations.
Waxed Paper
Waxed paper is not edible, but should be mentioned due to its versatility and wide range of uses in baking and cake decorating. If you want to create a buttercream transfer for a cake, waxed paper is essential. Using this method, a decoration is created with buttercream on waxed paper before being chilled. Once the design has set it can be transferred to the cake by peeling it off the paper.
Cake Decorating Bags and Accessories
Icing or piping bags are used to control the amount of icing placed on the cake. Icing is squeezed from the bag through a decorative nozzle to create patterns and special effects. Some bags are made of flexible, coated polyester and are reusable, while others are designed for single use. Waxed paper triangles can also be folded easily into disposable bags. These bags can be used with or without nozzles. Choose a nozzle that is suited to your decorating needs. It is often advisable to buy a set of nozzles of different shapes and sizes that allow you greater control over the way that the icing is applied to the cake.
Sprinkles, Silver Balls, Sweets, and Glitter
Sprinkles, also known as hundreds and thousands, silver balls, sweets, and glitter have always been well loved cake decorating supplies. Sprinkles are available in a range of colours, including single colours and mixtures, and various shapes and sizes, such as hearts or flowers. Silver balls can be used as accents, but use them with caution as the hardened sugar is not kind to older or weaker teeth. Small sweets can be used to create or carry a theme. For example, choose miniature fruit for a summer children's birthday party cake. Glitter can be used to add sparkle to the celebration, but make sure that the glitter is edible and not simply non-toxic: non-toxic glitter is not always suitable for human consumption. Alternatively, use edible lustre spray. Embellishments can be attached to the cake using edible glue.
How to Buy Edible Cake Decorating Supplies on eBay
To find the perfect edible cake decorating supplies on eBay, know how to search and refine your results. This is easy to do: simple type a phrase, for example, "food colouring pen", into the search field, which is located conveniently on every page, to see the items for sale from eBay sellers. Refine your search by choosing the most appropriate item features. You can further narrow or expand your search by using the advanced search function.
Evaluate the Item and the Seller
Before committing to a purchase of edible cake decorating supplies on eBay, evaluate the item and the seller. Click on an item to visit the item listing page where you can find information such as the full item description, buying options, the seller's accepted payment methods, postage and packaging costs, and the seller's feedback information. If you would like to ask the seller a question about the listing, use the "Ask a question" link to get in touch with him or her.
To view the seller's feedback information, click on the number next to the seller's username. Buyers leave feedback for sellers about their products and customer service, allowing you to use this information to make up your own mind about a particular seller before buying. Detailed seller ratings include additional information about aspects such as the seller's communication and the accuracy of the item description in the listing.
Conclusion
A wide variety of edible cake decorations can be added to baked goods, making it easy to create a completely edible masterpiece. Supplies range from basic necessities like food colouring to more advanced items, such as edible ink printer cartridges. Decide on the design that you want to create before you start shopping to ensure that you have everything that you need. Edible wafer paper and icing sheets are always handy to have and can be kept fresh, if stored correctly.
Edible ink pens are great for adding fine details and edible glue can be used to secure paper and other items. If you are not entirely confident with making your own decorations, then buy ready-made items, such as shaped sprinkles or cake toppers to use as decorations. eBay sellers offer an incredible variety of edible cake decorating supplies that are guaranteed to tempt you into baking cakes just so that you have something to decorate.