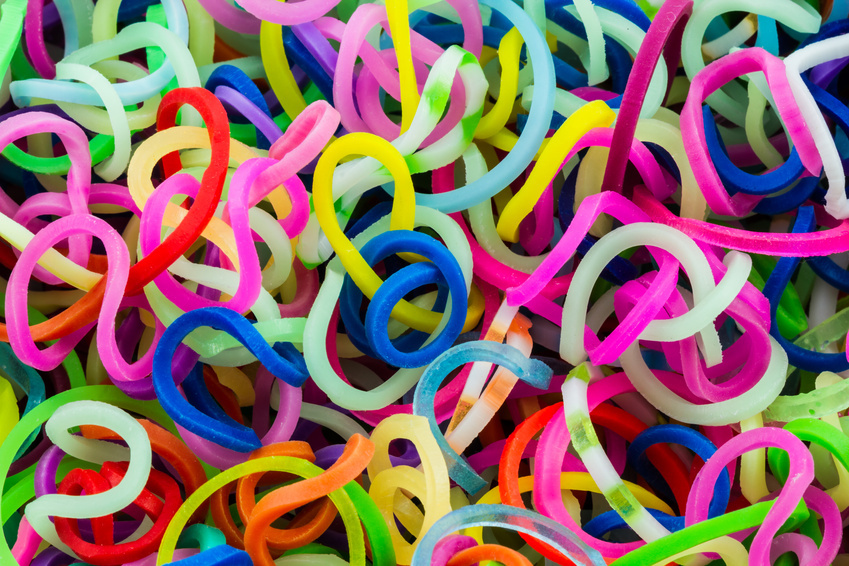 Manufacturers make elastic with traditional rubber or modern synthetic cores bound and wrapped in polyester, cotton, nylon, or a blend of different threads. Braided, knit, or woven together, the exterior threads bond creating elastic. Available in a variety of thicknesses, widths, and colours, elastic is a versatile fabric that you can thread through casings or stitch onto fabrics to create interesting and useful crafts.
Elastic Sizes and Colours

Most home craft, sewing and commercial elastics are white; however, it is possible to find elastic in other colours. Elastic thread is quite narrow to fit sewing machine or hand stitching applications and you can find it woven onto bobbins. You can also find extra wide elastic for decorative waistbands, but most elastic for home applications are between four and 64-millimetres wide. Crafts that use elastic vary widely and include everything from home sewing of garments and decorative fashion accessories to bottle covers, tissue box covers, and lace accessories.
Braided Elastic
People most often use braided elastic inside sewn casings because it narrows when stretched. It loses its stretch and shape retention when pierced or stitched through while sewing. Identified by its distinctive lengthwise, parallel ribs, crafters often use it for sleeve hems, swimwear, leg bands, and on some ruching. A favourite of professionals, you can often find it as a staple item in professional haberdashery cabinets.
Knitted Elastic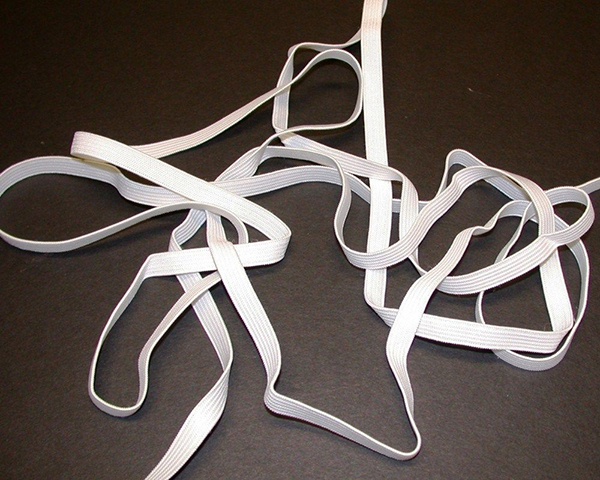 Soft, strong, and appropriate for most garments, knitted elastic is a popular choice amongst designers and home crafters. Lightweight, it is most suitable for lightweight clothing, lace, and delicate fabrics. Knitted elastic does not narrow when stitched and is unaffected by needle piercing, which makes it suitable for direct application to fabrics and for casings. Knitted elastic is a good all-around notion to keep in your sewing basket.
Woven Elastic
Stronger, thicker, and often wider than other elastics, woven elastic is a good choice for heavy weight material, including, but not limited to, home decorating fabrics, car covers, bags, and accessories. It features crosswise as well as lengthwise ribs, which give it a windowpane appearance, and it does not narrow when stretched. Needle piercing does not have an effect on either the stretch or appearance of this elastic when attached to fabric or other material.
Clear Elastic
Transparent polyurethane, called clear elastic, is not braided, woven, or knitted. Instead, it is a synthetic product that stretches three to four times its length with total recovery to its original size and shape. Clear plastic elastic works well for direct fabric applications on the out or inside of garments and crafts. Gaining in popularity for its clear appearance and versatility, clean plastic elastic is an often-used sewing accessory, and you can frequently find it in craft kits.