Made of polymer, FIMO clay is perfect for crafting. The clay is smooth and soft, making it easy to sculpt into different sizes and shapes. Create handmade sculptures, magnets, jewellery, and other projects and bake the clay to harden it. Find FIMO clay gift sets on eBay and get started on your own colourful clay project today.
Sculpting Sets
FIMO clay sets are a good starting point for beginners. The sets contain enough clay for one project, such as a sculpture, and directions to complete the project. Some examples of sculpting kits include sets for kids to create zoo animals, princess sculptures, flowers, or butterflies. Kids use special, age-appropriate FIMO clay kits to sculpt rocket ships, cats, knights, or monsters. For more experienced crafters who wish to own many different FIMO clay colours, there are clay packs which include either 10 or 24 blocks of different coloured clay to experiment and play with. Each set comes with a booklet that includes sculpting ideas and illustrations. There are special sets to assist you when creating cool items like clay ballpoint pens, and sets for experienced sculptors such as the Classic Workshop box line, which teaches you to make geometric designs. The Blending Workshop box illustrates how to use different colours to create gradients in your projects.
Sets with Tools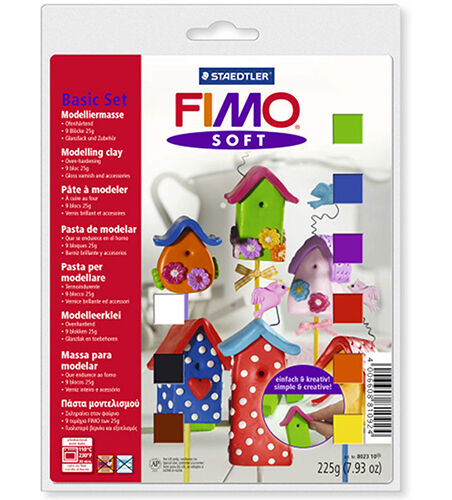 Once you have mastered sculpting with FIMO clay, using tools is a great way to add details and designs to your creations. Some sets include tools to embellish your clay designs, as well as a glossy varnish that sets your creations and makes them shiny, once baked. The FIMO Soft Basic set includes one tool, a work mat, nine blocks of coloured clay, and varnish. A starter FIMO tool set includes four essential, basic plastic tools to cut, carve, and embellish your clay projects. A more advanced set, such as the Millefiori Workshop box, also contains tools to help make flawless clay creations.
Jewellery Sets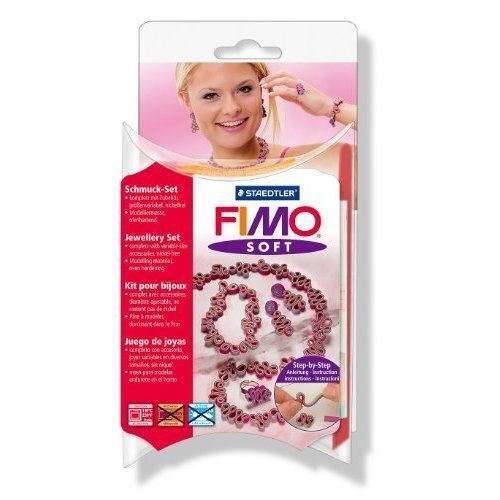 The most common use for FIMO clay is to create jewellery and clay beads. Purchase jewellery-making sets to help you get started. Some recommended sets for intermediate sculptors include the Flowers, Funny Beads, Red Dream, and Romantic jewellery sets. Jewellery-making sets come complete with everything you need to make handmade accessories, including cords, cutters, tools, rings, and earrings. A good jewellery-making kit for younger sculptors is the Knotted Dots kit. The kit contains everything required to create a complete jewellery set which includes a ring, bracelet, and earrings. Purchase a FIMO cutter blade set to etch or engrave jewellery with designs, clay moulds, and FIMO gloss varnish to add sheen to your finished creations.