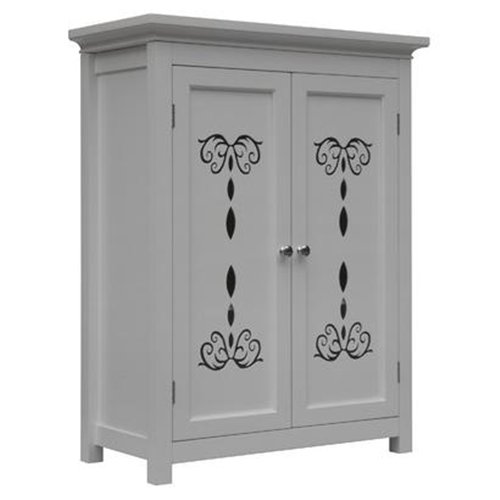 Bathroom floor cabinets are a valuable aspect of the modern bathroom. Not only do they provide essential storage for various items, they come in a variety of appealing styles and designs. Floor cabinets can be neatly fitted into even the most compact of bathrooms and free up space to create a more airy and attractive area.
Choosing Bathroom Floor Cabinets
With bathrooms coming sauna size or practical and compact, finding the right cabinet is a careful balancing of all requirements.
Freestanding, Fitted, or Modular
Bathroom floor cabinets may be fitted integral units that match and are connected to other units or they might be entirely freestanding units. Modular units are a compromise between the two and are semi-fitted. Each type has pluses and minuses. Freestanding units can be easily moved around and there is no need for installation. The unit is simply bought, assembled (if assembly is necessary) and placed where required. Fitted units may or may not require assembly, but they will require fixing to the wall. This requires careful measurement and basic DIY ability. Once fixed in place, they cannot be moved, so location should be carefully considered. Modular units also require some fixing but there is more flexibility in where they are placed. Freestanding units can look extremely appealing. There is scope to choose more unusual pieces and to mix and match items more easily. Bathrooms can also be renovated without the need for a complete refit. Freestanding units, however, may not provide enough storage space for large households with compact bathrooms. They are suited for traditional, retro, and contemporary styled bathrooms. Modular units come in sets so there is opportunity to pick whichever components fit together the best. They have a neat appearance, provide good amounts of storage space and are an excellent option for small contemporary bathrooms. Fitted units provide excellent amounts of storage space, which makes them an extremely practical choice for larger households. They can be fitted around fixtures so any unsightly pipework can be concealed. They are usually fitted with plinths and generally considered a more traditional, conventional approach.
Bathroom Planning
When purchasing bathroom cabinets, it is essential to have an idea of the space available. Complete accuracy is not so important for freestanding units for larger bathrooms, but when purchasing fitted cabinets they need to fit precisely and neatly into the space to look the part. Measure the dimensions of the bathroom and decide upon the layout. Using graph paper or online bathroom planning tools are useful ways to do this. Remember to include the location of doors, windows, baths, basins, toilets, plumbing fixtures, pipes, radiators or towel rails, and light switches. Also include room for fixtures such as towel hooks and laundry baskets. Once there is an idea of how much room is available for cabinets, decide how much storage is actually required. What is to be stored in the cabinets? If towels and other larger items are to be stored, then larger cabinets will be required. If it is just for spare toiletries, then a smaller cabinet will suffice. If medicines or potentially harmful cleaning products are to be stored in a household with young children, an additional higher wall mounted unit may be required. Some medicine cabinets are lockable for security and peace of mind.
Type and Size
Bathroom floor cabinets are available in various types and sizes. They are often about 30 cm to 40 cm in width but may be 60 cm to 90 cm or even wider. Simple cabinets with doors may come at basin height or in taller tower units. Corner units are great for making the most of space in compact bathrooms. Some cabinets have cupboards below and drawers at basin height. Some may also incorporate open shelving. Cabinets with open shelving or glass fronted display units can be a nice way of displaying attractive bottles of toiletries and other items. Remember to check if all fixtures and fittings are included in the standard price or if these have to be purchased separately. Some fittings, for example, door handles and plinths, are often sold separately. This means the total cost of cabinets will be higher but it also gives a choice of different products to match to the cabinets. Consider the type of unit and which fixtures would match best. A more traditional wooden cabinet might suit a more ornate, traditional handle, perhaps made of brass. A more contemporary cabinet might suit minimalist brushed steel or polished chrome handles.
Material
Bathroom cabinets are available in a range of finishes, including wood, laminated board, and glass and mirrored surfaces. Wood and laminated boards can both look superb in traditional and contemporary settings, with dark colours creating a more cosy or opulent environment while lighter colours emphasise space and openness. Consider the current decor and how the cabinets will fit in to the existing colour scheme. Laminated surfaces are durable and easy to wipe clean. Wooden surfaces may require more maintenance, but any wooden furniture sold for bathrooms should be resistant to moisture. It is best to avoid leaving excessive moisture on any surfaces and to simply wipe them off with a hand towel or cloth. Other materials incorporated in bathroom cabinets include aluminium and steel. Aluminium especially is increasingly popular. It is lightweight, resilient, doesn't rust, and cools quickly. The inclusion of metals such as aluminium and steel is a great way to express contemporary style. Using mirrors can create the illusion of more space and make the bathroom appear larger. They are not usually found on shorter floor cabinets but may be incorporated into taller tower units, either above basin height or running along the full length. Glass doors, either frosted or clear, give a sophisticated contemporary edge and are also good for making the bathroom appear more spacious.
Special Features
Bathroom floor cabinets may incorporate special features such as white or multi-coloured LED lights. These are often mounted behind glass doors to create a diffused effect and a pleasant, relaxing ambience. Other special features might include integral locks, for medicine cabinets, or even lockable cabinets within cabinets.
Worktops
Worktops are often used over floor cabinets. Match the style of the worktop to the floor cabinet. Measure the depth carefully. Width and length can usually be fitted to size. Consider features such as the type of material, which might be laminated in matt or gloss finish, and the edging, which might be rounded or square.
Find Bathroom Floor Cabinets on eBay
From the eBay homepage, use the tabs to the left of the screen to navigate to the Home & Garden page followed by the Furniture page. Select Cabinets & Cupboards from the available options. Next, select Cabinets under Type and Bathroom under Room. This brings up a number of bathroom cabinets. The listings can be narrowed by various criteria. Under Material a variety of different materials, including solid wood, oak, beech and MDF can be selected. Under Cabinet Features the option for corner units and lights can be selected. Under Height there are various height ranges that can be specified. Alternatively, bathroom floor cabinets can be searched for in the search bar. Type in keywords such as "bathroom floor cabinet", "wood bathroom floor cabinet" or "freestanding white bathroom cabinet".
Conclusion
Bathroom floor cabinets are a useful and attractive component of the bathroom. They are available in fitted, modular, and freestanding designs. Plan the bathroom design, measuring available space carefully, and consider existing decor to decide which is more appropriate. Units are available in various sizes, from 30 cm width to 90 cm or more, and heights can vary from about basin height to tall tower units. They might be completely enclosed or incorporate open shelving or display units into the design. They are available in various materials, including wood, laminated board, and metal such as aluminium. Glass and mirrored elements can be a good way of creating light and space, especially in a smaller bathroom. The perfect bathroom floor cabinets will fit seamlessly into the space and decor, creating an inviting and relaxing space.