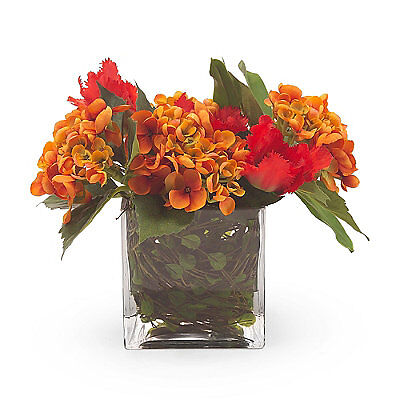 Creating your own floral arrangements, whether for a special occasion or to add colour to your home, is a popular and rewarding hobby. Arrangements are not limited to fresh flowers and foliage; they can include artificial materials, dried plants, flowers, and fruit, and other decorative accessories. A plethora of styles and designs are available, and investing in a flower arranging book is an excellent way to get new ideas and to see what tricks florists use to keep their arrangements looking their best.
Before you start shopping for floral arrangement supplies, ensure that you have the basic tools required for the job. Learn about the supplies available, from wet and dry floral foam to keep flowers and greenery in place, to containers designed to accentuate and show off your designs. Finally, consider finishing each arrangement with coloured or patterned cellophane, ribbons, feathers, beads and stones, butterflies, or decorative wire. Floral arrangement supplies are available from craft and florist shops and online from eBay.
Floral Arrangement Tools
The most important tools required to create floral arrangements are cutting tools. A sharp knife is used for cutting thin or soft stems; a pruner is needed for branches and thicker stems; a wire cutter is used to trim decorative and floral wire; and sharp scissors are needed to cut paper, cellophane, ribbons, and silk stems. Choose multi-purpose scissors to save money or have separate pairs of scissors for cutting paper and thicker or tougher materials. Although strong scissors can cut wire, it is best to use wire cutters because scissors tend to break more easily. A floral knife is also handy for cutting foam and styrofoam to size. If you intend to use artificial flowers with wire stems, consider investing in a pair of long nose pliers as the stems can be difficult to bend by hand.
Floral Foam
Floral foam is used to anchor stems. It usually comes in a green block, but can be found in special shapes and a range of sizes. It is easy to cut and shape. Floral foam can only be used once and tends to crumble if flowers are inserted and removed repeatedly.
Wet Floral Foam
Wet floral foam, also known as Oasis, can be saturated with water to keep newly cut flowers fresh. It should be soaked before use and cut to extend beyond the top of the container to make it easier to work with. Keep the foam moist to ensure that the arrangement lasts. Stems pierce this material effortlessly. Flowers arranged in Oasis can be transported without spilling a drop of water and tend to last longer than arrangements held in place by materials like chicken wire or newspaper.
Dry Floral Foam
Dry floral foam is best for artificial flowers and because they do not require water, it can be used without soaking it first. Dry floral foam is easier to penetrate than Oasis. Plastic foam, or styrofoam, is non-porous and cannot absorb moisture, but it is strong and sturdy and excellent for supporting large artificial arrangements. It can be cut to the required shape and secured to the interior of a container using an adhesive.
Floral Foam Shapes
In addition to standard blocks of wet and dry floral foam, rings, spheres, and other shapes used for funeral tributes are also available. They come in a variety of sizes and can be plastic or foam backed. Plastic backed foam protects surfaces from moisture and provides a reservoir for the flowers, making this the perfect option for table centrepieces. Foam backed floral foam shapes come with a waterproof foam backing and are often used in hanging arrangements.
Waterproof Tape for Floral Foam
Waterproof tape is used to keep wet or dry floral foam in place. It is pressure sensitive and sticks to any dry surface, remaining in place even if it is exposed to moisture. Waterproof tape is available in a variety of colours, but white and green are the most common.
Floral Tape
Floral tape is stretchable, usually green, and used to wrap multiple stems into a single stem. It adheres to itself without sticking to anything else; the adhesive is activated by stretching the tape. It is easy to work with and very useful when making buttonholes and corsages. Choose a tape colour that suits your needs; green is used most often as it blends with the arrangement, but brown works well for dried flowers.
Floral Wire
Floral wire can be tape-wrapped, painted, or bare, and is used to replace, support, or shape stems. It is pliable and easy to cut. If you cut a stem too short, floral wire can be used to extend the stem so that the flower does not need to be discarded. These wires come in different gauge sizes, styles, and colours, and can be spooled or pre-cut.
Floral Adhesives
Floral adhesives are useful when arranging artificial flowers or making gifts. They come in a variety of forms. Glue guns, tube glue, spray glue, and melted glue pellets are popular choices. Spray glue can be used to affix moss to floral foam. A glue pot, a small heated electric pan, allows you to melt glue pellets or broken glue sticks at a relatively low temperature. This type of glue can be used to secure foam or the ends of artificial flowers when creating larger arrangements. A glue gun and glue sticks can be used as an alternative.
Containers for Floral Arrangements
A huge selection of containers are available for displaying and securing floral arrangements. The table below lists and describes some of the more popular and widely used items.
Floral Container

Description

Small, usually inexpensive containers

Hold taper candles in floral foam

Can be secured with floral clay

Plastic round container with a handle

Comes with or without pre-shaped foam

Available in a various sizes

Designed to hold floral foam

Flat like a saucer

Available in various sizes

Range of sizes, shapes, colours, and depths

Reusable

Some feature integrated foam holders

Suitable for low and large arrangements

Available in different sizes and colours

Inexpensive

Designed to hold standard blocks of floral foam
If you do not want to use a ready-made item, then any watertight bowl, dish, or vase can be used to hold a flower arrangement. Ensure that the container chosen is in proportion to the arrangement. This is usually a third of the total size.
Decorative Floral Arrangement Supplies
Various decorative items can be included in floral arrangements to create a unique look. These include:
feathers
pull bows
beads and stones
butterflies
beaded wire
In addition, silk, paper, synthetic, and dried flowers can be used on their own or mixed with other materials. Choose colours, textures, and decorations that suit the occasion or the room where the arrangement is displayed.
How to Buy Floral Arrangement Supplies on eBay
To find the perfect floral arrangement supplies, search for an item by typing a phrase, for example "pearl wire", into the search field, which can be found on every page, to see the items available from eBay sellers. Refine your search by choosing the most suitable item characteristics. If you would like to further narrow or expand your search, use the advanced search option.
Before You Buy on eBay
Before buying on eBay, learn about the item and the seller. Click on an individual listing to view the item listing page. This is where you can find details such as the full item description, buying options, the seller's accepted payment methods, postage and packaging costs, and the seller's feedback information. Use the "Ask a question" link to contact the seller if you have any questions about the listing. eBay's seller feedback feature makes it easy to get to know your seller before you buy. Click on the number that accompanies the seller's username to access this information.
Conclusion
Creating your own floral arrangements allows you to assemble unique designs, and it is a great way to save money when arrangements are needed for special occasions. Ensure that you have the right tools for cutting flowers and other greenery, wire, paper, ribbons, and floral foam before you get started. One of the most important supplies that you need is wet or dry floral foam as this holds the arrangement in place. Oasis can be bought in specific shapes or can be cut easily to suit any container. Use waterproof tape or floral adhesives to secure the foam.
Floral tape sticks to itself when stretched and is used to make one stem of more than one flower. Floral wire has a number of uses, including extending and supporting stems. Floral adhesives come in various forms and are used to fix components and accessories in place. Choose a special purpose container for your arrangement or any watertight item that is in proportion to the arrangement. Finish your flowers with ribbons, bows, beads, stones, feathers, or other decorations. eBay sellers offer a wide range of floral arrangement supplies, suited to the needs of beginners and experts.