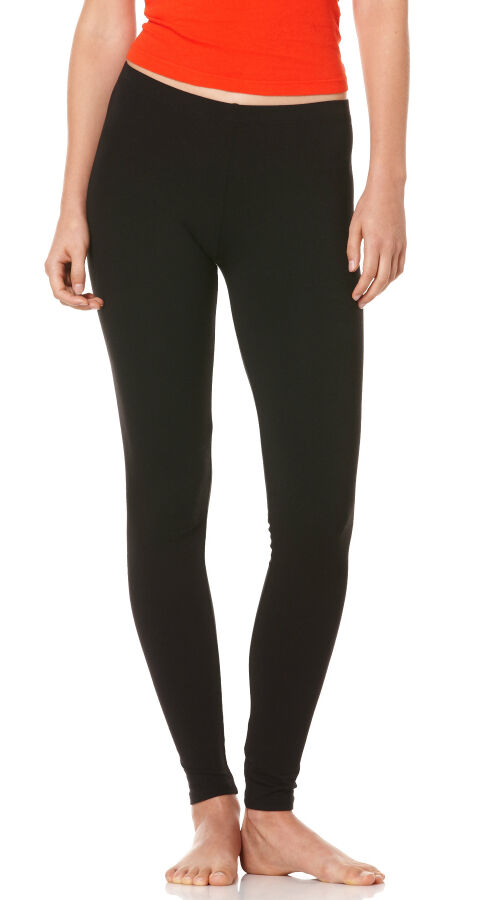 Women's full length leggings are form-fitting garments that expand from the waist to the ankle. Throughout history, both men and women have worn them to keep warm in cold climates or to prevent chafing during strenuous activity. While this is still a legitimate use in modern culture, leggings are not typically worn by men, and instead have become a fashion icon. Women wear them in a number of different ways, sometimes fully exposed and more often partially covered by an outer piece of clothing, such as a tunic or short dress. While the term leggings is sometimes used interchangeably with tights in the United States, the two are not synonymous.
There are many types of leggings, ranging from different materials to different colours and patterns. Learning which body types work best with which legging style will help guide you in your purchase, ensuring you get the perfect look for your body and personal style.
Since full length leggings have become so popular, they can be found nearly anywhere you buy clothing, from department stores to specialty shops. The online marketplace is an excellent place to shop for this fashion item. Auction sites such as eBay offer a wide selection of leggings from private and commercial sellers in one place, which makes it easy to compare prices and styles.
What are Full Length Leggings?
Women's full length leggings stick close to the skin, hugging the hips, backside, and legs. Because of this, they are often marketed as cold weather undergarments, but thanks to fashion, can be worn alone, as well. They usually begin at the waist and end at the ankle, but can also have stirrups to keep the legs from riding up or sagging at the hem, for a more stylish look.
Finding the Right Fit With Your Leggings
In the fashion world, there is a right way and a wrong way to wear leggings. Unless you feel comfortable setting your own fashion trend, it is best to follow these tips when shopping for full length leggings. The legs, hips, and rear of the garment should fit closely to your body but not uncomfortably. You should not feel as if you are packed in. Unlike pantyhose, leggings are not meant to hold you in. And if you have chosen scrunched leggings, all of the excess fabric should pool around your ankles only.
Leggings that sag in the seat or near the thighs will only look as if you have mistakenly worn gym pants with an otherwise stylish outfit. Because leggings are so form-fitting, be wary about wearing them as pants with short shirts . For many women, tight leggings reveal much more of the anatomy than they might be comfortable with.
Fabric Choices for Full Length Leggings
There is a nearly limitless list of materials full length leggings are made from. These include natural fibres such as wool, cotton, and silk and synthetic materials such as lycra, spandex, and polyester blends. Most leggings, however, contain at least a small amount of synthetic material, which helps the garment keep its shape. Know what you want out of your leggings before you begin shopping. This will help you decide which material is best for you.
For example, if you want your leggings to still look fresh from the store even after washing them several times, a blend of polyester or nylon with a small percentage of spandex will do the trick. If you have a funky style that you want to show off, choose something more exotic like faux leather, lace, or "jeggings ", which are a combination of the appearance of tight blue jeans and the comfort of leggings.
Types of Leggings
As stated, full length leggings can mean several different styles. Leggings that end at the ankle tend to be the most popular and, therefore, the most widely available. They are also the most versatile and can be paired with nearly any outfit, shoes, and accessories. They are also the best choice for cool weather.
Stirrup leggings are just what they sound like. They still end at the ankle but a stirrup of material extends from the ankle to loop under the foot. While reminiscent of the 1980s, they can be a good choice if you are worried about the legs riding up or have trouble keeping the leggings in place when wearing big socks or boots. Because they are reminiscent of 1980s styles, women choosing to make a mod fashion statement can easily recreate the style.
Leggings that are designed to scrunch up at the ankle may be much longer than you need. However, these are excellent choices for outfits with long shirts and small shoes. The scrunch should be treated as an accessory. While great for breaking up the leg on a tall woman, petite women should choose a different style since the scrunched material tends to make legs look shorter.
Different patterns, textures, and accessories give full length leggings an even wider selection for women to choose from. The choice of pattern or colour is completely up to you and depends entirely on what you are comfortable wearing. But to stay stylish and happy with your new leggings, you will want to consider your body shape. Wearing the right leggings for the right body will make all the difference between trend-setting and a fashion flop.
Leggings for Petite Figures
If you are petite or short, ankle length leggings are your friend. Scrunched leggings should definitely be avoided here as they can make your legs appear shorter and your outfit sloppy. Consider your wardrobe when shopping for these. High heeled shoes that are the same colour as the leggings will cause your legs to appear longer. A mini dress, short tunic, or jacket will complete the look nicely.
Leggings for Full Figures
Despite conventional wisdom, full figured women can wear leggings, too. As with petite figured women, ankle length leggings should be your choice. Black or other dark colours will look best on you since they will draw the eye away from your legs and towards the rest of your outfit. Long cardigans, tunics, and similar tops paired with full length leggings look great on full figured women. Try a knee-high boot to continue the elongating look and create a wintery outfit.
Leggings for Pear-Shaped Figures
Women who are pear-shaped or smaller at the top and rounder at the bottom can also wear leggings with style. Ankle leggings in dark colours are best for you, but the real key to making them work is to concentrate on your top. Pick a dress or blouse that draws the eye away from your leggings. Nearly any shoe you choose will look great with your new leggings.
Leggings for Tall and Slender Figures
Tall and slender women can wear any leggings style they want. Your long legs will benefit if you look for leggings that highlight the rest of your outfit. Choosing skinny leggings to pair with a large or flowing top will make your legs look even leaner. If you do not want to look tall, scrunched up leggings will break up your leg and make it appear shorter.
Leggings for Hourglass Figures
Women who have a tiny waist and proportional upper and lower bodies look great in leggings. Ankle length leggings will serve you best but you can also get away with scrunched full length leggings if you choose the top carefully. Blouses or dresses that are cinched at the waist will particularly highlight your hourglass figure. High heels or mid-calf shoes will look best with your leggings.
How to Buy Full Length Leggings on eBay
Full length leggings can be found in the style, colour, and material you are looking for through online auction sites such as eBay. When shopping on eBay, you will want to begin your search by entering the keyword into the search box located on the home page. Any combination works, from "full length leggings" to "women's full length leggings." You are likely to receive many pages of results. If it is too overwhelming, refine your search by using the filters on the sidebar to narrow the number of results. You can also use the sorting tool bar to order the results by price, colour, and more. This will help you find what you are looking for faster.
Once you have reordered the results, the next step in your shopping experience is to read through the listings of the items you like. Each listing will include a description of the item, pictures, the seller's name, and the price. Be sure to check any shipping charges the seller plans to add to the overall cost so that you stay within your budget.
Click on the seller's name to reach his or her full profile. There, you can look at any other items the seller has sold. You can also read feedback from other customers who have bought from the seller. Once you have happily purchased your leggings, leave some positive feedback for potentially new customers.
Conclusion
Both men and women have been wearing leggings for centuries. Contemporary fashion has produced a wide variety of leggings that can be worn for any occasion, body type, or personal taste. Designed to be form-fitting, leggings are not synonymous with tights but can be used as an alternative to them with many different types of outfit combinations. In order to make your shopping experience beneficial, you need to be aware of what you are buying the leggings for, and what kind of climate you plan to wear them in. Knowing your body type and which leggings look best will keep you stylish and pleased with your new purchase.
Women's full length leggings can be found in department stores, specialty shops, and in online marketplaces like eBay. Buying full length leggings on eBay is not only an excellent way of finding what you need within any budget or style, but it also allows you to look at colours and patterns that you might not have considered otherwise. It only takes a few minutes to search the site and find the perfect leggings to suit any purpose or occasion.