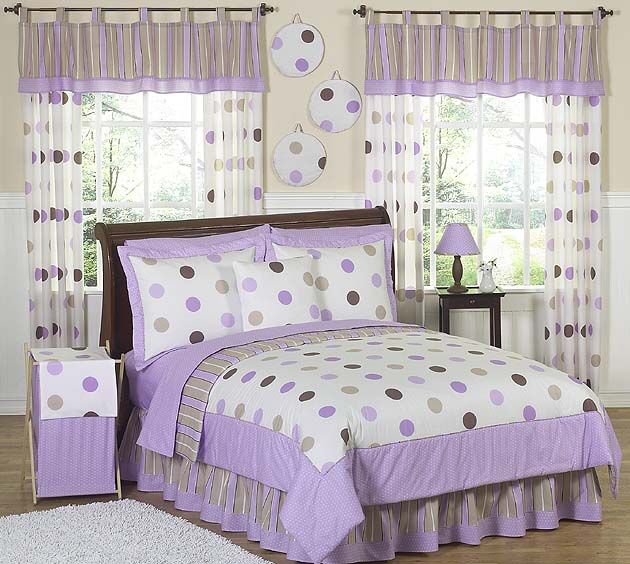 Bedding refers to duvets, pillows, and bed linen that you use in order to cover a bed. The duvet and pillows must be chosen wisely in order for a girl to have a good night's sleep and to avoid allergic reactions. Also, it is vital that the material for the bed linen should be is suitable for a girl's sensitive skin. With the wide selection available, you should be able to satisfy your requirements to buy just the right bed linen.
In addition, bed linen not only protects the mattress, duvet, and pillows, but helps to stylise a girl's bedroom. A popular choice of colour for girls' bedding is pink, but there are many other cute designs. It may be best for you to choose the most appropriate duvet and pillows, and then leave the decision about the most appealing bed linen to the girl. Girls' bedding is available from high street children's shops, homeware shops, department stores, and supermarkets. Also, a wide selection can be purchased at online retailers, such as eBay.
Girls' Duvets
There are a few factors to consider when buying a duvet for a girl. The first is choosing the right tog rating according to what is most appropriate for the child and the season. Another is finding the right filling, where the choice is between natural or non-allergenic synthetic. Cath Kidston offer a great range of bedding for girls.
Tog Ratings for Girls' Duvets
The tog rating reflects the duvet's ability to trap warm air inside it: the higher the tog rating, the warmer the duvet. In general, duvets require less natural filling because its thermal properties are better than that of synthetic filling. The following table provides a guide to duvet tog ratings.
| Tog Rating | When to Use | Description |
| --- | --- | --- |
| 3-4.5 tog | Summer | Lightweight |
| 7.5-9 tog | Spring and autumn | Warm |
| 10.5-13.5 tog | Winter | Extra warm |
It is advisable to choose a duvet with a lower tog rating and add a blanket to the bed. Girls can pull this over their duvet when they need extra warmth. If the girl is very young, then opt for a duvet with lower tog rating because her small body will tend to trap air around it, causing her to feel warmer under the duvet. A girl's first duvet should be very light, with the tog rating in the range of 3-4.5 tog. Later, she may need a warmer duvet with the tog rating of 7.5-9 tog. Girls over 10 years old can use a duvet of 10.5 tog.
Duvet Fillings for Girls
Natural duvet fillings have the ability to breathe and absorb body moisture, which is released in the morning when the duvet is aired. Therefore, natural duvets keep the body cool in summer and warm in winter. Natural materials last longer than synthetic, but they are also more expensive.
Feather and Down Duvet Filling for Girls
Feather and down filling is the most popular natural filling. Feathers are firmer and heavier than down, so they offer less insulation. Down is very light as it does not contain feather quills. Duvets with higher down content are more durable, lasting up to 20 years compared to feather duvets that last approximately 10 years. Duck feather and down is the cheapest option, while those of geese are considered the most luxurious.
Silk Duvet Filling for Girls
Some girls may suffer from allergies caused by dirt and dust accumulated in the duvet. They may still use feather and down duvets that have a tightly weaved casing that creates a barrier between the filling and the girl. However, silk duvets are also a good option for allergy sufferers because silk is resistant to dust mites and is hypoallergenic.
Synthetic Duvet Filling for Girls
Synthetic fillings, such as hollowfibre and microfibre, are less expensive, so they can be considered when the girl is growing, but not yet using a full sized duvet. Hollowfibre and microfibre are made of polyester, and the latter feels quite like natural down thanks to its softness and lightweight feel. Duvets with synthetic filling are also more practical because they can be machine washed. Therefore, many parents may consider synthetic fillings the best option for their child, especially if she has allergies and the duvet requires frequent washing in order to remove dust mites.
Girls' Pillows
Choosing the pillow comes down to finding the right filling and firmness. Overfilled and medium pillows are for girls who sleep on their side or back and need to support the head and neck. Girls who sleep on their stomachs, are better off with softer pillows that let the head sink to a comfortable level. Pillows containing a mix of feather and down filling are soft when the majority of the filling is down as feathers provide firmness. Pillows are usually covered with good quality cotton that is breathable.
Natural Pillow Fillings for Girls
Some natural feather and down pillows can cause allergies because they collect dust mites. This can be prevented by a special casing that prevents dust mites entering the pillow. Duck feathers are light, but goose feathers are even lighter and make the pillows fluffier. Goose feathers offer better support and insulation.
Synthetic Pillow Fillings for Girls
Microfibre feels soft, like goose down, but is actually a synthetic material. Synthetic pillows can also be made of hollowfibre, which is cheaper, but does not last long. Synthetic materials can be machine washed, so they are good for allergy sufferers. Washing at 60 degrees kills dust mites.
Memory Foam Pillow for Girls
The memory foam pillow changes shape according to the sleeper's head and neck contours by reacting to body heat and moulding accordingly. These pillows are good for girls who sleep on their side and need to be supported correctly for the gap between the head and the shoulders. A memory foam pillow is a good choice for girls that are at least 3 years old. There are also firmer visco-elastic or softer latex pillows.
Girls' Bed Linens
When choosing girls' bed linens, opt for natural materials that feel good against the child's skin and breathe well. Cotton is always a good choice and it comes in many blends, each one of them with their own benefits. Girls' bed linens should be fun to keep the girl happy, so consult her about what she likes. She may prefer a pink princess theme or cartoon characters. It is possible to buy bed linens as a set when the girl's bed is of standard size. Typical sets include a fitted sheet, flat sheet, duvet cover, and one or two pillowcases. Sets are also great when the girl knows what kind of design she wants. If the girl likes many different styles, then you should consider mixing and matching the bed linens by buying them separately.
Girls' Blankets and Bedspreads
Blankets, bedspreads, and throws are used during the day to cover the duvet and give the bed a stylish look. On colder months they can also be used together with the duvet to provide warmth at night. They are useful because they protect the duvet and a girl can spend time on her bed during daytime as well, reading a book or playing. Choose a durable and washable material or buy more than one to change the style according to the season.
Girls' Sheets
For a durable sheet, buy one that has high thread count. That is, a high number of threads per square inch of material. For example, a 200 thread count is a popular choice. Natural cotton is good for girls' skin, as it is known for absorbing moisture. However, sheets with natural fibres require more ironing, while a polycotton sheet, a blend of polyester and cotton, can be placed on the bed directly after drying and it becomes smooth. A luxurious and expensive Egyptian cotton sheet may not be the best choice for a very young child. Sateen, a cotton material with a special weave, is also soft and feels luxurious, but costs less.
It may be necessary to buy both a fitted and a flat sheet. A fitted sheet is held in place by elastic that is sewn into its four corners and protects the mattress. The flat sheet is laid over it. If a girl turns a lot during her sleep, then the flat sheet may not stay in place. It is also advisable to used a mattress cover for protection underneath the fitted sheet, especially if the girl still sleeps in nappies.
Girls' Duvet Covers
The duvet cover protects the duvet from spills and stains and ensures its long life. The choices of material for the duvet cover are similar to those of the sheets. It is best to choose a material that is easy to care for such as cotton and cotton blends that endure machine washing at 60 degrees. Duvet covers are very visible, therefore think about the patterns and colours that the girl likes.
Girls' Pillowcases
The pillowcase should feel good on the skin, therefore natural materials like cotton are suitable. Cotton can also be machine washed frequently. Girls' pillowcases often come with colourful pictures.
Sizing of Girls' Bedding
Choosing the size of the bedding depends on the bed's dimensions. There are some standard sizes used. The girl's bed will be either a single or a double. However, make a note of the dimensions of existing bed linen and shop accordingly. This table below serves as a guide.
| Type of Bedding | Single (cm) | Double (cm) |
| --- | --- | --- |
| Duvet | 140 x 200 | 200 x 200 |
| Flat sheet | 180 x 255 | 230 x 255 |
| Fitted sheet | 92 x 190 x 25 | 138 x 190 x 25 |
| Duvet cover | 140 x 200 | 200 x 200 |
| Bedspreads | 193 x 265 | 244 x 265 |
Note that the first number in the dimensions is for the width and the second represents the length. Fitted sheets have three dimensions, the last being for the box depth, as they go over the edge of the mattress. The standard pillow size is 50 cm x 75 cm, and you should buy pillowcases with the same dimensions.
Buying Girls' Bedding on eBay
You can start buying girls' bedding on eBay by browsing the available collections. Type "girls bedding" into the search box on the main page. This search gives you results from all bedding categories from duvets and pillows to bed linen, and presents thousands of listings, which you can further narrow down by sorting the results by price.
If you have decided what kind of bedding you need, then you can choose the appropriate phrase, and the search can be quicker and more accurate. In the keywords, you can also specify the colour, material, or the theme, for example, "pink cotton bedding".
As the bedding has to fit a particular bed, measure the bed, bed linen, or any duvets and pillows beforehand and look for matching sizes. When in doubt, ask the seller for further information. You may also like to find out about possible exchanges and refunds in case the bedding does not fit. If this information is not included in the item listing, then contact the seller.
Conclusion
Girls bedding includes duvets, pillows, and bed linen. If you are designing a girl's bedroom, then you should not only think about which kind of material is best for the child, but also choose patterns and colours that she likes. Pillowcases, duvet covers, and bedspreads are the most visible parts, while fitted and flat sheets are not really seen, so they can be plainer. For easy care, opt for cotton or cotton blend materials that endure washing at 60 degrees. This helps to prevent dust mites and keeps the linen fresh at all times, especially for girls with allergies.
While the outer bed linen is all about style, the duvet and pillow should be functional and offer enough warmth or support. Both duvets and pillows are available with natural feather and down fillings, as well as synthetic, such as hollowfibre and microfibre. The synthetic varieties do not last as long, but they are machine washable, so may be a good choice for allergy sufferers. When choosing a duvet consider how much warmth your girl needs and bear in mind that children can become warm at night and should sleep with lighter duvets. For a wide selection of duvets, pillows, and bed linen made of a variety of materials, visit eBay.