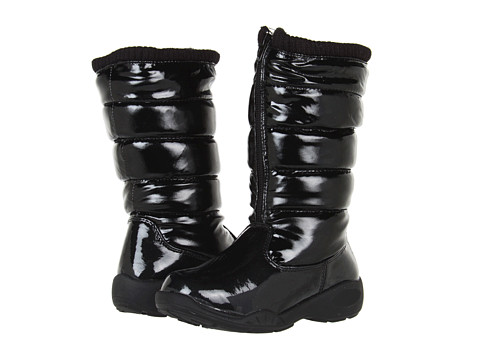 Wearing boots is a popular way for many girls to explore and exercise their own personal sense of style. Girls' boots come in a wide array of styles, from the bold and military-themed to the refined and fashionable. Boots are stylish and practical items which give grown-ups the satisfaction of providing a warm, durable, and stable shoe for a girl, while also giving her a creative way to express her fashion sense.
Various types of girls' boots are available in the market, offering a plethora of choices for parents and girls to choose from. When choosing a boot, one must take into consideration its purpose, which can range from whether it is to purely make a fashion statement or if it primarily is to keep the feet warm. One must also take into account the size of the boot, as it can mean the difference between being comfortable or not. Girls' boots can be purchased at mainstream department stores as well as specialty shoe stores. One may also benefit from the wide range of choices available online at retailers such as eBay.
Types of Girls' Boots
Many different types of girls' boots are available on the market today. Some of these categories of boots come with details that can influence one's choice of boots.
Military-Style Girls' Boots
Many girls enjoy wearing boots that reflect a military or army style. These boots usually feature a heavier tread, buckles, and a full, lace-up front. Colours can range from the traditional shades of the military, such as black and dark grey, to more feminine colours. Some military-style boots for girls can even have designs such as butterflies or hearts on them, making them a truly appropriate accessory for many girls.
Fashion Girls' Boots
Girls' boots today often mimic the fashions of women's boots. These boots can feature sleeker and more polished designs, and often come in faux leather, patent, or suede material. They can also come with buckles or even zippers. The selection available in this category can vary from season to season, as trends change.
Fur-Lined Girls' Boots
Another subset of girls' boots that is popular amongst children is the fur-lined boot. These boots can come in an array of colours, but all feature either a complete faux fur lining in the interior of the boot, or a faux fur cuff at the top of the boot. These boots are prevalent in the winter months and often have a sturdier tread for walking in the slicker conditions of snow or ice; however, many of them can still have the smooth sole of a fashion boot, so parents should pay special mind to the practicalities involved in wearing these boots.
Cowboy-Style Girls' Boots
Cowboy boots, or Western-style boots, evoke the designs and styles of the American Old West. These boots usually end at mid-calf, but many ankle styles are available as well. Cowboy boots can be found in a traditional array of browns and blacks or in more dynamic, girl-oriented colours such as pink and purple. These boots can also feature stitch detailing that evokes the patterns of the Old West. Cowboy boots are typically pull-on style boots and can come with loops at the top which aid in pulling a boot on.
Biker-Style and Riding Girls' Boots
Biker boots are solid leather or faux leather boots that have a minimal design aesthetic, usually featuring a single, heavy buckle at the ankle of the boot or the top of the boot. These boots are typically found in black or grey, with an occasional brown. Some versions incorporate girlish details such as butterflies or other design elements to the outside of the boot.
Riding boots are designed to mimic the classic riding boot used in equestrian sports. These boots are usually knee-high and can have a minimal look to them. A buckle used as a design element may be featured at the top of the boot, outside the calf.
Wellington Girls' Boots
Wellingtons or Wellies are rubber boots designed to keep feet dry in rainy weather. These ubiquitous boots have transitioned from the pragmatic and plain Wellies of the past into charming and fashionable accessories. Wellies today come in a range of colours and styles, featuring unique designs that can appeal to almost any child.
Wellies that are made specifically for winter can be just as stylish and diverse as other types of boots. These cold weather boots have thicker treads for navigating snow and ice and can also feature a faux fur or fleece lining to keep the foot extra-warm.
Getting the Right Size of Girls' Boots
When shopping for a pair of girls' boots, getting the size correct is very important. The size of a boot can affect the comfort and safety of a child, defining how stable a foot is inside a boot. To find the right pair of boots for a girl, an adult should first measure the child's foot.
Measuring a Foot for Sizing
To measure a child's foot size, a parent can begin by taping a regular piece of A4 paper to the floor. The child should then stand on the piece of paper in bare feet. It is important to remember that most individuals have one foot that is larger than the other; the larger foot should be used as the sizing foot. Once the child is standing on the paper, the adult can trace the outline of her foot and then draw two lines across the topmost point of the foot and at the heel. From there, it is a simple process of using a measuring tape or ruler to get the length in centimetres from the heel to the furthermost tip of the toes.
Average Sizes for Girls' Boots
When looking for children's shoes, parents may find a range of sizes on the market, including sizes from the UK specifically, the Euro zone, and even the States. The following chart lays out the respective sizes in each category for foot length in centimetres.
Approx Foot Length

in Centimetres (cm)

UK Size

Euro Size

USA Size

9.3

0

16

1

10

1

17

2

11

2

18

3

11.6

3

19

4

12.3

4

20

5

13.7

5

22

6

14.4

6

23

7

15

7

24

8

15.6

8

25

9

17

9

27

10

17.7

10

28

11

18.4

11

29

12

19

12

30

13

20.4

13

32

1

21

1

33

2

21.7

2

34

3

23

3

36

4

23.6

4

37

5

24.3

5

38

6

25

6

39

7

25.7

7

40

8
It is important to remember that boot sizes can vary from manufacturer to manufacturer. It is a crucial step of the purchasing process to confirm sizing with a manufacturer or vendor before making a purchase. Another point to consider is that children grow quickly; it can be a good idea to select a boot that is slightly bigger, so that a girl has room to grow into a boot a bit before quickly growing out of it.
Shopping for Girls' Boots
Offline retailers such as shoe stores and general clothing retailers carry a range of boot selections. These retailers sell items that vary from season to season and often select their range of styles based on what is trendy at the moment. This can limit the range of selections for consumers who are looking for classic items. Even with their on-trend stock, local retailers are often still limited in what they offer in a store. On the other hand, online auction sites such as eBay are far more comprehensive in their catalogues of listings.
Buying Girls' Boots on eBay
To begin a search for girls' boots on eBay, you can start by running a search with the general term "girls boots". This provides you with an overview of what is available on the website. The site also offers related search suggestions when you run a search, and they can help open up additional options for you. If you already have a specific style in mind, you can run a search with a narrower term such as "girls military boot". Either method can provide multiple listings that you can look through to find an ideal pair of girls' boots.
When shopping on the auction site, it can be a good idea to get to know the sellers you are interested in buying from. You can do this by looking through their past auctions and reviewing the feedback they have received from other customers. This can increase your confidence in the seller and the buying process on eBay.
Conclusion
Despite the wide range of options available on the market today, shopping for girls' boots does not have to be a complicated process. By scanning the marketplace and doing some research on the types of boots available, grown-ups can easily narrow in on a selection in their search for this essential item of girls' footwear. Once they have a good understanding of the style of boot they would like to purchase, consumers can leverage the extensive listings of the online auction site, eBay, in their search for girls' boots. On this website, parents can find any style of boot regardless of the time of year or what is on trend at a given moment. By perusing the thousands of options on the site and then taking the time to get to know their sellers, a consumer can quickly and efficiently find the perfect pair of boots for a girl through eBay.