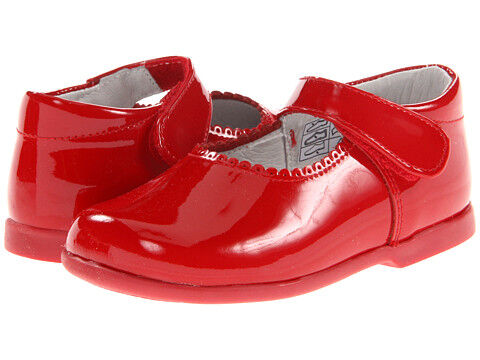 Girls' formal shoes are often referred to as girls' dress shoes or even girls' wedding shoes. They are a must for young ladies who need a good pair to wear to a formal occasion, such as First Communion, weddings, and formal parties. Formal shoes can come in many different colours and styles, each of them with their own unique look to complement the right occasion.
To achieve an elegant, beautiful look with formal shoes, young ladies need a pair of formal shoes that will fit them well without feeling uncomfortable. Formal shoes are rarely worn on the street, so there shouldn't have to be a thousand pairs in a girl's closet. A few well-chosen, classic formal shoes are enough.
A typical pair of girls' formal shoes is close-toed, even close-heeled. It might even have a slight elevation or heel, depending on the style. Many formal shoes will have straps across the top of the foot. Girls' formal shoes often appear like stylised ballet flat slippers, and can be used for many formal occasions.
This buying guide offers advice on how to buy girls' formal shoes. It describes the factors the buyer should consider when shopping for girls' formal shoes, and offers guidance on how to navigate eBay in search of shoes..
Factors to Consider When Purchasing a Pair of Formal Girls' Shoes
Because this pair of shoes will be worn for a formal occasion, there are many factors to consider before buying a pair. A girl need to feel as comfortable as possible while still looking stylish. The key is to take all these factors into account, including style, colour, and size.
Styles of Girls' Formal Shoes
Not all girls formal shoes will have straps across the top, and if they do, they might not be comfortable. If a girl's foot is high vertically, or if a girl feels uncomfortable wearing shoes with straps, then there are options for girls' dress shoes that are formal in style while still being comfortable. Younger girls might be fussy when the shoes' straps begin to wear on their feet. Instead, try closed shoes without straps for a sleek looking girls' formal shoe.
Stylised ballerina flat shoes are a well established fashion trend and are a comfortable alternative to formal sandals and strapped girls' dress shoes. Ballerina flats are softer on the feet, and can be used for walking. It is an ideal shoe for weddings and formal occasions, when children need to be able to run around and have fun with their friends. Ballerina flats are also ideal for dancing, making a good alternative as girls' formal shoes for formal dances.
Colours of Girls' Formal Shoes
Because of the nature of a formal occasion, girls' formal shoes should not be overly flashy or brightly coloured. However, any colour of formal shoes is acceptable as long as both the style and colour match with the dress. This does not mean that the shoes and dress should match each other exactly. Rather, the shoes and dress should complement each other, such that the colours flow and work together regardless of their shade and hue.
A good rule of thumb to follow is to shop for a dress first, and then search for shoes to match the dress. Classic black formal shoes often go with many dresses that come in darker, earth-toned hues, but black shoes might be too austere, especially if the occasion has a pastel or summer theme. Softer colours such as beige, ivory, or bone might suit a pastel dress better. Pure white shoes are often too glaring and are reserved for pure white dresses such as those for First Communion, or if a child will be a flower girl at a wedding.
Another good rule to observe is that of matching shoes, dress, and accessories. Heavy or large jewellery can set off a simple dress, but can appear overbearing when the shoes are too sparkly or overly embellished. In such a case, simple girls' formal shoes are in order.
Girls' Formal Shoes and Comfort
In general, the softer the shoes, the more comfortable they are to wear. Some girls' formal shoes will have a soft lining, which can be made of satin or other soft fabrics. These fabrics prevent chafing. Even if they are more expensive, shoes that are made from leather will age and become softer over time. They will also adhere to and follow the shape of the foot wearing them. Genuine leather shoes tear or wear out easily if they are not worn often, but with proper care, leather shoes are more comfortable than those made from materials such as plastic or even imitation leather.
Sizing Girls' Formal Shoes
Because a girl's feet will have to sit inside the shoes for an extended period of time, and because a girl might have to also walk in them for an extended period of time, girls' formal shoes must be comfortable. There are several factors to consider when assessing the correct size of shoe to buy.
Measurements and Standing Weight
The sizes of all childrens feet change, and it would be a good idea to regularly measure the size of a girl's feet. This measurement should be made while the girl is standing on the foot, or placing a lot of weight upon it. This weighting allows for measurement of the foot based on the actual pressure exerted on the foot when standing or walking.
Foot Width and Shape
Many ready-to-wear shoes are designed with slender feet in mind. However, many feet are also wider than the average, and will often not fit comfortably within such shoes, regardless of the match in length. Width, and therefore, the shape of the feet, are important factors in determining which girls' formal shoes to buy.
There are several types of feet. Round feet are curved in the toes and will generally fit better into formal shoes with round boundaries around the toes. Square feet are angular at the area around the toes, and are usually suited to dress shoes that are squared at the top, or that appear wider rather than rounded or pointed. Finally, triangle-shaped feet are more pointed and are better suited to pointed shoes.
It is advisable, therefore, to have a geometric match between feet and shoes. A rounded foot, for instance, will feel constrained and constricted if made to fit within a square-toed formal shoe. Girls with both rounded and square-toed feet will feel pain when forced into a pointed shoe. Triangle-shaped feet, on the other hand, will wobble inside rounded and square-toed shoes.
Toe Box Depth
The depth of a toe box represents the height of the toe measured from the plane of the sole to the plane of the top of the foot. Larger, or taller toes, therefore, need a deeper toe box in a formal shoe, or the toes will feel constricted. On the other hand, shorter toes need a narrower toe box in a formal shoe, or the toes will wiggle around too much and perhaps even chafe due to the poor fit.
A good way to measure the toe box is to hold the back of the shoes directly to the foot, so that the sole of the foot rests exactly against the sole of the shoe. If the toes and shoe appear to be the same height, then the toe box is of the right size. On the other hand, if the toes appear to be taller than the shoe, the toe box is too tall and the shoes will be uncomfortable, especially for walking.
Shoe Fit and Comfort
When purchasing formal shoes online, a good way to gauge comfort is to find the same shoe in a brick and mortar store. Once a shoe is found, one can search for it online to check for discounts or lower prices on the same pair. While at the brick and mortar store, it would be advisable to have the child try on the shoe and walk with it for a few minutes. In general, if a shoe is comfortable for walking for five to ten minutes, then it should be comfortable enough for a formal occasion.
While walking, the shoes should not pinch against the feet. The heel should also not slip out of the shoe, but there should also be a comfortable enough distance between heel and shoes so that the foot is not held too tightly within the shoe. The shoes or any parts of them should also not chafe the ankles or other bones in the feet.
Shoe Size
In general, the size of a shoe has to do with its length, and measurements will vary across regions. The following chart compares shoe sizes across shoe sizing systems.
| Europe | Japan | US and Canada | UK |
| --- | --- | --- | --- |
| 26 | 14.5 | 9.5 | 8 |
| 26.5 | 15 | 10 | 8.5 |
| 27 | 15.5 | 10.5 | 9 |
| 27.5 | 16 | 11 | 9.5 |
| 28 | 16.5 | 11.5 | 10 |
| 28.5 | 17 | 12 | 10.5 |
| 29 | 17.5 | 12.5 | 11 |
| 30 | 18 | 13 | 11.5 |
| 30.5 | 18.5 | 13.5 | 12 |
| 31 | 19 | 1 | 12.5 |
| 31.5 | 19.5 | 1.5 | 13 |
| 32.5 | 20 | 2 | 13.5 |
| 33 | 20.5 | 2.5 | 1 |
| 33.5 | 21 | 3 | 1.5 |
| 34 | 21.5 | 3.5 | 2 |
| 35 | 22 | 4 | 2.5 |
In many cases, a right-handed person will also have a larger left foot. Conversely, a left-handed person will also have a larger right foot. For older girls who already have a steady hand to write with, it would be advisable to use the foot opposite that hand as the basis for purchasing a formal shoe of a specific size online.
How to Find Girls' Formal Shoes on eBay
To start your search for girls' formal shoes on eBay,, visit the main site, and then use the search terms 'girls formal shoes&', 'girls dress shoes&', or even 'girls wedding shoes&'. When searching, you can also specify the size of the shoe that you want beforehand.
Read item descriptions carefully, noting the size, toe box depth, width, and shape. Ask the seller for additional photos of the shoes so that you can see the shoes at all angles and get a better grasp of the colour and style. Do not be afraid to ask the seller questions.
On one side of the results page are filters that you can use to narrow your search. You can specify the condition of the shoes (new or used). You can also set your own price range for the shoes. The search filters also allow you to exclude listings that have not been posted by top-rated sellers. These sellers all have demonstrated their commitment to providing quick turnarounds and are trusted to deliver quality items.
You also have the option of participating in an eBay auction or buying the shoes immediately. If you are in a hurry, you might choose the latter option. However, eBay auctions do tend to drive prices down. You can also select the delivery option and location of the seller. This give you the option of picking up the shoes and saving on postage. Be that as it may, there are also high quality shoes abroad, so if you have time to spare, include other countries and locations in your search. Just make sure that you consult the shoe sizing chart that compares shoes sizes across various countries and regions.
Conclusion
A good formal shoe for girls should fit comfortably, look beautiful and stylish, and be durable enough to last for a long while. Care should be exercised when selecting girls' formal shoes, including shopping according to colour, comfort, size, and style. Because sizes differ across regions, measurements should be known before any purchase is made. Factors in shoe sizing include the shoe length, width, toe box depth, and even the shape of the feet.
Moreover, because colours differ across regions, care should be taken in selecting shoes online based on colour alone. Care should also be exercised when selecting specific colours to match occasions. While a shoe colour must not directly match the dress, it is still advisable to choose a dress first, and then the girls' formal shoes later.
Buying shoes online can be a challenge, but the eBay marketplace provides a wide range of shoes with varying styles and colours to choose from. With a good dress on hand, fashionable accessories, and a knowledge of formal shoes, a good pair of formal shoes is just a few mouse clicks away.