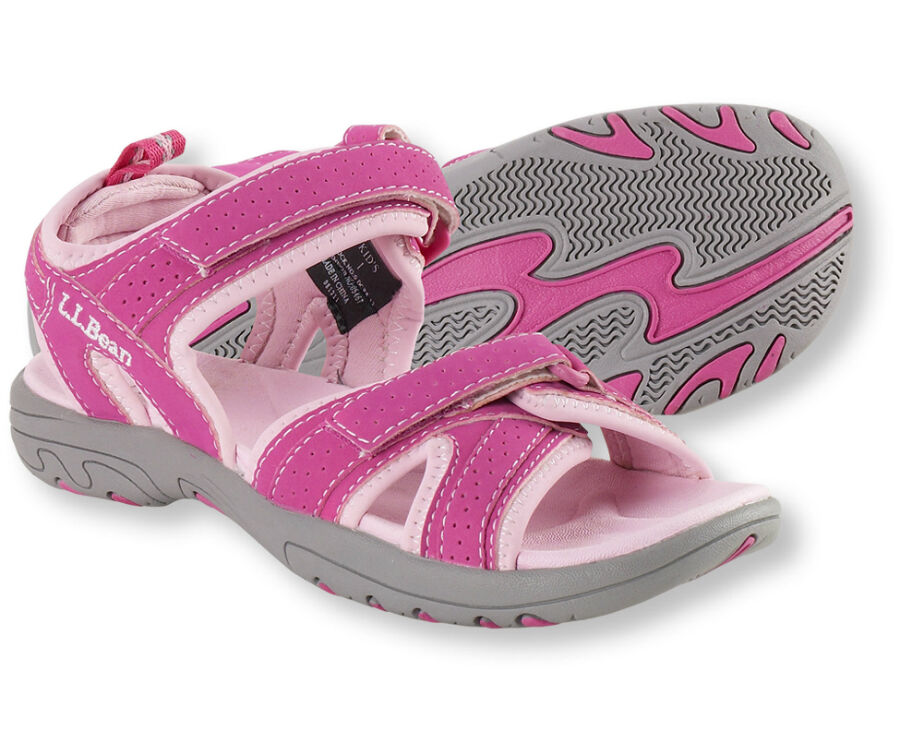 Girls sandals are an exciting, stylish addition to any girl's wardrobe. They might once have been reserved for the beach or informal parties, but today, even banquets and formal gatherings are acceptable venues to show off strappy, even flat sandals. Girls' sandals can come in many different styles and colours, and the nature of sandals makes them suitable for all styles of dress.
A good pair of sandals can turn an ordinary look into an elegant one, a casual one, a fun one, or even a classy one. Sandals can be used for parties, at the shopping mall, on the beach, and even at school. They are typically open or close-toed, close or open-heeled, flat or with heels, and with straps or none.
Sandals once were made of animal hides, and in the past were used primarily for formal and religious occasions. They took on a casual look in other cultures, which evolved into flip-flops when North American servicemen came back from the Korean War and brought the style to the U.S. Today, the sight of girls wearing sandals is a sign that spring is coming and that summer is not too far away.
There are many factors to consider when shopping for a pair of sandals, including the size and shape of the foot, the sandal colour and style, and comfort. Girls' sandals are sold at most shoe shops and in the girls' clothing section of most high street shops. Shoppers will find a huge selection of girls' sandals on eBay.
Types of Girls' Sandals
Sandals are meant to be a comfortable alternative to the more stylish, but less casual dress shoes. Sandals can be distinguished by the fact that they do not completely enclose the entire foot uniformly. For example, a sandal can be close-toed but open-heeled; or it can be open-toed but close-heeled. There are also sandals that are both open-toed and open-heeled, as in flip-flops and strappy sandals.
Flip-flop style sandals cover only part of the top of the foot and end in a fastener between the big and second toe. Strappy sandals run various straps across the length and width of the foot. Roman sandals cover the foot with fabric but will have cutouts for the foot to breathe. Gladiator sandals will also have multiple straps running along them and can be tied several times around the ankle or legs.
In general, flat sandals are more casual and comfortable. They are typically worn with lace or peasant dresses, large and louder accessories, and even capri pants and other casual outfits. Such outfits are given a stylish twist when worn with flat sandals.
High-heeled sandals can be worn for both evening and day occasions. They are a little more formal than flat sandals, and although they are not advisable for younger women and girls to wear, a slight heel can provide an element of style that flat sandals cannot. Sandals with heels can be worn at gatherings and dance events, out-of-town trips or casual weddings. Older girls might use them for a party or concert, as they can be paired with either pants or dresses.
Girls' Sandals Colours
Because girl's sandals come in many different colours, and because sandals can be worn for a wide variety of occasions, there are no hard and fast rules for selecting sandals. However, for a versatile look and an easier match with all outfits, neutral colours are a safe choice. They can be paired with colourful clothes or plain ones. Black, grey, brown, and even silver sandals are considered safe, neutral colours for various clothes.
Unlike dress shoes and formal footwear that must match a dress exactly, sandals are bound by fewer restrictions. Often, a pair of sandals can be bought that will match many clothes in a wardrobe. This can be important for kids who have many clothes, many casual occasions to go to. For parents on a budget, a few well-chosen neutral pair of sandals can be used for a wider variety of dresses.
In general, however, brightly-coloured sandals work best when paired with neutral outfits, while neutral sandals are best worn with brightly-coloured outfits. This rule of thumb minimises the possibility of clashes between colours and motifs.
Thickness of the Sole
Most sandals, especially flat ones, will have a very thin sole. This enables comfortable walking but once the sole wears out, it can be difficult to walk in such sandals. Rubber soles are often preferred, not only because they are more durable, but because they are sometimes designed with more traction than other kinds of soles. In general, thicker soles will be more comfortable to wear over time and will experience less wear and tear.
Sizing Girl's Sandals
A girl's feet will change in size fairly quickly, but even in the long term, there will be variations in a girl's feet. In general, measuring a girl's foot should involve the girl standing on the larger foot (usually opposite the hand that the girl writes with). This technique simulates the state of a foot when it is walking or standing, and therefore bearing weight. Such a state will allow for a more accurate measurement.
The size of a sandal can be different across regions and countries and is based on the length of the sandal. This table compares the size systems for girls' shoes across four different regions, and can aid online purchases especially when they are made with the view of buying sandals from other countries.
| Europe | Japan | US and Canada | UK |
| --- | --- | --- | --- |
| 26 | 14.5 | 9.5 | 8 |
| 26.5 | 15 | 10 | 8.5 |
| 27 | 15.5 | 10.5 | 9 |
| 27.5 | 16 | 11 | 9.5 |
| 28 | 16.5 | 11.5 | 10 |
| 28.5 | 17 | 12 | 10.5 |
| 29 | 17.5 | 12.5 | 11 |
| 30 | 18 | 13 | 11.5 |
| 30.5 | 18.5 | 13.5 | 12 |
| 31 | 19 | 1 | 12.5 |
| 31.5 | 19.5 | 1.5 | 13 |
| 32.5 | 20 | 2 | 13.5 |
| 33 | 20.5 | 2.5 | 1 |
| 33.5 | 21 | 3 | 1.5 |
| 34 | 21.5 | 3.5 | 2 |
| 35 | 22 | 4 | 2.5 |
Feet not only come in different sizes, they also come in different shapes. Not all shoes are designed alike because there are many different feet shapes. The shape around the toes will be different. Round feet will be curved in the toe area, square feet will be squared in the toes, and triangle feet will start wide in the middle of the foot and will be narrower in the toes.
Sandal Designs and the Shape of the Foot
Sandals will likewise have different designs. In general, strappy sandals with squared toes will fit all shapes of feet. Rounded sandals are best for round feet, however, as round feet will find it painful to walk in pointed sandals. Conversely, triangle feet will work well in pointed sandals, and might look awkward in other styles.
Toe Box Depth
Another factor to consider is the toe box depth, or the height of the largest toe from sole to nail. This might not be a problem for open-toed sandals, but it can be difficult to wear close-toed sandals because the sandal's fabric can press down on the toes and make walking difficult.
Factors Relating to Comfort
Although sandals are made for casual events and are meant to be comfortable, they can become a pain to wear and should be selected carefully. For example, flat sandals remove some of the strain of high-heeled sandals by providing a flat surface that can make walking and standing easier. However, flat sandals might not have sufficient sole support, and can be difficult to walk with when the sole has worn out.
Genuine Leather vs. Synthetics
Genuine leather sandals are often preferred, since synthetic materials can moisten, grow bacteria and fungi, and can start to smell over time. This is especially important for kids' sandals, as children run around often and active little feet sweat. In general, leather will fit the contours of a foot better and will make the sandal fit better the more often the sandal is worn.
Flats vs. Heeled Sandals
Some sandals with heels can often cause a strain on the lower back. This is a problem for women, and this can be a problem for youngsters as well. Flat sandals are a more comfortable choice for young girls, especially if they are still running around and playing. In such a case, strappy sandals could also be more comfortable versus slip-ons, as slip-ons could chafe against the foot, or fall off. Strappy sandals might also be difficult to wear, especially if a foot is swollen after long hours of standing or walking. The straps can cut into the foot and be painful to wear.
How to Find Girls' Sandals on eBay
When you shop for girls' sandals, go to the eBay home page, and use the search term 'girls sandals'. You can also specify the exact size of sandal that you want by appending a size number to the search terms. Moreover, you can add the style of the sandals themselves, such as when you use a search term like 'girls Roman sandals' or 'girls strappy sandals'.
The search results page will also have search filters on one side of the page. For example, you can specify the condition of the sandals. Some sandals, however, will not be listed as 'new' or 'used', so you might need to deselect this filter in order to cast the widest net possible. You can also set the price range.
When shopping for the sandals, take note of details about the sandals. The item description should include the size, the toe box depth, the shape of the sandal, and if the sandal has accessories such as straps or buckles. Another important consideration is the height of the sole or the heel, if the sandal has a heel.
Conclusion
A good fit, comfort, style, and durability are characteristics of an ideal girls' sandal. Choosing sandals means taking into account colour, the comfort of the sandal, the shape of the feet, and the shoe size. Measurements should be taken constantly of a girl's foot, especially since the sizes of girls' feet do change as girls grow. If the sandals are purchased from a seller located abroad, the buyer should consider consulting a conversion chart. There are many such charts available online.
Although specific colours for sandals are not as restrictive, care should still be taken when selecting a sandal based on colour. Another important factor is the height of the sole, since thinner soles might be more difficult to walk in over time. Straps might also be stylish, but they can cut into the skin of the feet and be painful to wear.
With a versatile pair of girls' sandals, a plain wardrobe can take on a variety of moods and styles. eBay has a variety of girls' sandals to choose from.