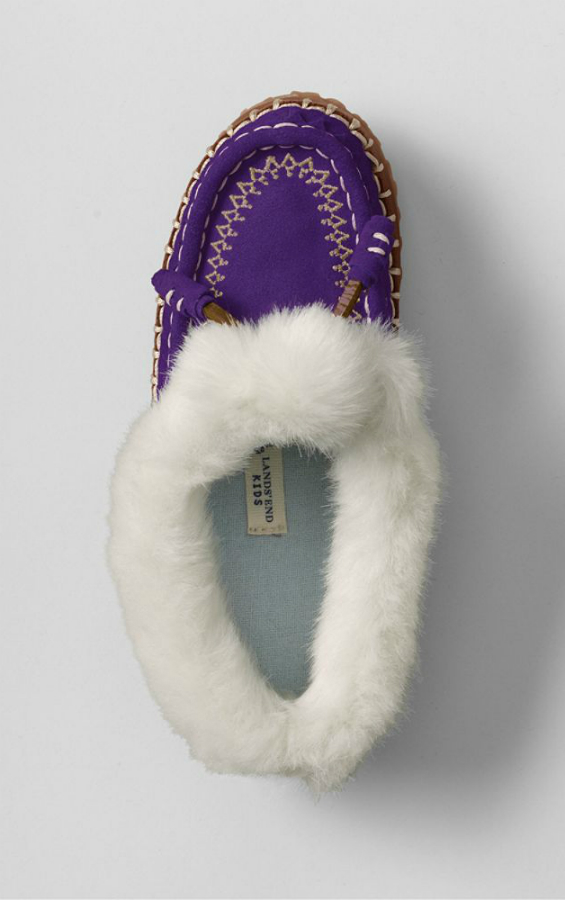 They might appear to be merely casual pieces of footwear, but girls' slippers can serve a wide variety of purposes. At home, a good pair of girls' slippers can keep feet warm, make walking around a cold house more comfortable, and make walking around the bathroom both cosy and safe. Outside, some styles of girls' slippers can make walking less burdensome, especially on hot sand. There are slippers for keeping feet warm, especially when temperatures drop, and when temperatures rise in the summer, there are slippers for keeping girls' feet cool on hot days and warm nights.
There are a wide variety of girls' slippers available, all of them designed for casual wear, and many of them designed for specific types of weather. For example, closed, even knee-length girls' slippers can be used to keep out the cold. On the other hand, open-toed, flip-flop-style slippers are for keeping feet cool. Some girls' slippers are based on the designs of Asian civilizations, which have been using slippers for centuries, while other girls' slippers have adopted the designs of footwear that originated with Native Americans.
When shopping for a good pair of girls' slippers,, a shopper will have to consider factors such as the slipper style and design. Slippers can be purchased from high street shops and online, on sites like eBay.
Where Were Slippers First Worn?
The slipper, as it is known today, first entered the English language in the 15th century. The name comes from the verb 'to slip', representing the act of slipping the footwear on. In Asia, slippers have been worn for centuries. Asian slippers were made from leather, and came in a variety of different styles. Some slippers had posts in the front so that the toes could hold on to something while walking. Other styles had leather across the top. Today, there are many new styles of slipper, including soft boots and moccasins. Even the flip-flops is classified as a type of slipper.
Why Are Slippers Worn?
Because there are many different kinds of slippers, there are also many different uses for slippers. A popular example of a common slipper is the bath slipper. These slipper can be worn in the bathroom and to and from the bedroom and the bathroom. Bath slippers provide a soft cushion for the feet, as well as traction as the user walks on cold bathroom tiles. Bath slippers also keep the feet warm after a bath. Girls' bathroom slippers come in simple designs, although contemporary varieties include girls' slippers made from quilted cloth and with various patterns.
Flip-flops, are worn for days at the beach. They keep feet safe while walking across hot beach sand. However, girls' flip-flops have evolved to the point whereby they are used as footwear paired with casual attire. They are comfortable to walk on and can keep feet cool. Because most flip-flops are made of rubber and have good traction, they are also safe to use in the bathroom. The flip-flop or thong style of slippers has also been adopted by shoe designers to create new designs for girls' sandals. If girls' flip-flops are for warm weather, there are also boots and moccasins that are more suitable as slippers in cold weather.
How Slippers are Classified
Because there are many styles of slippers, they can be classified according to their different characteristics and what they look like.
Open and Closed Slippers
Girls' slippers can be both open and completely closed. Open slippers, such as flip-flops or mules, are made for walking on the beach, travelling in cool or warm weather, and for shopping. Closed slippers, on the other hand, are for warming the feet, such as during the winter time, in a chilly home, or right after a bath.
Both open and closed slippers come in many different designs. Perhaps the most iconic is the bunny slipper,, which is closed, soft, and often used for the bathroom or bedroom. Closed, soft slippers now come in a variety of animal shapes, including frogs and penguins..
Different Types of Soles
Girls' slippers can also come with different soles. Soft soles are often designed not for walking, but for relaxing around the house. On the other hand, rubber soles are made for outdoor use. A rubber sole make a slipper stronger, more durable, providing some form of traction, making walking on different surfaces, such as pavements and sand, easier and more comfortable. Some rubber soles are also designed to prevent slipping and falling.
Some types of slippers are also designed specifically for therapeutic purposes. For example, the bottom of spa slippers are often raised at different points so that the foot can be massaged while walking. Another emerging type of slipper is made out of memory foam. This foam cushions the feet by conforming to the foot's contours. Memory foam slippers aid in walking by preventing shock damage to the hips and knees. The memory foam allows the weight of the body to be distributed evenly through the foam, so that no single part of the foot has to bear an undue amount of pressure.
A new form of slipper is made of microwavable materials. This slipper is ideal for colder climates. Girls will enjoy this toasty treat for their feet. The slippers simply need to be microwaved for a few seconds. A girl can then slip them on them on and the slippers will keep her feet warm for half an hour.
Different Slipper Materials
Girls' slippers can also be made from a wide variety of fabrics. Bedroom and bathroom slippers are usually made from soft velour or terry cloth. These two types of cloth are comfortable because they don't provide too much insulation, keeping feet feeling cool and comfortable. Slippers that are made from these materials are ideal for home use, and are good for warm climates. Girls' slippers will need linings made from insulating fabrics to warm the feet in a colder climates. Girls' slippers worn for warmth are commonly manufactured made from wool or fleece, as well as suede. For outdoor use, leather slippers are an ideal choice. Leather is a natural material that is highly malleable. It conforms itself according to the shape of the wearer's foot. This means that as the leather ages, the slippers become more comfortable to wear.
Colour and Designs
Girls' slippers can come in a wide variety of colours, patterns, and designs. These colours and designs are appropriate for certain age groups. For instance, slippers for younger girls (or young-at-heart girls) come with playful designs, cartoon characters, or even animals. Boot-style sandals for older girls might be less playful and more utilitarian, with their darker earthy tones.
Comparing Different Kinds of Slippers
There are many different kinds of girls' slippers available on the market today. They are suitable for a wide variety of occasions, built for different kinds of weather, and to be worn with different outfits. The following charts compares the various styles of girls' slippers.
| | Mules | Slipper Socks | Moccasins and Clogs | Bathroom/Bedroom Slippers | Boot Styles | Flip-flops |
| --- | --- | --- | --- | --- | --- | --- |
| Positives | Easy to use and slip on, warm when close-toed | Warm, can have traction | Completely encloses feet, warm, comfortable to walk with | Comfortable and soft | Can be worn for many different casual occasions, comfortable, warm | Can be worn for many different casual occasions, cool |
| Places | Open toes for casual wear; closed toes for home | For home use | For casual use or home use | For use in bedroom and bathroom | Casual and at home | Casual and at home |
| Weather | Open toes for cool or warm weather; closed toes for warm weather | For cold weather | For warm or cool weather | For cool or cold weather | For cool or cold weather | For warm weather |
| Features | With heels as open toe; soft and flat as close toe | Knitted, crocheted, or pre-stitched with warm cloth; can reach up to knees | Closed shoe, fully covering feet without enclosing ankle | Soft, close toed, often designed with prints or animal ears | Worn as a boot, but with soft fabrics both inside and out. May have harder sole | Usually made of rubber, foot remains completely open |
This is by no means an exhaustive list, but it represents the most common styles of slippers available for girls.
How to Find Girls' Slippers on eBay
Keep all the above factors in mind as you start shopping for girls' slippers on eBay. First, visit the eBay home page. Next, use the search bar and type in 'girls slippers&'. You can also make your search more specific by indicating the slipper size beforehand, which can immediately narrow down your search to several styles in one size. You can also specify the slipper type immediately by typing a search term such as 'girls moccasins&' or 'girls slipper socks&'.
When you reach the search results page, you will find more information on one side of the page, which can help you narrow down your search results. You can click on sub-categories of slippers, and choose slippers which are suitable for kids or even babies.
You can also narrow down the slippers according to their price range by entering numbers of a specific range into the windows. You can also specify whether you want to join an eBay auction or buy slippers immediately. Some sellers sell their items at an auction, which can drive the price even lower. However, you can pay the list price if you are in a hurry and buy the girls' slippers immediately.
Make sure that you read all the details about the slippers, especially as they pertain to fabric and sizing. Also be aware that colours are different across computer monitors and cameras, so the patterns and colours might not be exactly as they are featured.
Conclusion
A good girls' slipper should, as the name implies, slip on easily and stay on. It should keep the feet cool if it is open-toed, and warm if it is close-toed. A good girls' slipper should also be comfortable and safe to walk in. While a girls' slipper need not be stylish or outright fashionable, it would still pay to wear well-designed slippers, as designs can also dictate the durability and usefulness of the slipper.
Girls' slippers can come in a variety of fabrics and materials, some of which can keep feet cool, while others can keep feet warm. Girls' slippers also come in a variety of styles, some of which are for indoor use, while others are for outdoor, and even casual use. Because of this wide variety of styles, materials, fabrics, and uses, there are many different factors that have to be taken into account when buying girls' slippers online.
The eBay marketplace has many different choices for girls' slippers, and it can be a good place to search for them to save both time and money. A good pair of slippers can be comfortable and provide warmth, especially on cold winter nights.