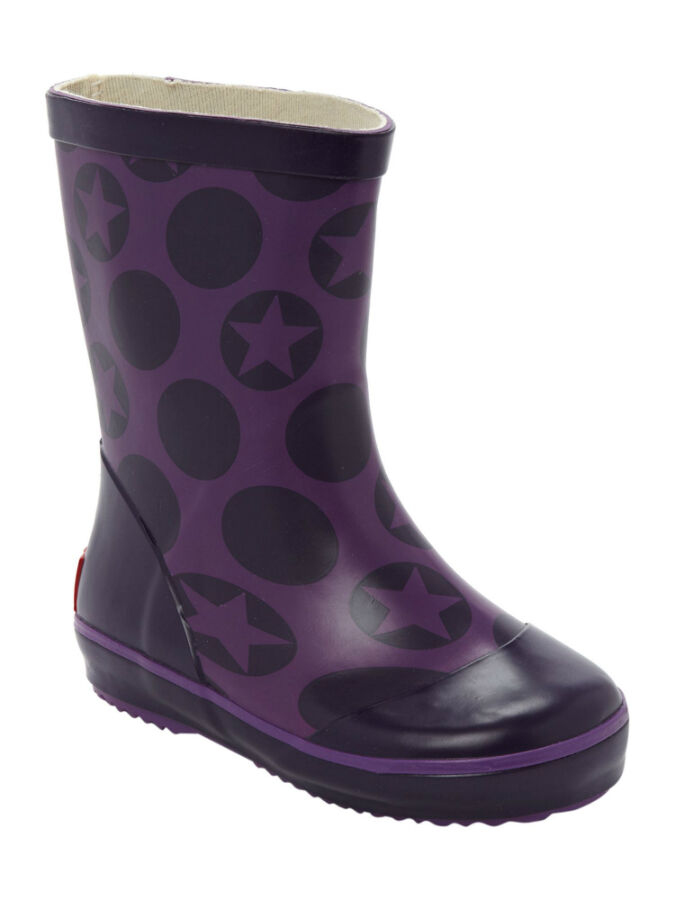 Generally knee-high in length, Wellington boots are traditionally worn to keep feet dry when it rains or when working in muddy conditions or on wet surfaces. But Wellington boots are more than just practical footwear. These boots can make a fashion statement, too. Wellingtons are also known as 'Wellies' or 'topboots', and they are named for the 1st Duke of Wellington, Arthur Wellesley. The first Wellington boots were made out of leather. Hiram Hutchinson bought the patent and started to make them out of rubber. The rubber Wellington boots became a huge hit with farmers and the working class.
The occupational boots that were originally used only by farmers and other manual laborers have since then been adapted to fit the ever changing fashion world, and now come in a variety of designs and colours. Boots that used to walk wet driveways, lawns, and pavements are now walking the catwalks at international fashion shows. A boot that was once only available in farm supply stores is now sold in almost every shoe store in the world. Thanks to the Wellie's fashion explosion, there are tonnes of different colours and designs a shopper can choose from, and there are also a variety of different materials to consider as well.
Why Buy Wellington Boots
Wellington boots are worn to keep feet dry. Granted other boots can do the same, but the materials used to make Wellington boots made them more effective at keeping feet dry longer, enabling wearers to walk through puddles of water and through mud. With a variety of linings, Wellingtons keep feet nice and warm. They can also be stylish. A slew of top designers now offer their takes on the humble Wellie.
Designer Wellington Boots
Just because the weather is not looking good, does not mean that a girl cannot look stylish when the skies are grey and it's raining buckets. Numerous designers are putting their own twist on Wellington Boots. Designers like Burberry, Coach, Jimmy Choo, Kate Spade, Lands' End, Sperry Top-Sider, Steve Madden and Timberland, just to name a few, have recreated Wellingtons, and made them more fashionable. On bleak days a pair of designer Wellies can add a pop of colour to an outfit, and for stylish girls with little green thumbs, designer Wellington boots look marvelous when paired with gardening attire.
From Inexpensive to Designer Price Tags
The price of Wellington boots varies depending on the designer, style, colour, inner lining, etc. A pair can be as cheap as a few quid or come with a designer price tag. If money is not an issue, a shopper might want to buy customised Wellingtons. These top drawer Wellies can be customised with leopard print or Swarovski crystals
What to Consider When Buying Wellington Boots
There are a variety of factors to consider when shopping for Wellington boots. There is the obvious one like size, but a shopper also need to consider the height of the boot and the heel height, as well as the materials used to make the Wellington boots.
Height of the Wellington Boot
Wellington boots come in different heights. Some are ankle-high while others cover the calves and end just below the knee. The height of the boot is an important consideration when purchasing Wellingtons. A girl with short lower legs will find knee-high boots uncomfortable to wear. The top of the boot can rub against the back of the knee joint and cause irritation. Some girls may have weak ankles and ankle-high Wellingtons may cause more discomfort because they lack sufficient support. It is important for a girl to try the boots on. If the Wellington boots are found online, the shopper should ask the seller about their returns and exchanges policy.
What follows is a brief summary of what to consider when choosing the right height for Wellington boots
| Height | Advantages | Limitations |
| --- | --- | --- |
| Over the Calves or Knee-High | Complete lower leg protection from water or mud. | Might be too high for some girls, especially girls with shorter lower legs. |
| Mid-Height or High | Provides ankle support. Appropriate for women with short lower legs. | Doesn't provide sufficient protection from the elements. |
| Ankle-High | A lightweight boot. | Provides very little protection from the elements. |
When considering the boot height, the shopper must take into account where the boots will be worn, as well as the length of the girl's lower legs. Some shops stock 'Tall Hunter' boots. These Wellington boots are knee-high. The 'Clogs', as the name states, are very short Wellingtons. They generally end below the ankles. Girls with weak ankles will need boots that offer adequate support. Symptoms of weak ankles include nagging ankle pain. It might be wise to consult a physician ahead of shopping for new Wellington boots.
Comfortable Wellington Boot Linings
After carefully considering the height of the boot, another thing a shopper should think about is how comfortable the Wellingtons will be to wear. Most Wellingtons are made with rubber. However, the wearing of Wellingtons is not simply limited to farms and gardens. To enhance comfort, many Wellington boots come with linings. A pair of Wellington boots will often come with a rubber outer core, but the inside lining could be made of thick fleece to keep the wearer's feet warm. Boots worn for gardening only come with a bare rubber lining. But in this case, the wearer can simply wear a pair of thick socks. The shopper must remember to compensate for thickness of the socks when selecting the correct size of boot.
The Size of the Wellington Boot
When purchasing any footwear, the correct size is always crucial to comfort. Purchasing a pair of boots that is too large will cause multiple issues, including blisters and sprained ankles. As mentioned above, boot size should be carefully deliberated to avoid discomfort and potential injuries. Even boots that fit well when wearing regular socks can feel tight when worn with thick socks. Some Wellington boots allow for the size of the boot to be adjusted to accommodate socks of different thicknesses.
Wellington Boots Heel Height
Original style Wellingtons have boot heels roughly 6.3 mm to 12.7 mm in height. However, with designers putting their own twist on Wellingtons, some boots come with heels as high as 10 cm. The higher the heels, the more pressure will be applied to the wearer's ankles. High-pointed heels are, obviously, useless to the girl needing boots for gardening. Unless of course she needs to make holes for seeds.
Wellington Boot Materials
Wellingtons are made of rubber or other synthetic materials. Many manufacturers incorporate leather and many other materials, especially in the lining, to make them even more comfortable for the wearer.
Find Wellington Boots on eBay
Due to the number of manufacturers designing and producing Wellington boots, there is no lack of sellers on eBay offering Wellies of all styles, brands, colours, and prices. A quick search on eBay could easily turn up hundreds of different kinds of Wellington boots. You can search the eBay site using keywords, such as 'ankle-high Wellington boots', 'Hunter Wellington boots', 'high Wellington boots'. You can also add a designer's name to your search parameters, for example 'Jimmy Choo Wellington boots'.
Always feel free to ask the seller for more information, pictures and any other specifics, like if the merchandise is new or slightly used. Another thing to always check is the return and exchange policy of the seller. Because there are so many things to consider when buying Wellington boots, there may be times when you would have to request for return or exchange of the merchandise. It is always good practice to buy from a seller that has a good return and/or exchange policies and, of course, a great feedback history from past buyers.
Conclusion
With so many different colours, styles and designs to choose from, having just a single pair of Wellington boots just isn't enough. Although Internet shopping has become more popular and less of a hassle, going to a store and trying on the boots is still the better way to go. This makes it easier to get the correct size and style. Buying Wellington boots directly from a store will also take the waiting for the delivery of the boots out of the equation. Of course, if there is a better deal online, then an online purchase would make more sense.
Even though keeping one's feet dry is the most common reason for buying Wellington boots, one should always remember that comfort should not be put aside. Consider the material that the boots are made of, the lining, boot height, and heel height. The boot height is especially important for girls with shorter lower legs. Girls with weak ankles will need adequate support, too. The thickness of the socks will have to considered when sizing the boots, although some Wellington boots can be adjusted. Whether for fashion or for gardening, wearing perfectly fitted and comfortable shoes is always a good way to go. eBay has a large selection of Wellington boots, with boots to suit any preferred style and budget.