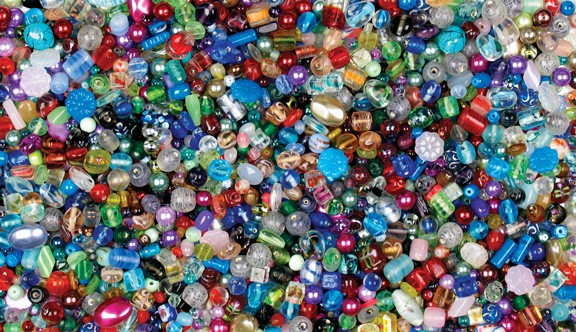 Because they are offered in so many colour, shapes, and textures, glass beads are one of the most popular kinds of beads used in jewellery making. They allow the creator to indulge in fine workmanship or whimsy. A jewellery maker could work entirely in glass beads and still create works of very diverse form and texture. The simplest glass rounds create a classic necklace at any of several classic lengths. But these simple rounds are being mixed with crystal, with dramatic focal beads of elaborate workmanship, with woven segments of seed beads and bugles: in short, beaders let nothing slow their imagination and creativity.
When purchasing glass beads, a jewellery maker sometimes knows and locates precisely what is desired and sometimes falls in love with what is happily discovered. Either way, wonderful purchases of glass beads for current and future projects are readily made from those in local specialty shops and from large online marketplaces, such as eBay.
Popular Glass Bead Selections
Popular types of glass beads range from simple, opaque rounds in sizes from 4 mm up to fused glass pendants more than 30 mm long. Well-known bead manufacturing centres are located in the Czech Republic, Italy, Austria, and more recently China, where interesting new crystals have been produced, India, where inexpensive lampwork is being made, and the U.S., where dichroic fused glass has been thriving.
Czech Glass Beads
While many Czech glass beads are factory-made, many are still produced in small lots in family-owned businesses. The three types of bead from the Czech Republic are cut glass, which is separately described in a section below, pressed, and table cut.
Pressed glass is the name given to beads produced by a traditional glass moulding process. The hot cane is placed in a mould that stamps the bead shapes while a hot needle is inserted to create the holes. The pressed beads then are tumbled to remove the glass mould marks and to smooth the surface.
Table-cut glass is technically a subcategory of cut glass or crystal, but because the shapes are so different, it is often discussed separately. Table-cut glass beads are often larger and always generally flat in shape. They are often faceted on only two sides, with the hole running through the centre. A rectangle or octagon is a typical shape for a table cut beads. Other table cut pieces are cut similarly to shallowly cut gems and may have foiled backs with no drilling.
Crystal and Cut Glass Beads
Crystal and cut glass beads are presented in similar shapes and used in similar ways, although the materials are slightly different. Technically, crystal is a specific formulation of glass that includes a certain percentage of lead. This adds the characteristic sparkle seen in crystal. Many jewellery makers work exclusively with crystal beads. Those who prefer glass sometimes prefer the cut glass made in the Czech Republic, which is often heated to a very high temperature so the surface begins to melt, creating a higher sheen. This process is called "fire polishing" because it was traditionally done in fire. Options coming to market from China include shapes that have not been produced in the traditional manufactories.
The range of shapes, sizes, and colours in this style of bead provides the jewellery artist with many options in design. In brief summary, popular options include those in the table below:
| Shape | Smallest Size (mm) | Largest Size (mm) | Drilling |
| --- | --- | --- | --- |
| | NA | NA | Centre drilled, pendant drilled, or floating |
| Barrel or Rice | 4 x 6 | 13 x 18 | Centre drilled |
| | 2.5 | 10 | Centre drilled or pendant drilled |
| Briolette or Donut | 6 | 12 | Centre drilled |
| | 6 | 18 | Centre drilled or pendant drilled |
| | 8 | 20 | Centre drilled |
| | 4 | 8 | Centre drilled or diagonally drilled |
| | 8 | 37 | Centre drilled or pendant drilled |
| | NA | 9 x 14 | Pendant drilled |
| | 13 x 18 | 20 x 24 | Centre drilled |
| | 6 | 12 | Centre drilled |
| | 2 | 20 | Centre drilled |
| | 8 | NA | Centre drilled or pendant drilled |
| | 9 x 6 | 13 x 17 | Centre drilled or pendant drilled |
The colours available include almost literally the entire rainbow, with multiple shades of any colour, plus black and clear crystal. Many colours are also offered with an iridescent coating described as "AB" for "aurora borealis". The Swarovski Xilion is included among bicones for the purposes of this summary. The Xilion has a patented facet cut that utilises, among other unusual features, uneven facets to create a different light diffraction than standard facet cuts.
Technically, some rondelles are not beads but a kind of finding. These rhinestone-studded rondelles are metal spacers set with crystals that are often used to separate pearls or semi-precious stones. They are typically marketed among round faceted beads in spite of their differences from classic rondelle beads.
Lampwork Glass Beads
Lampwork is a specific technique of glass forming that is used in making glass beads and pendants. The lampwork bead is formed by winding hot glass around a central cylinder. Many lampwork beads are further decorated with surface beads of hot glass.
Murano lampwork, from Italy, is among the finest and best known but many lampwork artisans are producing beautiful contemporary beads as well. Many of the inexpensive glass beads made in India are produced using the lampwork technique, although the workmanship does not usually rise to a level that would cause them to be marketed as lampwork. Lampwork beads come in many shapes. Popular pendants include teardrops and donuts.
Millefiori Glass Beads
Millefiori is an Italian word that means, literally, "a thousand flowers." It is another glass forming technique that was pioneered among the artisans of the Murano glassworks in the 15th century and has since spread across the world. Although more than one technique is used to produce millefiori, the end result is a long, thin glass cane made from many thinner coloured glass canes fused together.
The arrangement of the canes is such that when cut, the cross section yields the distinctive floral pattern called millefiori. The cut cane sections may be handled in one of two ways. They may be applied and fused onto the outside of beads, creating a miniature garden of glass flowers. Alternatively, a thicker cut section may be drilled as a single bead itself, or several sections may be fused into a bead and then drilled. Today, in other studios, similar techniques are used to create various images, such as cartoon characters, with the canes as well.
Dichroic Glass Beads
Dichroic glass is a relatively contemporary glass fusion technique. It involves melting pieces of glass together in a high-temperature kiln in such a way that each piece may retain some of the integrity of its original shape. Artists working in this style are particularly likely to combine various clear and opaque glasses with glass that has metals embedded in it. More dichroic glass is available as pendants and cabochons than as beads.
Glass Pearls
Glass pearls come in many colours and sizes, so they are easy to use in a wide variety of projects. These are heavier than natural pearls but also have a larger hole than is typical of natural pearls, making them easier to string on most materials.
A glass pearl is a glass bead that has been coated on the outside with a layer of pearlized glaze. The glaze may be in any colour: white, cream, grey, or beige similar to natural and cultivated pearls; a dark black similar to expensive Tahitian pearls; pink, lavender, burgundy, pale yellow, gold, pale or emerald green, dark brown and others. Sizes start at 2 mm and go up to 16 mm, allowing the designer latitude unlikely when working with expensive natural pearls. Teardrop and rondelle shapes are also available.
Seed Beads or Rocaille
Seed beads are used in many kinds of jewellery work including bead weaving. They include the smallest glass beads, at 1.5 mm, used in the finest textured work, although most people working in this style use slightly larger 3 or 4 mm beads. People working with these types of glass beads also choose larger beads up to 5 mm in diameter, some of which are square, hexagonal, or triangular in shape instead of round. Bugle beads are thin and narrow. They may range in length from 2 to 9 mm and add another textural dimension to pieces in which they are used.
Specialty Beads
A number of other special glass beads are offered for those with specific interests. Special surface treatments include "crackle glass" and several kinds of silvering, both on interior or exterior bead surfaces. Sea glass style beads have been tumbled with an abrasive or chemically treated to create the frosty surface appearance of sea glass. Popular dagger beads are used in designing collar necklaces while shamballa beads typically have large holes to accommodate cord bracelets.
Charm Beads
Glass beads are offered for the most popular charm bead bracelet styles across Europe, as well as their imitators. Beads are sized by inside diameter to the bracelets, so those who wear charm bead bracelets are already acquainted with the need to select Rhona Sutton, Lovelinks, Trollbeads, Pandora or other beads to fit their particular bracelet.
Vintage Glass Beads
Vintage glass beads are not likely to become as common as vintage plastics, but beautiful and interesting vintage Czech glass beads and as well as some from Germany still appear with regularity. Those who enjoy working with materials that evoke the past can discover many beautiful glass beads for their pieces.
How to Determine the Number of Beads to Buy
When buying for a particular project, it may be appropriate to select beads according to the length of a strand. Other beads may be provided loose in quantity or by weight. Ways to calculate the approximate number of beads for a project or section of a project are noted below.
Beads Sold by the Strand
Beads of many sizes and shapes are sold by the strand. If the strand length is not listed, allowing the buyer to calculate the approximate number of beads, the seller should list the number of beads on the strand. Knowing how many beads are available of a particular size allows the creator to calculate how long a strung piece may be made.
Beads Sold Loose by the Package
Pearls are one of many kinds of bead sold by the package. The number of beads in the package often varies by the size of the bead. To determine how many pieces are required for a given strung length, the beader may divide the desired finished length by the bead's diameter or its length if the shape is not round.
Beads Sold by the Gram
Seed beads in particular are often sold by the gram. The approximate number of beads per gram depends on the size of the bead. Most bead sizes in millimetres have a corresponding numeric size, which are also noted in this chart.
| Size (mm) | Numeric Size | Approximate Beads per Gram | Approximate Strung Length |
| --- | --- | --- | --- |
| | NA | 200 beads | 300 mm |
| 2 mm | 11/0 | 110 beads | 220 mm |
| 3 mm | 8/0 | 40 beads | 120 mm |
| 4 mm | 6/0 | 12 beads | 48 mm |
When one has calculated the approximate number of beads necessary for a design, it is possible to determine how many grams of beads are required. Most beaders prefer to overpurchase, knowing that excess stash fuels creativity.
Purchasing Glass Bead Mixes
Various kinds of glass bead mixes are available. These often provide a good value for the jewellery maker who wishes to gather several bead sizes in a specific colour range or an assortment of beads and charms suited to a specific season. A common bead mix includes seed beads in three sizes: 11/0 or 2 mm; 8/0 or 3 mm; and 6/0 or 4 mm.
Other common mixes include mixed colour lots of glass bracelet charm beads, mixes of beads in different shapes and colours from the same manufacturer, mixed colours of the same bead or pendant, and assortments of unmatched lampwork beads. Glass bead mixes are often sold by weight and approximate number of bead in the lot.
Buying Glass Beads on eBay
A jewellery maker who is looking for glass beads on eBay finds a great many selections that are in tune with market demand and satisfying to work with. Depending on the creator's own desires, the selection may be made by desired bead styles, sizes, or colours, or origins.
To find "lampwork glass beads", the buyer may simply key those words into the search window at the top of any page. If a specific size bead is desired, or a specific colour, those characteristics may also be keyed into the search. A search for "8 mm glass rondelle blue" turns up crystal and opaque rondelles in every shade of blue and aqua, rhinestone-studded rondelle spacers, blue heishi rondelles, and lampwork and sea glass rondelles, offering the maker a wide range of choices for working. Different sellers also name colours differently, so using generic colour names may be wise, especially as one season's Pantone "emerald" is another season's "jade".
One challenge for the jewellery maker is shopping colour photographs online. It is relatively easy to identify the truest colour by the overall image quality, including focus, the background choice, and comparison with other images from the same seller.
Conclusion
The use of glass beads provides a wide range of options for colour, shimmer, and shape to the jewellery maker. Traditional Austrian crystal and Czech fire-polished glass faceted beads remain popular choices and so do millefiori from Italy and lampwork from factories in Italy and beyond. Dichroic fused glass has inspired the jewellery maker with different approaches to the combination of molten glass. Glass pearls maintain a strong place in the bead box, while a virtual renaissance in bead weaving has brought the seed bead or rocaille new prominence. Glass beads are also available for all of the popular charm bracelet styles and their imitators.
Glass beads may be selected by colour, by size, by style, or in mixes that provide assortments for makers seeking to add to their inventories. Those who are purchasing for specific projects may calculate the correct amount of beads from those sold by the strand, the gram, or the package. At any particular moment, the diverse international bead marketplace on eBay provides the opportunity to find nearly any kind of glass bead a jewellery maker might want.