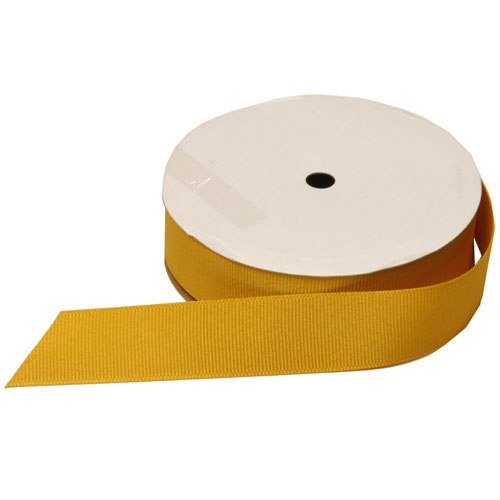 Grosgrain ribbon has numerous uses, ranging from decorating dresses to making hair bows. This type of ribbon has been used for decorative purposes for centuries and nowadays it is a popular type of embellishment in crafting, sewing, and decorating. Grosgrain ribbon is an excellent choice for craft projects that require a sturdy type of ribbon available in various colours and sizes.
Ribbons made of grosgrain are durable and they can be used in many ways. They can be bought from specialised crafting supplies stores and fabric stores, and online. When shopping for grosgrain ribbons, buyers should pay attention to the quality of the fabric, as this may differ from one manufacturer to another. By learning more about the characteristics and uses of grosgrain ribbon, buyers can make sure they choose the right product every time while getting value for their money at the same time.
What is Grosgrain Ribbon?
Grosgrain is a type of textile with narrow ribbing and a tight weave, which features a ridged texture. The fabric is often sturdy, and it is mostly used to make trim and ribbons. Buyers can purchase grosgrain ribbon in a wide variety of colours. The fabric is sold either by the length or in whole spools. The grosgrain fabric is commonly made from silk, wool, or a combination of fibres such as wool and silk or mohair and silk. Nylon and synthetic fibres can also be used for producing grosgrain ribbon. Besides being used in the fashion industry, grosgrain ribbon is also employed for gift-wrapping, bookbinding, and other craft related projects.
Grosgrain ribbon often has a slightly glossy look, and it can be striped or solid. Other more sophisticated patterns come in complementary colours such as dots and diamonds. When working with grosgrain ribbon, users should pay attention to hemming in order to prevent fraying. Moreover, grosgrain ribbon tends to show all marks and pin holes, so buyers should also pay attention to this aspect when handling the fabric.
Brief History of Grosgrain Fabric
Grosgrain fabric started to be used for garments in the seventeenth century and it quickly became a more affordable alternative for wool and fine-woven silk. Some of the most common garments for which this type of fabric was employed included jackets, waistcoats, sleeves, petticoats, jerking, and more. The fabric began to be defined as grosgrain ribbon in the first decades of the twentieth century. One of the most common contemporary uses of grosgrain ribbon is in the hems of different pieces of clothing such as T-shirts, polo shirts, and underwear.
Types of Grosgrain Ribbon
Grosgrain ribbon comes in a large variety of patterns, colours, and widths. Buyers can choose to buy this type of fabric in small measured amounts or can opt for an entire spool if they need more. When it comes to colours and patterns, buyers can choose between single sided and double sided grosgrain ribbon. The choice should be based on the preference of the buyers as well as on the colour palette of the item that is to be decorated with grosgrain ribbon. Buyers can also opt for elasticated grosgrain ribbon, a feature that may come in very handy for certain clothing items.
Choosing the right width for grosgrain ribbon can prove to be quite a bit of a challenge, especially for beginners, as there are multiple types to choose from. Buyers can opt for grosgrain ribbon widths ranging from less than 3 mm to more than 24 mm. The choice should be based on the characteristics of the garment and personal preference. One should however keep in mind that not all widths are suitable for all types of sewing projects.
What are the Uses of Grosgrain Ribbon?
Grosgrain ribbon is a versatile type of fabric that can be used in plenty of ways. Most of the uses are for decorative purposes and they range from scrapbooking to creating a lovely tutu dress for a little girl. This type of ribbon can indeed add a touch of elegance to different crafts projects and this is one of the reasons for its popularity. Regardless of the reason for which buyers may want to purchase grosgrain ribbon, they should make sure the colour, width, and type of fabric are suitable for their projects.
Scrapbooks
In the recent years, grosgrain ribbon has also become a popular item in making scrapbooks. This is a creative and fun way to display and store photos. Scrapbooks often consist of a special thick paper, and they can be embellished in countless ways. People often use grosgrain ribbon in order to make the photos stand out.
Tutus
Another use of grosgrain ribbon is for tutus. As the name suggests, ribbon tutus are made entirely of ribbons. An elastic band is used for securing the loose ribbons that swirl and twirl when a girl is dancing. In order to obtain truly special effects, one can use different textures of grosgrain ribbon.
Decorations and Bookbinding
Grosgrain ribbon may add a touch of sophistication to baby shower crafts and flower arrangements. Whether it comes to favour gifts or décor items, grosgrain ribbon may add a splash of colour and make any item more elegant and festive. Another reason for which you may want to buy grosgrain ribbon is bookbinding. The structure of the ribbon can help you reinforce the spines of a book. Moreover, you can use grosgrain ribbon around the flexible or curling material of a book in order to prevent it from bending and curling.
Hair Adornments
Numerous types of hair adornments are made from grosgrain ribbon, especially those intended for children. You can simply tie a ribbon into a simple bow around braids or ponytails or you can choose to create bow accessories and attach them to hair clips of different sizes. This is especially a good idea for those who do not have the right length of hair for a ponytail. You can also sew grosgrain ribbon bows on berets or headbands in order to create unique hair accessories.
Shoelaces
Grosgrain ribbon can also be used instead of shoelaces as a different and fun alternative to regular laces. If you are looking for grosgrain ribbon to use instead of shoelaces you should pay close attention to the width of the ribbon in order to make sure it is a good fit for your particular pair of shoes. As for the colour, a good effect is obtained when you opt for contrasting shades when shopping for grosgrain ribbon to be used as shoelaces.
How to Find Grosgrain Ribbon on eBay
Regardless of the reason for which you may be looking for grosgrain ribbon, it is important to look at as many styles and colours as possible before buying. This is important because a bad association of colours may ruin a sewing project or outfit. A good place to look at multiple styles available from a large number of sellers is eBay. The website offers an intuitive search system that allows you to locate exactly the type of ribbon you are looking for in just a few minutes.
If you want to start your search for grosgrain ribbon on eBay quickly, simply type the words 'grosgrain ribbon' into eBay's search bar. You usually get several pages of relevant results that you can browse at your own pace. If you think the number of results is too large, you can narrow down the selection by opting to see only items in a specific colour, style, or in a certain price range. Alternatively, if you know exactly what you are looking for, you can add some extra keywords to the search. Thus, if you are looking for red single-sided grosgrain ribbon, you should type this into the search bar. When shopping for grosgrain ribbon on eBay you can choose to buy it from a local seller in order to be able to pick the item in person if the seller allows it. You should always check the product description and photos carefully before buying.
Conclusion
Grosgrain ribbon is a versatile type of fabric that can be used in a variety of ways for sewing projects, decorative purposes, or simply as an accessory in itself. There is actually no end to the uses for this type of ribbon if you are a crafter or artist. From hair accessories to bookmarks, you can employ grosgrain ribbon for a large number of projects. The difficult part of working with grosgrain ribbon is choosing the right colour and style, since there are so many models available in specialised stores and on websites such as eBay.
If you choose to buy grosgrain ribbon on eBay, you can choose from thousands of styles that are suitable for all budgets. The products on the website some with a description and photos, so you can see right away if the item you want to buy is the right one for your project. Regardless of the type of grosgrain ribbon you are looking for, chances are you can find it on eBay with just a few clicks.