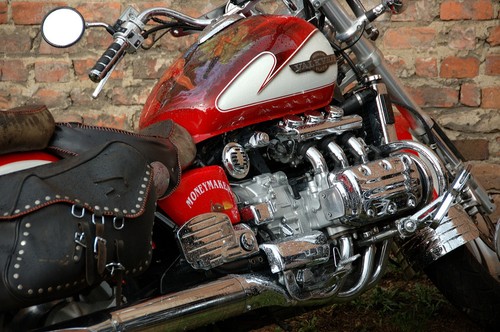 Honda is an automobile manufacturer that also makes motorbikes. Since the introduction of the first Honda motorbike in 1949, the company has released numerous models of sport bikes and luxury touring motorbikes. From the CBR to the Shadow to the Gold Wing, Honda makes motorbikes that are loved by motorcycle enthusiasts of all stripes. Known for their durability, efficiency, and comfort, it is no surprise that Honda is one of the leading manufacturers of motorbikes in the world. Whether rebuilding an old motorbike or customising a new one, the Honda motorbike owner needs to track down replacement motorbike parts. eBay makes it easy to find the best deals on Honda motorbike parts. Navigating the site is simple and with all of the parts categorised, finding the right part is fairly straightforward. When buying Honda motorbike parts on eBay, shoppers need to know what they are looking for, how to find it, and how to assess the quality of the parts offered for sale, and the sellers themselves.
Searching for Honda Motorbike Parts on eBay
There are thousands of different parts for Honda motorbikes listed on eBay at any given time. This means that you need to know how to navigate the site and use the search features to find what you are looking for. Start with a basic search and use keywords to describe the part you are looking for. If you need to find something very specific, then use the Advanced Search for a more comprehensive search of the site. Enter a search term, such as 'honda cbr brakes', to get started.
Avoid being too specific with the keywords that you choose. Sellers may not include all of the details of a part in the header, so being too specific greatly reduces the number of results returned to you. Instead, use a general term, then narrow down the listings based on options and categories if there are too many to sort through.
Honda Motorbike Part Categories
Because there are so many Honda motorbike parts to choose from, eBay has them organised into different categories or sections. This makes it easier to navigate the site and find the part that you need. Parts that work together or belong to the same system are grouped together. This makes it easier to find the specific part that you need without having to sort through the thousands of other parts available. Understanding which parts are found in what categories makes it easier for you to find the part that you need.
Body and Frame
The body and the frame of a Honda motorbike refers to the parts that give the bike its shape and appearance. These parts do not affect the mechanical aspects of the motorbike, but they do affect the comfort and wind resistance. When a motorbike is properly cared for and maintained, these parts do not normally wear out. Instead, you may wish to replace these parts if they were damaged in an accident or if you want to customise the appearance of your motorbike. Some of the common body and frame parts are listed in the table below.
| Part | Description |
| --- | --- |
| | Attached to the front of the motorbike; protects the rider from debris that may be kicked up while on the road |
| Framework | The bones of the motorbike; provide the solid foundation; all other parts connect to the framework |
| Footpegs | Footholds where riders position their feet while driving |
| Seats | Cushion where the rider sits while on the motorbike; some motorbikes have two seats |
| Fender | Mudguards around the wheels; keep rocks and other debris from being kicked up by the tyres |
| Mirrors | Attached on both sides of the front of the bike; allow riders to see vehicles behind them |
Each of the parts of the body and the frame have their specific purposes. They are not just for appearances, but replacing any of these parts updates the look and style of your motorbike. Additionally, replacing parts, like the footpegs and seats, can make the motorbike more comfortable to ride.
Tyres and Tubes
Honda motorbikes use tyres of varying sizes depending on the model. Tyres must be replaced on a regular basis to ensure that the rubber has proper tread. This is required for safety purposes, especially when riding in the rain or mud. Additionally, the tyres and tubes must be properly inflated and maintain the correct air pressure. When searching for tyres and tubes on eBay, shoppers should be sure to also purchase valves and valve stems. These parts are necessary for getting air into the tyres and holding the pressure.
Fuel System
Just like with cars, Honda motorbikes require fuel to operate. Also like cars, motorbikes need fuel tanks to store the fuel. These tanks are much smaller than those in autos because motorbikes use much less fuel. In addition to the fuel tank, you need to look for fuel lines, filters, and petrol caps. While the exhaust system is separate from the fuel system, the two are connected. Look for tailpipes, gaskets, and seals needed to control exhaust from your motorbike.
Engine Parts
The engine is the part of the motorbike that converts the petrol to useable energy and then transfers the energy to the wheels. Different types of Honda motorbikes use engines of different sizes, some being larger than others. Before replacing parts on a motorbike engine, you need to be sure that you understand the mechanics of the engine. Properly replacing valves, cylinders, gaskets, and plugs is crucial to ensuring that your motorbike continues to run properly. Do not substitute parts from Honda engines of different sizes.
Brakes
Brakes on a motorbike are necessary for slowing down and stopping. Sets of brakes have many parts that work together. The brake pads need to be replaced most often. Other parts of a brake system do not need to be replaced nearly as often unless they become damaged or worn out. Replacing brake pads on a regular basis ensures that the other parts are not damaged. Brake pads are less expensive to replace than the discs.
Batteries
Batteries are needed to power the electrical systems of Honda motorbikes. The size and power of the battery needed is dependent on the size of the motorbike. Most batteries have a lifespan of about three years before they need to be replaced. After this time, they might not hold a charge as effectively. Some batteries can be recharged and have a longer lifespan.
Lights and Indicators
Lights and indicators are needed to communicate with other vehicles and motorbikes on the road. Turn indicators alert other drivers which direction you are turning or merging. Headlights allow you to see in the dark and allow other drivers to see you. Brake lights alert drivers behind you that you are slowing down or stopping. Before taking your motorbike on the road, it is important to ensure that these lights are all functional. If a light is not working, then you may just need to replace the light bulb. It is also possible that a wiring harness or fuse needs to be replaced though.
Finding the Right Parts for a Honda Motorbike
While all motorbikes use the same basic parts, the size and shape of these parts differ depending on the type of motorbike and the manufacturer of the part. This means that you cannot choose just any Honda motorbike part to put on your motorbike. You have to take the time to find the exact part that fits on your bike. You can easily do this on eBay by selecting the model or series of the bike or the manufacturer or purpose of the part itself.
Motorbike Model/Series
To make it easy to locate parts that fit on your motorbike only, specify the model or series of your motorbike. For example, you can specify Honda CBR, Honda CB, or Honda Nighthawk. Because the parts for these bikes are not interchangeable, it is in your best interest to weed out the parts that fit onto different bikes and only view the parts that fit. When looking at the listings, be sure that the part is designed for the proper year or subseries of your motorbike, as well.
Purpose
Identifying the purpose of the motorbike part that you are looking for can also make it easier to find the right part. Typically, people look for Honda motorbike parts because they need to replace the original part or because they want to make an enhancement. Replacement parts can be made by Honda or by a third-party manufacturer. Aftermarket parts tend to be cheaper than Honda parts.
If you are shopping for a motorbike part because you want to make an enhancement to your Honda, then you are mostly be looking for aftermarket parts. These modification parts often differ in size, appearance, and performance than the original manufacturer parts. Be sure that you research the reputation of the aftermarket manufacturer. Some parts are of better quality than others.
Condition
Because eBay is a marketplace that allows private sellers to list their parts. A huge selection of both new and used parts are available. Used parts often have a lot of use left in them, and cost much less than new parts. When shopping for used parts, it is important to examine pictures and read item descriptions to ensure that there is no damage. Make sure that there are no cracks, dents, or signs of rust. If the part is damaged, then it may not function correctly or may wear out faster.
Delivery Options
Shopping on eBay is online shopping. Because you are not going to an auto parts shop, you have to make arrangements to get your motorbike parts delivered to your home. Depending on the size and weight of the parts, postage and packaging can become expensive very quickly. To cut down on the cost of delivery, look for sellers who offer free postage and packaging. If the part you are looking for is fragile and can be easily damaged in the post, then see if the seller can insure the item before shipping it to you. While this may cost more, it is worth it to ensure that the item makes it you in one piece.
Local Pickup
eBay allows you to search for and sort listings for motorbike parts based on the location of the seller. Enter your postcode to find sellers who are nearby. Perhaps someone within driving distance has the part that you need. If that is the case, then you can eliminate postage costs and time by picking up the part in person. Communicate with the seller in advance to see if this is something he allows. Once you purchase the item on the site, you can make arrangements to pick it up in person.
Choosing a Seller
If you have found several Honda motorbike parts that you are interested in, then decide which item you want to purchase based on the seller. Within each listing, you can see the seller's name, number of transactions completed, and number of positive transactions. Additionally, you can click through to read some of the comments left by previous buyers. Sellers with the best track record are recognised as top-rated sellers. To make your search easier, filter results to show only those offered by these eBay top-rated sellers.
Conclusion
Honda motorbikes are some of the most popular motorbikes in the world. Being a motorbike owner means that you have to make repairs and maintain your motorbike to keep it in top condition. As a hobby, some people update and enhance various parts of their Honda motorbikes. Whether making a necessary repair or a performance enhancement, you have to find the parts that fit on your motorbike. eBay offers some of the best deals on parts that you need for all types of Honda motorbikes. Because all of the parts are listed by private sellers, you can negotiate lower prices and even locate those hard-to-find parts for a classic Honda motorbike. In order to find the parts you need on eBay, you need to know how to search the site effectively, identify the part that you need, and find the best seller to purchase from. Fortunately, eBay is easy to navigate and provides all of the tools you need to locate the parts that you need. With thousands of new and used parts to choose from, you are sure to find better deals on eBay than anywhere else.