Thanks to polo shirts, men can dress casually while maintaining a refined and classy appearance. They are comfortable, yet dressy at the same time. Renowned for quality and sleek formal attire, Hugo Boss polos look great at work, business meetings, the golf course, at home, and other casual events. To class it up even more, shop for Hugo Boss polo shirts that have extra style and flare.
Types of Polo Shirts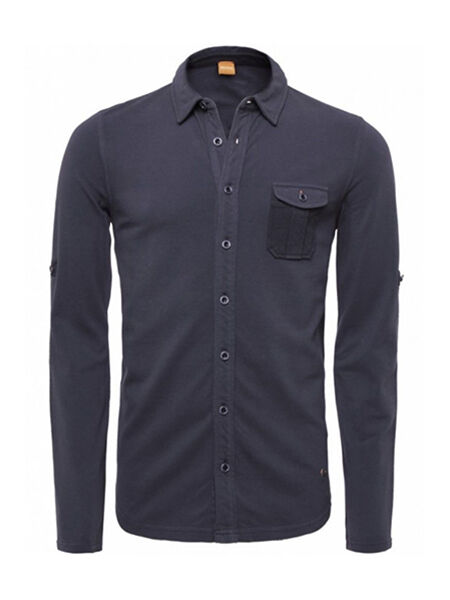 Traditional polo shirts feature short sleeves, a simple cut, and a button-up collar. However, men can find Hugo Boss shirt variations of the polo, such as a Hugo Boss golf shirt for their time on the green or long-sleeved polo shirts for the winter. For other activities, consider looking for a performance polo shirt with lightweight and breathable materials that keep the body dry and comfortable.
Regular Fit Hugo Boss Polo Shirts
Regular fit men's Hugo Boss polo shirts feature a traditional straight hem down the sides. Some would also call this a relaxed fit because it does not hug the body. This is the easiest style to wear because it flatters most body types. However, it is easy to look frumpy if the shirt is too large. The Firenze Hugo Boss shirt features a solid, light blue colour with a unique twist. The plaid on the collar's reverse side becomes a unique accent when flipping the collar up.
Modern Fit Hugo Boss Polo Shirts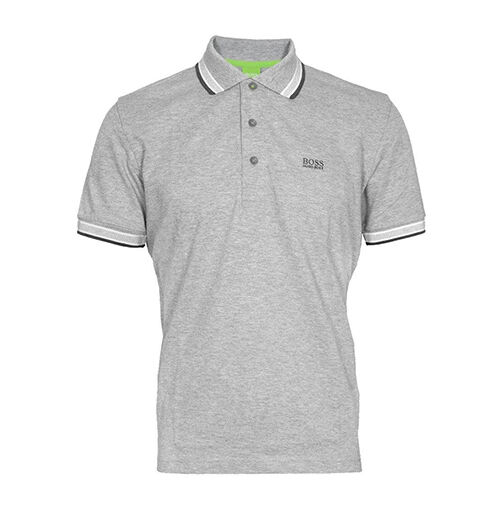 Hugo Boss shirts with a modern fit also have a straight hem, but the fabric has a bit of a stretch. This makes the shirt appear to have a custom fit without it following the contours of the body too closely. For example, the Philix polo puts a modern spin on polos with a zip collar and solid colours accented only by a lined pocket and sleeves. The Paddy Pro polo shirt lets men look classy at the gym or on the golf course. The two-toned shirt features moisture wicking fabric, a lightweight material, and a loose, yet professional fit.
Slim Fit Hugo Boss Polo Shirts
For a metro, modern look, go with the slim fit polos. These Hugo Boss polos for men feature a tapered hem along with slightly stretchy fabric that contours to the torso. For instance, the Forli is a traditional, solid colour polo that shows off the man's body, while the Paule polo shirt has a retro appeal with a white torso and a striped blue collar and sleeves. Both men's polo shirts are made of cotton and feature ribbed knit sleeves.