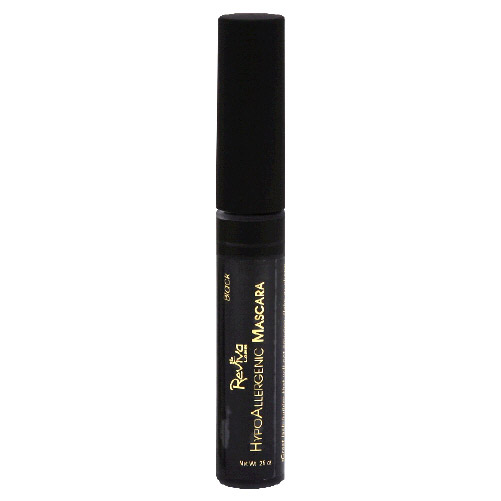 Do you have sensitive eyes? When you try to wear regular mascara, do your eyes get red and irritated? Perhaps your contact lenses prohibit you from using drugstore mascara, or you just prefer to not use chemical products if avoidable: whatever the reason, hypoallergenic mascara is a product you should consider. It does not irritate your eyes as can conventional mascara, as the ingredients are specifically chosen to be gentle and non-irritating, sometimes even all-natural.
When selecting hypoallergenic mascara, there are several options from which to choose. Because of the increasing popularity of hypoallergenic products, there is a wider variety today than ever before. Whereas in the past the selection was somewhat limited, today's shopper will find many different types of mascara to meet a variety of needs, including specialty products such as lengthening or curling mascara and even fun colours that won't irritate your sensitive skin or eyes.
Before purchasing, it is helpful to learn about hypoallergenic cosmetics in general and hypoallergenic mascara in particular, the various reasons you might choose to wear hypoallergenic mascara, and how to shop for and purchase it. Though hypoallergenic mascara is available at brick and mortar cosmetic stores and department store cosmetic counters, many consumers prefer the convenience and wide variety of eBay.
What is Hypoallergenic Mascara?
While there is no recognised standard for defining hypoallergenic mascara, in general 'hypoallergenic' indicates a mascara that contains only ingredients that are unlikely to cause irritation, such as common allergens. There is, however, no list of banned ingredients from hypoallergenic mascaras. Because of the lack of regulation, you must read the list of ingredients carefully on each individual brand. What one brand markets as hypoallergenic may be considered a conventional mascara by another manufacturer. If the advertising claims there are studies to prove the hypoallergenic nature of the product, you may wish to contact them for further data or results from the studies.
Mascaras designed to thicken or lengthen lashes or to moisturise, or that are advertised as long-lasting are not always be hypoallergenic, as many of the ingredients required for such abilities irritate the eye. For example, nylon is prone to flaking and falling into the eye. Coloured mascaras should also be scrutinised, as pigments they contain can also cause eye allergies. Simply put, the fewer the ingredients, the more likely it is that the mascara is indeed hypoallergenic.
Choosing a Hypoallergenic Mascara
When you are ready to choose a hypoallergenic mascara, there are a few steps to choosing the best one for you. After you have read the label information carefully, whether in person or online, follow these steps for the best results. Finding the best hypoallergenic mascara for yourself is possible, provided you spend the time researching your options and learning about the ingredients in the product.
Read Client Reviews
Before purchasing a new hypoallergenic mascara, take the time to read the thoughts of those who have previously purchased and worn the same product. Specifically, look for reviews that address the specific concerns you may have: for example, if you wear contact lenses, focus on the reviews of fellow contact lens wearers. If you have allergies, check for reviews of other allergy sufferers; and if you simply have sensitive skin, or prefer all-natural products look for reviews by people with similar sensitivities. Reviews allow you to learn now only whether a product marketed as hypoallergenic lives up to its name, but also whether it is a good beauty product on its own.
Test the Mascara
Before purchasing a mascara, test the product on your own skin to make sure you will not have a reaction. Before applying it to your lashes, place a small amount of the mascara on a test spot for a couple of hours. If the time passes with no redness or itchiness, you may put it on your lashes. For most people, the best place on the skin to test any new cosmetic for potential irritation is the back of the ear. The next test is whether the mascara flakes. Flaky mascara can get into your eyes and cause irritation in that matter, although since you have checked the label for all those potential irritants, this risk is minimal. You can try products out at most brick and mortar cosmetics stores, allowing you to test the product before purchasing it on eBay.
Check with the Experts
In addition to the reviews of fellow consumers, it is a good idea to read reviews of beauty experts such as professional makeup artists and to get the opinions of medical doctors, specifically dermatologists and ophthalmologists, many of whom are happy to share their knowledge. Their experience with these products and with eye sensitivities and allergies provide you with an expert's point of view.
Consider Your Style
As is essential to all beauty purchases, perhaps the most important feature of a hypoallergenic mascara is that it fits your personal style. Because of the wide variety of hypoallergenic mascaras available, you should not have to sacrifice your own style. For instance, you may have shorter eyelashes and wish to purchase lash lengthening mascara. If you have particularly straight lashes, a curl boosting mascara may also be something you would wish to try out. Depending upon both your complexion as well as your level of adventure, instead of the standard black or brown mascara, you might want to try a lighter brown colour or even a playful, non-traditional mascara colour, such as blue or purple. For an extra splash, you might consider wearing glitter mascara, particularly for a special night out. There is simply no need to settle for a lesser look than that which you desire, considering the wide variety of available hypoallergenic mascaras.
Keep it Clean
When you have found a great match, make sure to keep any makeup tools clean to avoid bacterial contamination. You should never place the wand under tap water; the bacteria sometimes found there can contaminate the mascara. Instead, clean mascara combs and brushes with brush cleaner after each use, and store them with their covers on in a clean place. To further avoid contamination and possible infection, do not share your mascara with anyone else. If you are already prone to irritation, you must be extra vigilant to prevent any further contaminants. Be sure to dispose of the mascara after three months.
How to Buy Hypoallergenic Mascara on eBay
You can find hypoallergenic mascara on eBay by starting with a simple keyword search, such as 'hypoallergenic mascara'. If 'sensitive mascara' is a better description of your needs, use that as a keyword search. Type the keyword into the general search bar found on most eBay pages; then, when the search results appear, use the variety of filters to further your search without having to read through each individual listing. If you are looking for a specific brand, such as Almay or Clinique, you can filter by brand. Other options are colour, price, and features such as lengthening, thickening, or waterproof. Another approach is to browse through eBay's categories until you find the desired product. Narrow your search results by choosing a specific category or subcategory.
Once you have narrowed your search to a manageable number of listings from which to choose, take the time to carefully read all of the listing details. Make sure you pay close attention to the item description, and if there are provided photos, compare them to the listing details. Check the list of ingredients to make sure that you can use the product safely without suffering an allergic reaction. Additionally, look at any provided measurements such as weight or length so you know how much mascara comes with each particular listing, as sizes may vary between products. Finally, read through all of the shipping and payment expectations, particularly as they related to turnaround times. Once you have decided upon a product, make your payment with one of eBay's secure and convenient payment options.
Conclusion
Conventional cosmetics often contain a number of chemicals that are employed in their production and thus can be harsh to allergy sufferers and those with sensitive skin and eyes. Those who wear contact lenses also may find eye makeup to be particularly irritating. The invention of hypoallergenic, sometimes known as sensitive, cosmetics has been a great boon to those who would otherwise be unable to wear certain makeup products.
Since the skin around the eyes is some of the most sensitive on the face, and the eyes are a delicate part of the human body, hypoallergenic mascara is one of the most essential hypoallergenic cosmetics to use for those with delicate skin or other conditions requiring a more sensitive product. Hypoallergenic mascara is a product in great demand, with many people either needing to use it to avoid unpleasant, uncomfortable, or even dangerous allergic reactions, and others simply preferring more natural products. A wide variety of hypoallergenic mascaras are available on eBay, making it a great place to shop for and purchase cosmetics for your sensitive skin. As with any product, it is a good idea to find out some facts about hypoallergenic cosmetics and hypoallergenic mascara before beginning to shop, in order to help you make an informed purchase.