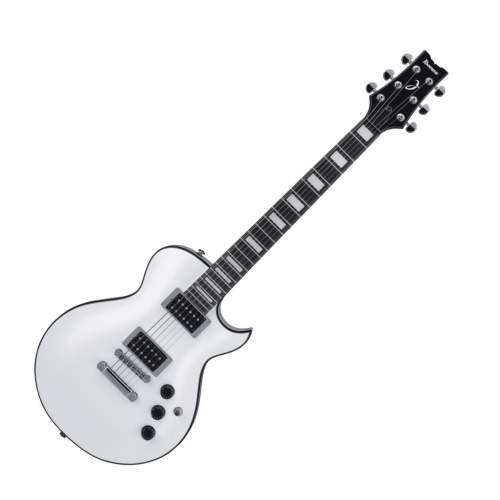 Ibanez guitar parts are sold to address the need for replacement parts on guitars where original parts have become worn or damaged. However, some parts are sold as simply aesthetic enhancements or to add further functionalities to the guitar. The Ibanez guitar range includes models at a variety of prices, from entry-level prices that are good for beginners, to more advanced models that cost a great deal more. Made from high-quality parts, they are a well-reputed brand.
Ibanez Guitar Parts Available on eBay
The Ibanez guitar parts available on eBay are subject to change depending on the current availability from all of the sellers combined. However there are a number of guitar parts that are routinely sold and thus are generally always available. These may be seen offered in either new or used condition, which will usually influence the set price.
Frequently Sold Ibanez Guitar Parts
The table below lists a number of the more popular parts available for Ibanez guitars on eBay, and includes a brief description of their use and function.
| | |
| --- | --- |
| Scratchplate or Pickguard | Often called the pickguard or the scratchplate, this piece of equipment is mounted beneath the strings, where they are plucked, and prevents scratches from damaging the glossy finish of the guitar's body. These are common when the musician is using a plectrum, a small piece of plastic used to easily and quickly pluck guitar strings. |
| Control Knobs or Dials | These are usually mounted on the guitar's body and directly control a number of factors that can influence change in the sound of the guitar. They are generally used in conjunction with a guitar amplifier, as they control aspects such as volume levels, distortion effects, and bass. |
| Machine Heads or Tuning pegs | These pieces of equipment feature on the headstock of an Ibanez guitar, with one for each string. When turned in either direction, they adjust the tension of the string to be looser or tighter, which in turn affects the pitch of the sound produced by that string when it is played. |
| Bridges | The bridge functions as its name would suggest, by acting as a bridge above the guitar's body on which the taut strings rest. When played, the vibrations travel through the bridge and reverberate off the larger surface area of the guitar's body in order to produce a louder sound than is possible by the strings' vibration in the air alone. |
| Guitar Strings | On a regular acoustic or electric guitar, there are usually 6 guitar strings. After extended play, or from bad treatment or storage of the instrument, it is possible for these strings to break. In such a case, it is easy and reasonably inexpensive to replace them. |
Choosing a Seller
Placing trust in an anonymous online seller can be more difficult than making a purchase from a reputable online or high street retailer. This is why the eBay marketplace has a number of features in place in order to reassure buyers of who they can trust, and know that support is available in the event of any problems arising after a sale has been completed.
Buyers can ask questions about an item listing if they wish to seek more details, they can view feedback left by previous customers, and they can also view all of the sellers other listings that are running simultaneously.
Questions About a Listing
It is common for buyers to want to know everything about an item before making a purchase. When buying an item on the high street, products can be fully examined for any defects or faults. However, when purchasing on eBay, buyers have only an item description and image(s) to help aid the decision making; thus, if the seller does not provide a comprehensive description and numerous images – which can often happen – then it is good to know that questions can be directed to the person who initiated the listing.
Upon receiving a question, sellers can post a direct mailbox response to the originating member, along with the option to pin the question and response to the item listing page as a future reference for other interested bidders or buyers.
Feedback on eBay
Feedback is eBay's way of separating the more trustworthy sellers from those who have not always been reliable in completing transactions or providing good quality products. Following a completed sale, both the buyer and seller are asked to leave feedback marks for one another in the form of either a positive, negative or neutral score, along with a comment; sellers may only use positive or neutral feedback. The purpose of this scoring system is to promote good sellers who pride themselves on fast and friendly service, and caution users of sellers who have not always been trustworthy.
Being selective of a merchant based on their feedback score is a good approach to take in choosing a seller for Ibanez guitar parts. If a seller has many negative marks against their name, then it may be better to seek a more reliable seller. Generally, it is advisable to seek sellers with at least an upper ninetieth percentile feedback score.
Online eBay Shops
If sellers have a large amount of items available, they may often choose to set up an eBay shop. This is their own personal space in which to host all of their item listings alongside one another, and is a good idea for those selling in bulk; that is, offering a number of items that need to remain listed following each successful sale.
Such shops are a good way to find and purchase Ibanez guitar parts, as retailers using these virtual spaces usually do so in order to promote a specialised area of sale, such as selling a wide range of guitar parts or musical instruments.
Item Delivery
Postage costs are stipulated in each item listing alongside the cost of the item and can be clearly seen from the initial search results page and the item listing itself. They can vary greatly, as there is no rule regarding the minimum and maximum limits that can be set; sellers can even neglect to charge postage costs if they wish to, or can add the cost of delivery to the overall item cost to make the free postage seem appealing.
Collection from Local Sellers
Rather than paying for postage costs, it is sometimes possible to collect items from the seller directly without cost; however, this is an option that can only be determined by the seller and may not be possible on all listings. It is usually reserved for larger items, and is only really relevant to those living close to the seller's locality, otherwise it becomes impractical. Fortunately, most Ibanez guitar parts are small and easily transmitted by post or courier.
Finding Ibanez Guitar Parts on eBay
All item listings on eBay are categorised to facilitate easy navigation throughout the website. These categories are determined at the time of creation of a listing. From the eBay homepage, members can access all of these categories through the initial section links on the left side of the website. When looking to buy Ibanez guitar parts, the Musical Instruments category should be chosen, which is located through the Sports & Leisure tab.
From here, buyers should navigate to the Guitars category, before then clicking into Accessories, which contains all guitar accessory listings on eBay. Though this subcategory generally has in the thousands of items available at any one time, they can be narrowed down using the filters available on the left side of the webpage. When searching specifically for Ibanez guitar parts, buyers should select the Parts filter and search for listings specific to Ibanez.
Conclusion
The eBay marketplace provides a platform for members to sell a wide range of Ibanez guitar parts to cater for those who need replacements for their instrument. The website features a number of predetermined categories for some of the more popular guitar parts, but there are usually a number of other parts on sale, which can be found under the same category.
All item listings are placed under a category when a sale is created, and the process helps sellers to ensure that their item is listed under the correct category as far as possible. This guarantees a quick and efficient search for buyers when seeking a specific item on the marketplace.
Making a purchase is straightforward and can be done with confidence, thanks to the security measures that the eBay marketplace uses. Buyers can pose questions about an item, view the seller's historical feedback and view their other listings in order to make an informed decision on whether to buy an item from a particular seller.