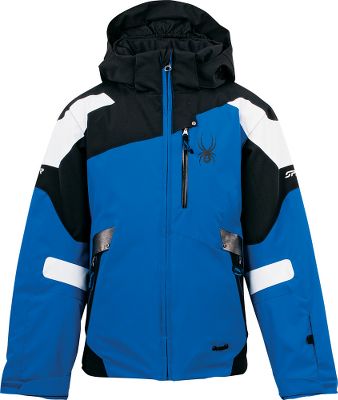 With the colder months approaching us, it's time to consider buying jackets for boys that have outgrown last year's. When it comes to buying jackets for boys on eBay, it's simple, convenient, and a lot less hassle free than taking unwilling boys that hate to shop from store to store to try on jackets. All you need to know is the size and style of jacket you're looking for, and the perfect jacket is just a few clicks away.
For cool fall days that don't require much protection, a lighter jacket such as a windbreaker, anorak, or zip-up hoodie will be perfect. However, once the weather turns cold, snowy, icy, or freezing, a heavier jacket such as a boy's leather jacket or a fleece-lined jacket will be necessary. A winter coat or raincoat might be advisable for very cold days or rainy mornings when your boys need a little extra covering from the harsh elements. This guide contains the different types of boys' jackets you'll be seeing and which jackets are best for which types of weather.
What to Consider When Buying Jackets for Boys
Before buying jackets for the boys in your household, consider which types of jackets are needed, what colours they favour, and what sizes of jackets you'll need. Obviously since boys grow so quickly, they've probably already outgrown last winter's jackets and will need one size up to replace them, so that's generally the easy part. Choosing the right style of jacket may require a little more thought, but if you're familiar with the weather in your area, you'll know exactly which jacket is right for your boy or boys this season.
Types of Jackets
Jackets don't just come in one type; there is an array of many different types of jackets for boys, from the lightest jackets for cool days to heavy coats with fleece lining. There is a type of jacket for every type of weather situation, and to suit each individual boy's sense of style and personal preference. As the winter months progress, you may need more than one style of jacket, so stock up on all of your jacket needs now and save time. You'll also be prepared for any type of weather and your son will be protected from the cold.
Light Jackets
Light boys' jackets are great for fall days when the seasons have just started to change and the air is getting brisk, but it's not quite cold enough for a heavy jacket just yet. Light jackets come in many styles and brands, such as Ralph Lauren, Marks & Spencer, and Quiksilver jackets.
Zip-Up Hoodies
Zip-up hoodies are sweatshirts with a zipper closure going up the front and a hood that can be worn over the head to protect the head and ears from the wind. Boys' hoodies are generally made of cotton and very soft and comfortable for boys to wear. Hoodies come in many colours and styles and can be embossed with brand names, such as Gap hoodies, or have superheroes or other beloved characters on them. Hoodies also come in simple, solid colours, stripes, plaid, or other patterns and can be worn for a sporty, casual look on cool days. Hoodies are also affordable, so it pays to have a couple of extra ones on hand if you're caught outside and a chill comes in, or if one of your boys happens to misplace his.
Windbreakers/Anoraks
A windbreaker, sometimes just called a jacket or an anorak, usually has an outer shell made of polyester with an inner cotton lining. These jackets are meant to be waterproof and can be worn on dewy days or chilly mornings. They zip up the front and may or may not have a hood on them.
Some boys' anoraks may be fleece lined on the inside for extra warmth. There may be pockets on the outside for carrying small items, and these jackets are usually quite light and compact and can be easily stored in the car or inside a backpack.
Heavy Jackets
Heavier jackets will be needed once it begins to get cold outside as we move into winter. A heavier jacket will be lined with fleece or Sherpa and provide extra warmth for boys. The outer lining of a heavier jacket can either be made of cotton, polyester, denim, or corduroy. Many popular brands make heavy jackets.
Lined Jackets
Boys' lined jackets are soft and cosy and perfect for cold weather. They can be cotton, denim, or other materials on the outside, but on the inside, they are softly lined with Sherpa material, fleece, or wool. Lined jackets can be quilted for added warmth, and they may even have a lined hood as well. Some lined jackets are waterproof, too.
Leather/Bomber Jackets
Boys look adorable in leather and bomber jackets. Leather jackets can either be simple or bomber style, which look similar to flight jackets. Leather jackets are heavier than anoraks, and can either be lined or quilted for extra warmth. Boys' leather jackets can be real or faux leather, and can be seen in brands like Marks & Spencer, Next, and Gap. Some leather jackets have lots of pockets, and leather jackets aren't just available in black or brown, they can be coloured, too.
Leather jackets can also be embellished with brand names, slogans, or even favourite characters. A good leather jacket can last a long time, so purchase carefully and maybe your boy can get two seasons' wear out of his leather jacket.
Coats
Boys' coats, which are the heaviest type of jacket available, are thick, padded, and perfect for the coldest part of the winter. For optimum warmth, choose a quilted boys coat that has an inner lining along with a hood. Opt for a zip-up closure for easy on and off, especially for younger boys. The warmest coats will usually have a lining made of Sherpa, fleece, or cotton and have a lined hoodie as well.
Raincoats
When it's raining outside, don't send boys out in the drizzle without some protection from the elements. A raincoat is typically lightweight and made of waterproof material, such as polyester. Raincoats may or may not have a lining inside, and most of them have a hood. Raincoats for boys come in many colours and styles, and some are even cute for younger boys, like boys frog raincoats.
Boys' raincoats may not be as suited for extremely cold temperatures since most of them tend to be fairly light. If you live in an area where there is a lot of rain but it tends to be quite cold, too, consider a waterproof anorak instead of a raincoat.
How to Buy Jackets for Boys on eBay
To find the perfect boys jacket on eBay, consider the amount you'd like to spend on a jacket. For a heavier, thicker jacket or coat, you may be spending a little bit more, and if brand is a big deal, search for coats made by the company you like best. Key in jackets, then narrow the search to Kids' Clothing and finally to Boys', which goes from sizes 2 to 16, to see what's available for your young men. You can peruse jackets by size, style, and colour, and if you know more specifically what you're looking for, key that in for a more tailored search, such as boys' hoodies.
The best merchants to purchase from are Top-Rated Sellers that have a lot of good, positive feedback. A local seller may save you shipping costs by letting you do a personal pickup for your boys' jackets, or sellers may be willing to bundle more than one jacket for a lower shipping price, along with any accessories such as hats or gloves. Communicate with sellers to make sure you're getting exactly the kind of jacket that you need and it's in great condition, the right size, and the perfect colour.
Conclusion
It's best to purchase jackets before it gets cold so you won't be caught off guard by that first chilly day and have to send your boy or boys out unprotected. Get jackets early and shop with confidence for boys' jackets on eBay. Not only will you get a great deal, but also you'll skip the hassle of shopping for jackets in a million different stores. You may even be able to talk your son into sitting at the computer with you to help pick out his own jacket. There are different types of jackets that are unique to all weather situations, so if you live in an area that gets cold and rainy, your son may need an anorak, as opposed to a slightly chilly climate where he simply may need a zip-up hoodie.
A leather jacket may be perfect for an older boy that won't grow a lot, since they tend to cost more but also last longer. They are great at holding in warmth and their timeless look never goes out of style. Consider all the many options you have when purchasing boys' jackets, and select the jacket that fits your unique budget, your boy's sense of style, and your own personal needs for the weather conditions you will be facing as the seasons change. Buying jackets on eBay will alleviate a lot of shopping stress this fall and winter, so get a jump on the cold today by purchasing a great jacket for your boy.