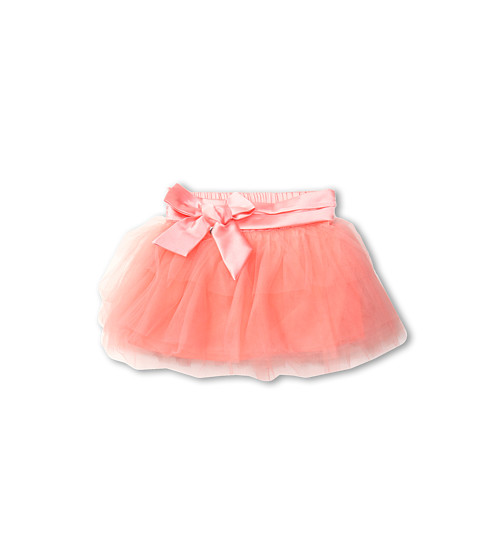 Going to dance class for the first time is an exciting and pivotal moment in a child's life. Buying the necessary clothing and accessories a child needs for a class only increases the excitement of the experience. A dance skirt is an important element in this process. Several dance disciplines use dance skirts in both their training and performance elements. Some children even enjoy wearing dance skirts outside the world of the dance studio, resulting in the surge in tutu-style skirts that have been redefining fashion for girls for many years.
Navigating this range of products can be difficult for parents who have not encountered dance fashion before. This guide takes readers through the various styles of dance skirts available, looking at everything from classical tutus for ballet to modern dance skirts. The guide also offers recommendations for finding dance skirts, with a specific look at the online auction site, eBay.
Types of Kids' Dance Skirts
Dance skirts can come in any one of several types of skirts, including soft traditional ballet practice skirts and very complex modern and jazz dance iterations. A parent or adult can encounter different types of dance skirts during their purchasing process.
Ballet Skirt
A ballet skirt is a soft, thin, wraparound skirt that it is worn in ballet class. This classical ballet garment can come in a variety of lengths, with some ending at the top of the thigh and some running down to the knees. These skirts are wrapped at the waist and tied off, and they help a young dancer begin to learn how to navigate movement with a skirted element around her legs, helping her to prepare for the eventual integration of a performance costume into her repertoire. A ballet skirt can usually be found in one of the three main classical ballet colours: white, black, or pink.
The Skirted Leotard
The skirted leotard is a one piece leotard that features an attached skirt. These items are often used in ice skating and gymnastics as well in some ballet classes. The skirt element of the skirted leotard typically is very short and ends at the top of the thigh.
The Lindy Dance Skirt
The lindy dance skirt is a long, softly pleated A-line skirt that typically ends around mid-calf. This type of skirt was the fashion in the 1950s and is often used in ballroom dance to execute lindy hops and other period dances from the 1950s.
Belly Dance Skirt
A belly dance skirt, also sometimes referred to as a belly dance belt, is a scarf-like article of clothing that is worn wrapped around the hips. This sheer skirt has bells or other sound-producing elements attached to it, so that a dancer creates sounds as she moves her hips or legs.
Modern Tutu-Style Dance Skirts or Petti Dance Skirts
Many modern dance disciplines use a skirt that is similar to a classical tutu. These dance skirts are constructed from netting or tulle typically and follow a moderately wide silhouette. Unlike classical tutus, tutu-style dance skirts can come in any number of colours, including neon options and even mutlicoloured ones.
Dance Dresses with Tutus
A dance dress with an integrated tutu is a popular item that relates to the dance skirt category. These dance dresses can be used in jazz and modern dance performances, and are also used in pageant performances and appearances. A dance dress usually has a tutu element fitted to a bodice that can feature puff sleeves or thin straps.
Kids' Dance Skirts vs. Tutus
Although the two terms can often get conflated into one category, dance skirts and tutus are very different items. A dance skirt can cover any one of several types of skirts worn during practice or performance, but a tutu is a specific type of dance skirt that has very strict criteria for construction and wear. A real tutu is worn exclusively during a ballet performance and is used to characterise the nature of the dance and the character the dancer is performing.
Types of Classical Tutus
Wearing a tutu in ballet is an exciting moment of transition for a young ballerina. A child often gets her first tutu for a performance and is a symbol that she has accomplished a certain level of skill and achievement in learning to dance. There are several different types of tutus on the market, and the main categories are listed below.
The Romantic Tutu
A romantic tutu features a long and flowing silhouette that stresses lightness in movement. These tutus are usually constructed of tulle and fall to some point between the knee and the ankle. Romantic tutus can have two different types of waistlines: a dropped waist with a basque and another that fastens at the natural waist.
The Classical Tutu
The classical tutu is often referred to as a pancake tutu due to its wide flat shape. This type of tutu features a short, stiff ruff that juts out from the hips of the dancer, and it is made of netting. It is usually affixed to a fitted bodice. The classical tutu is often worn in performances that involve an athletic display of dance skills.
The Classical Bell Tutu
The classical bell tutu is a short tutu that follows a bell silhouette. It is made of stiff netting like the classical tutu and is also usually attached to a fitted bodice. In terms of flow, the classical bell tutu falls somewhere between a romantic tutu and a pancake tutu.
The Balanchine Tutu
The Balanchine tutu, also sometimes referred to as the Karinska tutu, features a short skirt with no hooping and very few layers. It delivers a full silhouette that is nonetheless responsive to movement.
The Platter Tutu
A platter tutu is very close to a pancake tutu in that it is a short, stiff ruff, but a platter tutu juts out from the dancer's natural waistline. A platter tutu is also absolutely straight, whereas a pancake tutu can feature a slightly softer and rounded silhouette on top.
Tutus as Fashion Accessories
Many girls prefer to wear fashion tutus when putting together an outfit. These types of tutus do not follow any classical construction and usually just feature a few layers of ruffled tulle. They can be worn as skirts or as decorative elements over a pair of pants. These types of tutus are also often used in playing dress-up or as a fancy dress costume element for Halloween and masquerades.
Shopping for Kids' Dance Skirts
Offline retailers such as specialty dance shops, clothing retailers, and even fancy dress shops are a good source of dance skirts for children. Fancy dress shops may offer some tutu-style dance skirts, while a clothing retailer may carry tutus that are specifically created as fashion accessories. These resources can have a limited range of dance skirts available, with options changing seasonally. For parents and adults who want to access a much more comprehensive and consistent catalogue of dance skirts, online auction sites such as eBay are a much better answer.
Buying Kids' Dance Skirts on eBay
When beginning the process of buying a kids' dance skirt on eBay, a good starting point can be to run a basic search using the search bar found at the top of any page on the site. If you want to get an overall idea of the types of dance skirts available, you can run a search for a general term such as "kids' dance skirt". If you already have a specific style in mind, you can use that term to run a more focussed search. eBay also offers automatic "related search" suggestions that can help you in narrowing down your selection.
It is important when buying items on eBay to take the time to familiarise yourself with the sellers from whom you want to make a purchase. You can do this by reviewing the previous auctions run by a seller and looking at the feedback that vendor received from other customers. This can help you feel more confident about the seller you want to purchase from.
Conclusion
Shopping for a dance skirt can be a fun part of the experience of learning to dance. Young girls can peruse everything from fashion tutus to classical ballet skirts, accessing an exciting new world of dress, dance, and play. For parents guiding this search, the entire process can seem complicated without the right information. By carefully reviewing their options listed in this guide, parents and adults can feel more confident about what they want to buy and quickly narrow in on a dance skirt option to purchase. Parents can also leverage the unprecedented power of the online auction site, eBay. On this website, consumers can access a huge array of dance skirts of every type, silhouette, and colour. After a simple process of vetting potential sellers on eBay, parents can find the ideal skirt for a child that can help her integrate fully into a new dance class and explore the worlds of ballet, modern, ballroom, and more.