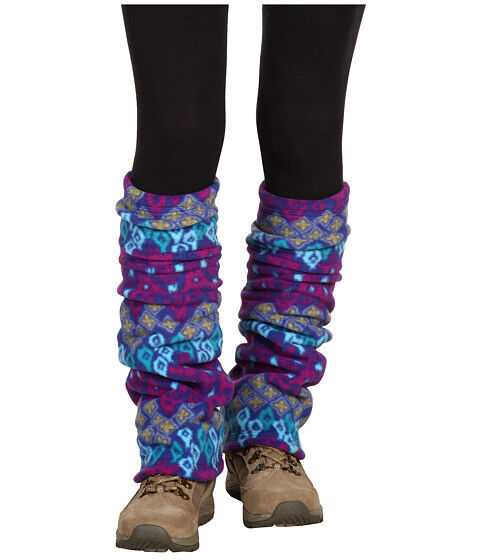 Kids' leg warmers are fun and practical accessories that can bring a bit of colour and style to a child's wardrobe while satisfying a parent's desire to keep a child warm during the wet and cold months of the year. Once a staple purely in the dance world, leg warmers have transitioned into the mainstream and are now used universally.These stocking-like items come in a wide variety of styles, from the machine-made and the hand-knit to the fashion-forward, giving kids and parents a diverse selection from which to choose.
Various types of kids' leg warmers are available in the marketplace, and they include dance-specific choices, options to keep babies warm, as well as more fashion-oriented choices. Leg warmers are available in clothing stores as well as other retail stores. However, their choices may be limited. Buyers can also take advantage of the extensive selection of leg warmers available at the online auction site, eBay..
An Overview of Leg Warmers
The history and design of leg warmers have come a long way. Since their original application in the world of dance, leg warmers have undergone an evolution over the decades into a popular accessory item.
What is a Leg Warmer?
A leg warmer is a footless covering designed to protect and warm the leg. Most leg warmers are designed to cover the lower leg, while some dance varieties can extend all the way to the upper thigh. Leg warmers were developed for dancers as a way for them to prevent their legs from cramping during warm-up, after stretching, and when cooling down. They are sold in pairs, although some dancers might only wear one on a particularly sensitive leg.
How Are Leg Warmers Made?
These footless accessories traditionally feature a stocking knit and can be created from lightweight wool for a thinner stocking, or heavier wool for a thicker stocking. The vast majority of leg warmers sold on the market are machine made and not hand knit. Today's varieties are also often created from cotton and synthetic fibres, making them lighter and more elastic than the original versions of the leg warmer.
Leg Warmers as Fashion Accessories
While originally developed as functional items for dancers, leg warmers today are often worn as fashion accessories by children and adults alike. These fashion leg warmers can come in an array of designs and knits, with some even featuring a light, stretchy structure closer to a sock than a traditional leg warmer.
Types of Kids' Leg Warmers
Leg warmers have become especially popular amongst children. Their fun application as a colourful accessory gives girls a way to dress an outfit up and experiment with fashion in an easy and accessible way. Leg warmers can be particularly gratifying for parents who are always looking for creative ways to keep their children warm. The following are some of the more popular options of kids' leg warmers available in the market.
Fashion Kids' Leg Warmers
Fashion leg warmers for kids that are worn as an accessory item in an outfit make up a large category of children's leg warmers. These leg warmers can be found in a range of styles, with some of the most popular being polka dot leg warmers and striped leg warmers.. Solid-coloured leg warmers are also prominent choices and can range from soft baby pinks to bright neon colours.
Fashion leg warmers can be constructed using a wide range of knits and materials, ranging from a traditional thick wool construction to a thinner stocking stitch not unlike a sock's stitch.
Dance and Ballet Kids' Leg Warmers
While dance and ballet leg warmers are often conflated into one category, there are some differences between the two. Traditionally, ballet leg warmers are only made in light pink, white, or black, whereas dance leg warmers can feature a much more diverse array of colours. Both dance and ballet leg warmers often have a heavier knit than fashion leg warmers, given that they are designed to keep leg muscles safe and warm during stretching. Some ballet and dance leg warmers feature a stirrup design at the heel. Ballet leg warmers can be extremely long, running all the way up to the top of the thigh to keep the entire leg warm and loose during stretching.
Fluffy Kids' Leg Warmers
A subset of kids' leg warmers that is enjoying more popularity is the fluffy leg warmer. These bold accessories resemble a thick coat of fur and can come in a range of natural fur colours and more extreme shades such as neon colours. These leg warmers often serve as a shoe or boot cover, adding a unique accent to everyday footwear.
Leg Warmers for Babies
A subset of kids' leg warmers is designed primarily for infants. These leg warmers are designed to cover the legs when a baby is wearing a onesie, providing a convenient way to keep a child warm while still allowing for easy diaper changes. These leg warmers can also give babies who are exploring their own mobility and learning to crawl extra range of motion and freedom. Infant leg warmers come in a range of colours and patterns. These leg warmers are often manufactured in cotton and rayon blends similar to a sock's construction, instead of the heavier knit of a traditional leg warmer.
Leg Warmers as Arm Warmers
Many leg warmers today are also sold and marketed as arm warmers as well. They can be worn as a leg warmer or as an arm warmer, depending on the needs of the child wearing them. Like infant leg warmers, these leg warmers are created in a lighter, thinner knit. They can be worn as a fashion leg warmer on the calf or as an accessory sleeve on the forearm. These leg warmers often feature bright colours and patterns, given their provenance as a fashion accessory.
Decorative Kids' Leg Warmers
Many leg warmers for kids serve a purely decorative function and provide little in the way of warmth to a child's legs. These decorative leg warmers are constructed from light materials such as netting or tulle. They serve as accessory elements that can add a bit of flourish to an outfit. Kids' ruffle leg warmers are a popular item in this group that usually cover only the lower half of the calf, functioning as a way to dress up a look. Other options in this category might include lace leg warmers or crocheted net leg warmers.
Shopping for Kids' Leg Warmers
Parents and other adults on the lookout for kids' leg warmers can source local retailers in their search for these accessories, including clothing retailers and dance specialty shops. Either option can have a limited selection of items. Ballet shops usually carry just the usual white, pink, and black of the ballet tradition, while general dance shops can have other colours as well. Clothing retailers may carry other options on a seasonal basis, but the depth and variety of these choices can be limited by how on trend leg warmers are at any given time. On the other hand, the online auction site, eBay, offers a larger and more consistent catalogue of kids' leg warmers.
Buying Kids' Leg Warmers on eBay
When beginning a search for kids' leg warmers on eBay, you can start by running a search for a term via the search bar that is available at the top of any page on the site. If you want to get an overall idea of the types of leg warmers available on the website, you can run a search using a general term such as "kids leg warmers&". If you already have a specific colour or style in mind, you can run a more specific search using that term. The site also makes useful related search suggestions when you run a search, and this can also help zero you in on an ideal pair.
Getting to Know Your Sellers on eBay
When you shop on eBay, it is always a good idea to get to know the sellers from whom you are interested in purchasing items. This can help you ensure that you receive just the pair of leg warmers you want. You can do this by looking through the sellers' past auctions and even reading some of the feedback they have received from other customers. You can also consider leaving your own feedback when your transaction is completed, helping future customers in their search for the perfect item.
Conclusion
Kids' leg warmers are an increasingly popular way for kids of all ages to keep their legs toasty or just enjoy a bit of fun and colour. Everyone from the tiniest infant to a grown girl can enjoy the pleasure of leveraging these fun accessories. Kids' leg warmers today come in a wide array of styles, ranging from the traditional style of classical ballet to ornate and stylish options from the world of fashion. Whatever type of kids' leg warmer a buyer is looking for, he or she can find a match via the online auction site, eBay. With its extensive catalogue of items, the online auction site eBay gives consumers an easy and user-friendly way to seek and purchase kids' leg warmers. By running a search on the site, researching the potential sellers, and making their purchases, eBay users can satisfy the needs for quality leg warmers for their children.