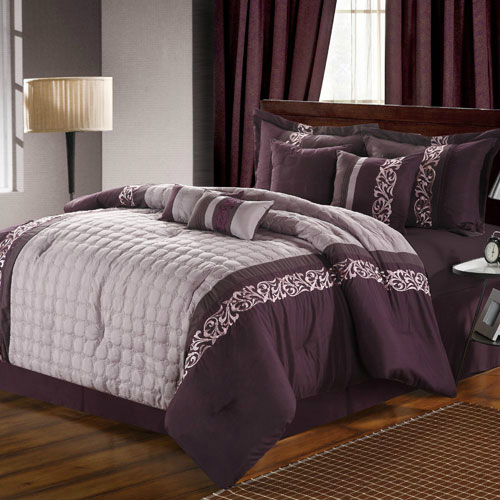 King size bedding is purchased from many different places. Bedding is available in high street shoppes and department stores. You also find king size bedding online at many different retail and linen websites, and eBay also has a wide variety of king size bedding to fit every style and budget. A bedroom is a haven from the rest of the house and a personal space which is decorated to suit someone's individual style. But decoration is only part of a bedroom's appeal. A bedroom should be comfortable and a place where you go to wind down and relax after a long day. This is why the type of king size bedding you decide to purchase is so important, and it has to fit the decor of the room and your personality, but it also has to be comfortable and functional. There are various types of king size bedding which to choose from, including a bedspread, duvet, or quilt, and you also have to choose sheets, pillowcases, and pillows.
Decorative King Size Bedding
Purchasing king size bedding is sometimes quite confusing. Is a bedspread, duvet, or quilt the best choice? Are pillow shams and bed ruffles necessary? Each piece of king size decorative bedding has its own unique look, and each which is used dramatically change the look of the entire bedroom.
Bedspread
A bedspread is a decorative covering which usually reaches all the way down to the floor, and it is long enough to fold over the pillows at the top of the bed. Using a bedspread with some shams on top is a great way to create a soft, designer look to any bedroom.
Duvet
A duvet usually drapes over the top of the bed but does not reach all the way down to the floor. Most duvets are plain white and a duvet cover is often purchased separately. Because of the many different designs of duvet covers available, this is an easy and economical way to change the look of your bedroom.
Comforter
A comforter is similar to a duvet in that it drapes over the top of the bed and does not reach down to the floor. However, a comforter usually has a colour, pattern, or design on it, eliminating the need to purchase an additional cover.
Quilt
A quilt is a beautiful decorative bed covering which is usually either hand crafted or printed. A quilt usually covers the bed down to the box spring and a dust ruffle is needed to fill the gap between the bottom of the quilt and the floor.
Bedding Basics
When purchasing king size bedding, you need to know details such as thread count and what the bedding is made out of. Knowing these facts helps you buy the best type of bedding for your individual needs.
Thread Count
Thread count is extremely important when purchasing king size bedding, especially sheets. The thread count stands for the number of threads in 2.5 centimetres of fabric, and a higher thread count means a smoother and more luxurious, durable fabric.
Materials
Most king size bedding is made out of natural or synthetic fabrics or a combination of both natural and synthetic fabrics. In addition, most bedding is made out of either cotton or polyester or a combination of both.
Cotton
Cotton bedding is extremely durable, soft, and absorbent. There are a few different types of cotton used to make king size bedding and they include Egyptian cotton, flannel, percale, muslin, and oxford. Cotton is oftentimes blended with another material to help it resist wrinkles.
Polyester
Polyester is a synthetic fabric which is very strong, durable, and lightweight. Polyester is both wrinkle and shrink resistant, and is is often blended with cotton to make king size bedding.
King Size Bedding Matching Sets
In order to make decorating a bedroom quick, easy, and affordable, many manufacturers sell king size bedding in matching sets. But sometimes it is difficult to know what is included in a bedding set, since matching sets come in more than one form. Browse the Next Home collection for more bedding ideas.
Comforter Set
Comforter sets contain many different items for a buyer to purchase in one package. Some comforter sets do differ, but traditionally a set includes a comforter, a dust ruffle, and two pillow shams.
Sheet Set
A sheet set typically includes all the sheet items needed for your bed. You usually find the following in a sheet set: a fitted sheet which is placed directly over the mattress, a flat sheet which goes on top of the fitted sheet and underneath the comforter, duvet, or bedspread, and two king-sized pillowcases.
Down Duvets, Comforters, and Pillows
Down bedding is an extremely popular, affordable, and practical type of bedding. Down is the undercoat layer found on most waterbirds which traps warm air next to the skin of the birds; this keeps these birds warm in the colder months and cool in the warmer months. Down bedding works in the same way by keeping the user cool in the summer and warm in the winter.
Down Fill Power
When talking about down bedding, the term fill power means the potential warmth level of the down. Typically, the higher fill power number, the warmer the down bedding is. This is because a higher pill number means more fluff, which traps more air, and it is that trapped air which keeps you warm. You normally find fill power numbers between 500-650, and fill power of 700 or higher is very rare.
Down Vs. Feathers
Down is found underneath the breast feathers of waterbirds, and it is extremely soft and does not contain a quill or any hard parts which sometimes poke or irritate a user. On the other hand, feathers cover the entire body of the bird and have a hollow quill running through the middle. The outer part of a feather is strong and durable and is much stiffer than down. However, it is also much harder and heavier than down, making feathers much less comfortable.
Finding the Right Fit for King Size Bedding
While it seems pretty basic, if you have a king size bed then you need king size bedding. However, king-sized mattresses come in a variety of different thicknesses, so it is a good idea to know your mattress thickness in order to purchase properly fitting king size bedding.
Most standard mattresses are between 22.9 and 30.5 centimetres thick. A premium mattress add up to 12.7 centimetres to the thickness, and a pillowtop mattress usually adds another 2.5 centimetres or more. This means that a mattress can be up to about 50.8 centimetres thick.
Bedding Size Chart
Below is a chart which shows the more common sizes for most types of king bedding. All measurements are in metres and in some cases, centimetres.
Type of Bedding

Typical King Size

Bedspread

3.1 m x 3 m

Duvet/Comforter

2.6 m x 2.4 m

Quilt

2.5 m x 2.2 m

Dust Ruffle

2 m x 2.03 m

with 35.6 cm x 45.7 cm drop

Fitted Sheet

1.9 m x 2.03 m

Flat Sheet

12.7 m x 2.6 m

Pillowcase

0.51 m x 1.02 m

Ruffled Pillow Sham

0.51 m x 0.91 m

with a 5.1 cm ruffle

Blanket

2.7 m x 2.3 m

Mattress Pad

2 m x 2.03 m
Though the above measurements are considered common, it is important to note that there may be some differences in manufacturers. There may also be other types of bedding not listed.
Comfort Tips
The average person spends more than 2,500 hours a year sleeping, which is about one third of a person's entire life. Because a person spends so much of his or her time asleep, and because the human body needs sleep to rejuvenate and heal, it is very important that the bedroom, the bed, and bedding is as comfortable as possible.
Mattress Pads
A quality mattress pad not only add a little more comfort to the mattress, but it also help to protect the mattress and make it last longer. There are many different types of king size mattress pad available from easy-to-care-for polyester to eggcrate foam and memory foam.
Sheets
There are various different styles of sheets available which are made out of many materials. When purchasing king size flat sheets or king size fitted sheets, remember that the higher the thread count, the softer, smoother, and more luxurious the sheets feel. A thread count of 250 or higher is extremely comfortable to sleep on.
Buying King Size Bedding on eBay
eBay has an extensive collection of king size bedding available in many different styles and colours. When searching for king size bedding on eBay, begin your search on the eBay homepage. If you know what type of king size bedding you are looking for, you can simply type in some descriptive keywords in the search bar. For example, if you are searching for a comforter, simply type "king size bedspread" into the search bar. You can then refine your search further by using the menu to pick a category and the condition of the item.
When purchasing king size bedding from eBay, be sure to read the entire product description to ensure that the bedding is exactly what you are looking for and will fit your mattress. If you find that you still have questions, contact the seller directly by going to his or her member profile and clicking on the contact link.
Conclusion
When buying new king size bedding, there are many facts to take into consideration. Because of the amount of time spent in the bedroom, king size bedding should be decorative and suit your personal style and needs. Also, because of the amount of time spent asleep in the bed, the same bedding needs to be warm, comfortable, and practical.
If you are buying king size bedding for a new room or bed, you probably need to purchase everything such as the mattress pad, sheets, pillows and pillowcases, as well as the decorative covering which is a quilt, duvet and cover, comforter, or bedspread. Regardless of what type of king size bedding you need or want to purchase, eBay has a wide selection of both new and used bedding which suits every style, taste, personality, and budget. Purchase king size bedding which fits your needs and personality and that works well with the overall decor of the bedroom.