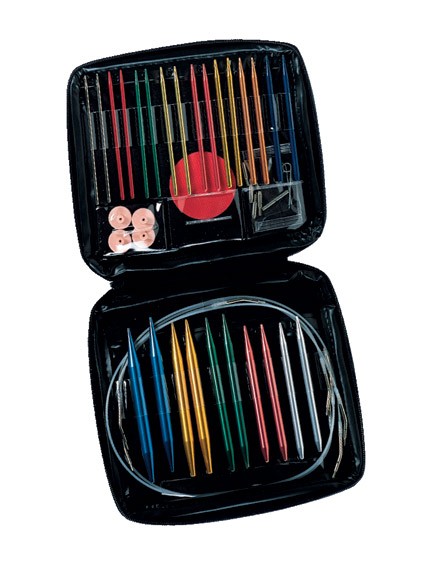 Roughly around the turn of the 21st century, knitting shifted from something grandma used to do and became a favourite pastime of the younger set. No longer were knitters homey sorts who holed up in a den, a bag of yarn and knitting needles at their feet, while they created an afghan for a relative's wedding. Rather, in the early 2000s, knitting began to spring up in trendy coffee shops, on park benches, and in knitting clubs. Knitting clubs and manufacturers have hundreds of followers on their social media pages, and blogs aid community and learning amongst the knitting set.
In order to pursue knitting as a pastime, one needs critical tools, especially the all-important knitting needles, that aid in the process. Before embarking on a purchase of knitting needles, one needs to be aware of the role that knitting needles play, along with the different types of knitting needles available in the market. Although knitting needles are available in mainstream shops, consumers can gain access to a large supply of this product on eBay. Awareness of how to effectively utilise this website can help knitting enthusiasts in purchasing the desired knitting needles on eBay.
An Overview of Knitting Needles
Although termed a "needle", this knitting tool is not sharp, like a sewing needle. It is essentially a long shaft that tapers at one or two ends, and is commonly made of aluminium, bamboo, plastic, steel, or wood. To operate, a knitter uses the tapered end to pick up yarn and make stitches, and the shaft to hold the active yarn in place. The yarn, or stitch, currently being worked is known as the active stitch; that which has already been knitted together is called inactive.
The size of a knitting needle is computed by both length and diameter, or gauge, the latter being especially important, as it determines the width of the yarn loop that can be pulled through the previous stitch. Thus, a smaller diameter allows for tighter stitches, whereas a thicker tube produces a looser, larger stitch. The needle's length, on the other hand, correlates with how many active stitches can be held at any given time; as such, knitting a shawl or throw cover dictates a longer needle than a neck scarf or a pair of socks does.
The United Kingdom utilises Standard Wire Gauge designations, which means that the smaller the needle thickness, the larger the number, and vice versa. For example, whereas a 6-mm needle is a number 4 in the U.K., in the U.S. it is deemed a size 10. U.K. knitting needle numbers range from 000 (10 mm) to 14 (2 mm).
Types of Knitting Needles
When they want to buy knitting supplies, yarn crafters may choose from four types: single-pointed, double-pointed, circular, and cable. Each type has defined benefits and uses, as outlined below.
Single-Pointed Straight Knitting Needles
The more commonly used knitting needle is the single-pointed straight needle. Its slender shaft features a tapered point at one end, and a knob, or head, at the other, which serves to keep the active stitches from slipping off. Single-pointed needles are always used in pairs and generally purchased two at a time. Although the shafts are generally sized between 25 and 40 cm, the compressibility of yarns means that the needles are capable of producing wider results.
Double-Pointed Knitting Needles
Long before the single-pointed needle entered the knitting arena, the double-pointed model was an established tool for the craft. With tapers at either end, the double-pointed needle enables active knitting from both sides of the shaft. Unlike single-pointed needles, the double-sided models come in sets of four or five. Their common use has been for circular knitting, such as that needed when crafting collars, sleeves, or socks. Shorter in size than their single-pointed brethren, double-pointed needles generally stretch to 20 cm in length.
Circular Knitting Needles
When the double-pointed needle has a flexible, arced middle, it becomes a circular needle. This type of tool facilitates slip-stitch and double knitting, with the added benefit of yarn not slipping off the ends due to the flexible centre. Ranging in length between 23 and 100 cm, circular needles have proven better at distributing the weight of the yarn, making them easier to hold and operate. Some circular needles come as part of kits, in which the points of either end can be attached to varying centres, thereby providing increased flexibility and functionality.
Cable Knitting Needles
When cable stitches are desired, knitters turn to needles made specifically for this purpose. Cable needles can be either looped, fish-hook style, or largely straight, double-pointed affairs with a speed bump in the centre.
Composition of Knitting Needles
Sometimes, choosing between wood, metal, bamboo, and plastic knitting needles is simply a case of personal preference. Other times, however, the type of yarn and intended output may be valid considerations, as well. Prospective knitters may want to experiment with a range of needle material types to determine what feels right to them.
Wooden Knitting Needles
As wooden needles quickly warm to the touch, they provide comfort and enhanced enjoyment to the knitter, as well as greater tactile enjoyment in the craft itself. With a smooth, non-slippery finish, wooden needles are appropriate for knitters of all skill levels. One notable downside, however, is their higher cost. As wooden needles are brittle and therefore subject to breaking, this may be a double drawback when evaluating knitting needle needs.
Metal Knitting Needles
From aluminium to steel, metal knitting needles are widely available and frequently in use. Two of their primary advantages are strength and reliability, as metal needles can easily support the weight of larger knitting projects. Despite being virtually unbreakable, metal needles are also more affordable than their wood counterparts. Whereas aluminium is the more common type of metal needle, other compositions may include brass, chrome, or nickel.
Of course, there are downsides to this type of needle, as well. They are often cold to the touch and somewhat slippery, meaning the yarn could slip off more frequently than with wooden or plastic needles. In addition, the small, metallic "clink" of the needles may annoy others in small, quiet spaces.
Bamboo Knitting Needles
Although bamboo needles tend to be more expensive than metal and plastic needles, they are also more enjoyable to work with. Like other wooden needles, bamboo shafts are warmer and lighter in weight. In terms of durability, they last longer than standard wood needles, with their slickness enabling a faster knitting experience.
Plastic Knitting Needles
Those new to the craft of knitting often opt for plastic needles, with their lighter weight and lower cost. In addition, their construction makes them a little flexible, not to mention reliable and long-lasting. Their smoothness not only facilitates quicker knitting, but it also creates a quieter overall experience. Some larger needle sizes are available only in plastic.
The chart below provides a quick comparison of the strengths and weaknesses of the substrates of knitting needles discussed above.
| | Chilly to Touch | Nearly Soundless | Slippery | Prone to Breakage | Higher Cost |
| --- | --- | --- | --- | --- | --- |
| Wood | | x | | x | x |
| Metal | x | | x | | |
| Bamboo | | x | | | x |
| Plastic | | x | x | | |
Of course, a knitting needle's characteristics mean nothing if a user's personal preference dictates otherwise. Therefore, purchase of knitting needles can be largely dictated by individual tastes.
Less common and often more expensive knitting needle materials include glass and resin. Antique needles constructed of ivory, tortoiseshell, or walrus tusks, although hard to find, do exist; however, these materials have long been banned due to their adverse impact on endangered species.
Considerations When Buying Knitting Needles
Selecting a needle size is the first step towards making a purchase. Those knitting from a pattern can seek the needle size specified on the package. Following length, gauge is another necessary determination; again, this information may be included with the pattern.
Be warned, though, that the recommended gauge may vary based on personal preferences and knitting style. For example, someone who knits tightly may require a larger gauge to accurately space stitches. For this reason, new knitters might want to acquire needles in a handful of lengths and thicknesses to experiment with what suits them best. Knitters often gravitate towards lightweight needles, as these allow for quicker knitting. It is natural for knitters to grow their needle collections as they get further into the hobby, embracing differences not only in size but also in material.
Buying Knitting Needles on eBay
Whether you are seeking knitting needles for a specific project, embarking on a new knitting endeavour, or building your collection of knitting needles, eBay helps you find exactly what you are looking for. The site boasts an impressive array of knitting needles, including those made of metal, plastic, wood, and even bamboo. eBay's convenient search feature allows you to directly pinpoint not only the needles' composition, but also their length and gauge.
In general, and especially with metal and plastic knitting needles, those models that are previously owned function just as well as brand-new items and can be obtained at reduced cost. eBay allows you to narrow your results specifically by the new or used conditions. The site also facilitates selection by type of needle: straight, circular, bamboo, wool, and other; available accessories include yarn, needle holders, knitting bags, and yarn kits. Be sure to look at pictures and compare costs; this way, you can ensure satisfaction with your purchase.
Conclusion
Once a hobby relegated to mothers and grandmothers, knitting has moved into the mainstream, steadily growing in popularity since the turn of the 21st century. Since then, knitting has sprung up in mainstream locations, with the craft embraced by hobbyists and hipsters alike. Beyond its anywhere/anytime flexibility, perhaps one of the things that makes knitting so popular is its simplicity, as the activity requires just two things: yarn and needles.
To avoid making an uninformed purchase decision, prospective knitters should first educate themselves about the types, materials, and sizes of knitting needles. The tools come in a range of compositions, including metal, bamboo, wood, and plastic. Straight needles are either single- or double-pointed, the former with a knob at one end that holds yarn in place; another popular shape is the circular needle. The final determination is the needle's size, as both length and gauge are important considerations.
With its vast inventory of knitting needles, yarn, and supplies, eBay is a shopper's paradise. Knitters know that a visit to the site can satisfy all of their craft needs.