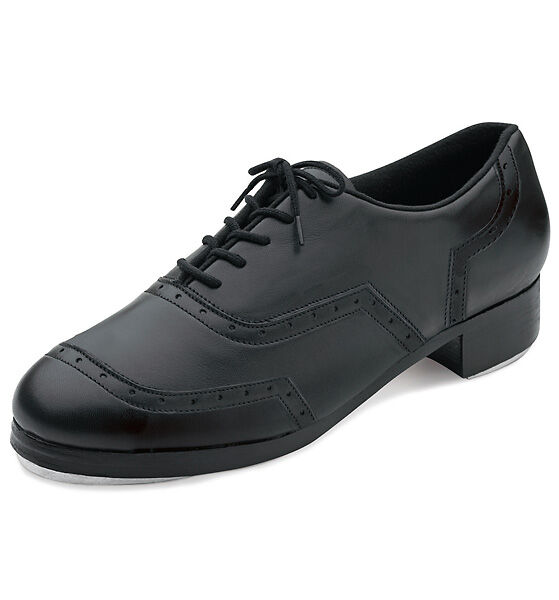 Lace-up shoes have been a part of western culture for so long that they have almost become the default for shoes, especially for men's shoes. There are men's lace-up shoes for every occasion, style, and budget. There are oxfords, loafers, and even trainers, all bound by the common bond of shoelaces. These shoes are so common now, that learning to tie one's own shoelaces is a rite of passage that for many people comes even before learning to ride a bicycle. Lace-up shoes can fit every size foot, and meet every need. The laces ensure not only a comfortable fit, but a secure one, guaranteeing that the wearer will not have to worry about their shoes moving under their feet and possibly causing them to slip and slide, or even fall or turn an ankle. This makes laces an almost indispensable part of many pairs of shoes. So much so that even those shoes without them often rely on something expressly designed as a substitute.
History of Lace-Up Shoes
The history of lace-up shoes is as much the history of the lowly shoelace as it is of the shoes themselves, as it was that invention that made the lace-up shoes you own today possible. Historical records make reference to lace-up shoes being worn by peasants as far back as the middle ages. However, despite the name, these shoes bore very little resemblance to the modern idea of a lace-up shoe. Instead, they were more like a leather bag that was laced around the ankle than what most designers, or wearers would consider a lace-up shoe. Later, shoes developed more modern lacing patterns, with the laces being passed through eyelets, which allowed them to be pulled together in order to stay on the wearer's feet. The basic design of the lace-up shoes you might see on the street was developed in the nineteenth century after a series of inventions made it possible to create both left and right shoes with separate uppers and soles quickly and easily. By the end of the nineteenth century, the lace-up shoe had fully arrived, followed by the early twentieth century invention of the rubber-soled canvas-topped "sneakers" that were the precursors to the trainer.
History of the Shoelace
Cords resembling shoelaces date back centuries, but the shoelace itself is a more recent invention, only dating back to about 1790. The key to the shoelace is twofold; first, there is the eyelet, that hole in the shoe the lace is passed through, and second, and equally important is the aglet. The aglet is what makes it possible for shoes to have those small eyelets, an important part of so many pairs of shoes. For those who may not be familiar with the term, the aglet refers to the hard case that surrounds the end of a shoelace, making it possible to thread it through the eyelets without fraying. Once the shoelace was perfected, the modern lace-up shoe became possible.
Kinds of Lace-Up Shoes
There are almost as many kinds of lace-up shoes as there are feet. They range from the fanciest of dress shoes, through the toughest of walking and athletic shoes. Lace-up shoes cover every possible situation, and are available for every budget. There are lace-up shoes made from Russian leather recovered from a sunken ship, and lace-up shoes made from inexpensive canvas and rubber, as well as everything in between.
Lace-Up Dress Shoes
Usually made of fine leather, these shoes are suitable for anything from a day at the office to a night on the town. Not only are the uppers of these shoes often made from leather, but so are the soles, which are normally smooth. This combination makes for a high-quality and long-wearing shoe, which can look good in any environment. These shoes may be more expensive than most footwear, but they are well worth the investment.
Lace-Up Walking Shoes
To someone who is primarily used to trainers, walking shoes may seem a bit odd. In appearance they can look like anything from dress shoes to leather trainers, but they are not made for either the office or for the athletic field. Instead, these shoes are designed for walking, with plenty of support and soft soles. The uppers may be leather, but the soles are usually either rubber or synthetic, and have plenty of tread to ensure traction in all conditions.
Lace-Up Athletic Shoes
When it comes to lace-up athletic shoes, the variety is amazing. There are high-end shoes made from advanced materials that cost a pretty penny, and there are also inexpensive canvas or even nylon trainers that are priced so low, it is almost worth throwing them away after wearing them once. What they all have in common is a soft and flexible upper, and a rubber or synthetic sole with lots of tread for traction. Good quality trainers have great support, while the less expensive ones tend to wear out more quickly and may not provide the same degree of support.
How to Choose the Right Lace-Up Shoes for You
When buying yourself a new pair of lace-up shoes, it is important to identify your needs before making a purchase. Different needs require different shoes, which makes it all that much more important to identify your needs before looking for a pair of shoes to fit them. A pair of fine leather dress shoes that would be perfect in any formal situation would probably be an utterly dismal choice for jogging or even going on a long ramble across the moors. By the same token, a banker could hardly wear an inexpensive pair of canvas trainers to the office.
The following table gives a brief rundown of different types of lace-up shoes and their appropriate wearing conditions:
| Circumstance | Dress Shoes | Walking Shoes | Athletic Shoes |
| --- | --- | --- | --- |
| Long Walks | No | Yes | Yes |
| Running or Athletics | No | No | Yes |
| Casual Work | Yes | Yes | Yes |
| Semi-Formal Event | Yes | Yes | No |
| Formal Event | Yes | No | No |
In all cases, while the same shoes may not be appropriate for every situation, there is a pair of lace- up shoes for almost any situation.
Consider Your Budget
Once you have identified your need, the next thing to consider is your budget. The huge variety of lace-up shoes available almost guarantees that there is a pair for any need within every budget. In most cases, material plays a very large factor in determining the price of a given pair of shoes. Leather is generally the most expensive, while synthetic materials will often vary in price depending on the kind of shoes. Expensive athletic shoes will likely be made of advanced synthetic materials, just as inexpensive shoes may be made of inexpensive plastics.
Where to Buy Lace-Up Shoes
Their very ubiquity means you can easily buy lace-up shoes anywhere you care to look. If you prefer to shop locally, you can probably find them in dozens of shops on the local High Street. If you would rather shop without leaving the house, turn to the web where you will find them at most Internet retailers, or online auction sites such as eBay.
Buying Lace-Up Shoes on eBay
Buying lace-up shoes on eBay is a very simple process. All you need to do is enter a description for the shoes you want in the search box, there is one on every eBay page, and watch the results appear. Once you have your results you can use the sidebar to filter them by everything from size and brand, to seller location. You can then sort your narrowed down results to make sure you have them focused on the lace-up shoes that best fit your needs.
After finding the best shoes, the next step is to find the best fit from amongst the sellers. The place to determine that is the seller's profile page where you can see everything from their location to their feedback score. You can also use their profile to determine if they have any special shipping policies, and whether they offer deals on related items, such as shoes with a shoe tree.
Conclusion
The huge variety of lace-up shoes available to even the most casual shopper makes them both one of the easiest and one of the hardest things to buy. They are easy to buy because they are so readily convenient, lace-up shoes are everywhere. At the same time, there are so many different choices that finding the right pair might seem like an overwhelming task. Luckily, it is easily possible to find exactly the right pair of lace-up shoes by the simple method of identifying your needs and then looking for shoes that both fit the needs you have identified and your budget. Whether you need dress shoes for a formal occasion, or trainers to practise for a half-marathon, there are lace-up shoes that will suit your purposes. All you have to do is know what you want the shoes for and everything else will fall into place, making buying your next pair of lace-up shoes an easy and pleasant experience.