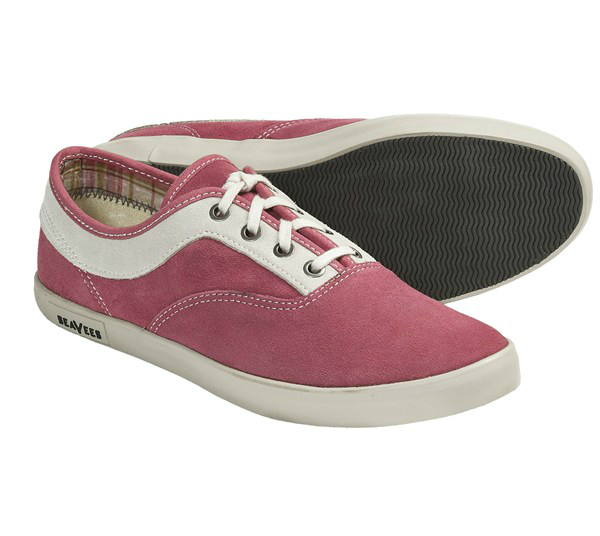 Lace-ups are seen on the basketball court, local high streets, and even at eclectic formal events and night clubs. Simply put, lace-ups are any shoe that uses laces to fasten and hold the shoe to the wearer's foot. Because they are one of the most reliable ways of keeping your shoes on your feet, they are the most commonly seen shoe amongst men, women, and children. Lace-ups are both durable and fashionable and in recent years, the laces themselves have become a fashion icon.
There are many styles and types of lace-ups available, especially for women. Finding the perfect shoe requires knowledge of your own tastes, where you will be wearing the shoes, and the proper sizing techniques to ensure a good, long-lasting fit. The type of shoe you choose also depends on the clothing you plan to wear with it and whether your job or medical needs preclude certain types of lace-ups.
Lace-ups can be found at nearly any department store, specialty shop, or traditional retailer. Online marketplaces and auction sites such as eBay also carry lace-ups and may have a wider selection than you can find in-store. Knowing how to navigate auction listings and what to look for will greatly improve your shopping experience.
History of Lace-Ups
While shoes date back to 1600 B.C., the modern lace-ups enjoyed today may not have existed if not for Britain's invention of the shoelace . Modern lace-up shoes contain eyelets through which the lace is woven to seal the shoe around the foot. However, before that invention, shoes contained buckles that were large and often clumsy to fasten in order to restrain the foot. People also wrapped their feet with a form of laces as far back as ancient times. Laces made of leather, cotton, hemp, bark, and other materials was wound about the legs or feet to bind leather padding, sandals, and more to the feet and legs.
In the late 18th century, a man named Harvey Kennedy created the shoelace as it is known today. They were called shoestrings and a stiff wrapping was placed around the ends of the laces to keep the string from becoming frayed or unravelling. Called aglets, these are still used in modern shoelaces.
The invention of rubber soles in 1899 spurred on the use of shoelaces in shoes. The modern trainer is a direct result of that. By the early 19th century, canvas shoes with rubber soles were being sold to the public for men, women, and children. As manufacturing methods developed, so did other styles and materials for shoes. Today, lace-ups refer to any shoe that has laces, which can include boots, sneakers, and even heels.
What to Look for in Lace-Ups
As you shop for the ideal lace-up shoes, it is important to consider both your own personal style and the environment in which the shoes will be worn. Not only will your comfort level be a determining factor in choosing a pair of lace-ups that you will enjoy wearing, but the conditions of your life and events will also affect which shoe type will be most appropriate.
Materials Used in Lace-Ups
Lace-ups are made from a variety of different materials to coincide with the intended use of the shoes. Fabric such as canvas is popular in casual lace-ups because of their flexibility and the ease with which you can clean them. They can also be quite comfortable in the summer. Leather lace-ups allow the feet to breathe, are comfortable once broken in, and are one of the most durable choices. They can also be worn in more formal situations. Other materials used range from faux leather to rubber .
Types of Lace-Ups
As you already know, lace-ups come in every shoe type imaginable. From boots to heels and flats to trainers, you will be able to find something that matches your style and the environment you will be working or living in. The following table outlines the most popular lace-ups and their benefits.
Type

Benefit

Boots

Provide solid ankle support and foot protection

Can be waterproof

Good tread for uneven or slippery surfaces

Heels

Increases height and encourages good posture

Ideal for formal events and to express personal style

Adds a fashionable look to everyday outfits

Flats

Casual and comfortable while still fashionable

Can be dressed up or down

Fits most style tastes and age groups

Best choice for women with medical concerns or injuries

Trainers

Comfortable and casual

Has the widest range of choices and styles

Ideal for running, hiking, or walking
Lace-ups are one of the most important aspects of your wardrobe. They protect your feet and can be the finishing touch to the perfect outfit. That is why the type of shoe you pick is so important to your overall appearance, comfort, and enjoyment.
Fit of Lace-Ups
The comfort of your lace-ups will depend largely on how they fit. If you are purchasing your shoes online, it can make shopping difficult. The key is to find your ideal shoe size before you begin your search. You can do this through retail shoe stores or by using a sizing chart.
Sizing charts can be found online and printed out at home. Measure your feet while standing up and do so at the end of the day, since your feet often expand throughout the day. It is not uncommon for one foot to be larger than the other. If you find this to be the case, purchase your shoes to fit the larger foot. With lace-ups, you can simply tighten the strings for the smaller foot. When you measure your feet, do so standing up for the most accurate measurement.
As you try on the lace-ups, you can check for the perfect fit by placing your thumb at the toe of the shoe. If the space between your toes and the toe of the shoe is the same width as your thumb, it is a good fit. Your foot should also never be wider than the shoe itself, even if it is a heeled lace-up you are interested in purchasing.
How to Buy Lace-Ups on eBay
Lace-ups can be found in a variety of styles, sizes, and colours, quickly and easily, through online marketplaces like eBay. All you have to do is begin your search by entering keywords into the search box on eBay's home page, and watch the results appear on your screen. For example, if you want to find boot lace-ups, simply entering "boot lace-ups" in the search field will return pages of results. Once you are on the results page, if the original keyword you entered was too broad, you can narrow the parameters of your search by utilising the filters on the sidebar to show only new shoes or shoes in specific colours. There is also a sorting tool bar you can use to reorder the auction listings in the order that you would like to look at them, helping you to better find exactly what you need.
Once you have narrowed down your choices, the next step in your shopping experience is to make sure you will be buying a quality product. Read the description provided on each listing's page and peruse any photographs attached. Check the price and any shipping costs the seller is charging. You can also directly ask the seller for more details. Finding a good seller will ensure that you receive good service. By clicking on the seller's name, you can view his or her full profile. There, you will find ratings on the items they have sold in the past and feedback from other customers. Once you have purchased your lace-ups, you can also leave positive feedback for the seller on his or her profile.
Conclusion
Women have been wearing lace-ups for decades and the popularity of this kind of shoe continues to produce new styles and fashions every year. While there are many kinds to choose from, purchasing the perfect pair of lace-ups requires some knowledge of yourself and where you will want to wear them. Environments have a lot to do with the most appropriate style of lace-up, as does the work you do and the clothes you wear. For women who have medical concerns, such as back or foot problems, finding the right fit in a shoe is vital.
Lace-ups can be found at department stores, shoe stores, and online retailers and auction sites, such as eBay. Buying lace-ups on eBay is an excellent way not only to find the right shoe within your budget but also to compare prices and consider shoes that you may not have seen otherwise. Define your search parameters by your budget, taste, and the style you want while making sure to fully investigate the seller before buying. With your new knowledge of how to purchase the best lace-up shoe for you, and a little patience, you will be able to find a pair of lace-ups that ideally fit your style and comfort level.