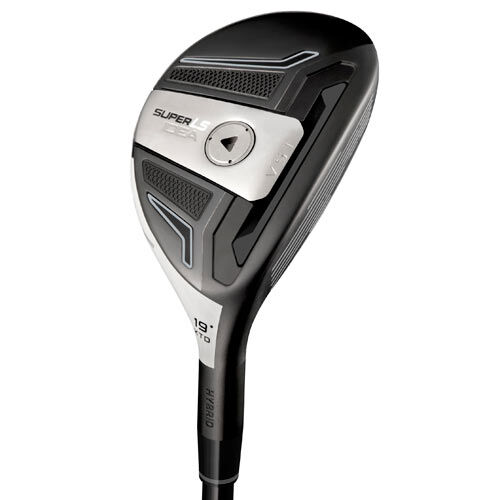 As a left-handed golfer then you're probably well aware that these preferences are within the minority of golf players. Traditionally this has been reflected in the reluctance of golf manufacturers to release left-handed editions of their models but, with increased accessibility and the achievements of professional lefties Phil Mickelson, Chris Weir and Bubba Watson, the popularity of left-handed golfing equipment has improved significantly. Initially, there was a tendency for left-handed players to switch to using their right because the equipment simply wasn't available to them and also because this was considered to be the 'correct' way of playing. This isn't the case anymore however and left-handed players now don't need to worry about obtaining your desired golf club..
What to Consider When Choosing a Left-Handed Golf Club
The factors involved with buying a left-handed golf club are the same as with any club; make sure it is the correct one for the individual's requirements. Firstly, assess your current level of interest in golf and decide if it is worth buying clubs as a long-term professional investment or just as a way of maintaining an infrequent interest in playing the sport. Perhaps the main thing to consider is that, if looking to delve into golf as a serious pastime, whether to purchase a singular club or a complete set of them. The rules of golf allow each player to carry up to 14 clubs at a time. Below is a basic table of the different kinds of club you can have in your bag and a short description of their use.
| Type of Club | Description |
| --- | --- |
| Wood | The Woods are a club designed purposely with the intention of hitting the ball over long-distances. Modern designs are made out of dense metals despite the name. |
| Iron | Irons are the most common of clubs in a players' set. It has an all-metal head of a smaller size than a Wood, which makes it more suitable for shots around 200 yards or less to the hole. |
| Wedges | In essence, Wedges are speciality Irons which are designed in a manner to help the golfer chip the ball if needed. They are extremely useful for certain shots when approaching the green. |
| Hybrid | Not surprisingly, the Hybrid is a cross between the Wood head design and an Iron shaft, giving the user the best of both designs but also being notoriously harder to connect with. |
| Putter | The Putter is simply the golf club that is used to place the ball into or near the hole from shorter distances i.e. on or around the green. Different designs of putters all have the intention of providing accuracy. |
It may be best to research more information about the main types of different clubs in order to get a better idea of what is needed in order to progress a golfers game further. Analyse the different elements they are constructed out of and their characteristics. Modern-day drivers for example can be made out of steel,, titanium or composite which bring their own advantages and disadvantages. The putter is perhaps the most important club to examine into as it is probably the one you will use the most. They come in two main styles – free balanced and toe balanced – and also includes different head designs which can assist putting in accordance to what sort of player you are. Also look into the two different types of shaft to use for clubs:
The heavier steel shafts which are more durable and suited to the stronger golfer
Graphite shafts which are lighter and can assist your swing speed.
Options for Left-Handed Golf Players
Once more confident of the sort of clubs that can be purchased; the next decision is how many clubs are needed to get around the golf course. This section will help assess the choices available as a left-handed player. There are plenty of speciality shops online and in the high street that dedicate their services to this field. Although there are not as many left-handed golf clubs available on the market as right, this is by no means to say there are restrictions in choice. All the top golfing brands such as TaylorMade, Callaway, Ping and Nike all supply left-handed woods, irons, hybrids, wedges and putters. If buying a club in-store then it's best to trial and test your swing in the shop along with testing the weight and feel of it before committing to purchase.
If a first-time player then one tip may be to purchase a cheap, second-hand set or individual golf clubs from an online marketplace such as eBay and practice with them to get a feel of the game. This will give a better idea of whether you're suited to the sport and have a natural capacity for it or not.
Where to Buy Left-Handed Golf Clubs From
It shouldn't be too hard to find outlets that sell left-handed golf clubs but the choice of which types of clubs to purchase and how many is up to the buyer. Shop around on the high street or online as there are plenty of outlets available. If comfortable that buying a set of left-handed clubs is what is required as opposed to just an individual one, then pinpoint which types of clubs you want and how many of them you need. Buying a set will save the hassle of making more than one purchase and also finding difficulty in finding additional makes of clubs that match the ones already in your bag.
Don't be anxious of delving into the second-hand market online as well. Normally, there are opportunities to save a good deal of money by shopping in this way; sellers will almost certainly be offering goods at a discounted price to ensure a quick sale. Also look into the clone golf club market, which are made with similar materials to the top name brands but come at a cheaper price.
Although buying online is acknowledged as being more affordable and more straightforward, it doesn't come without its risks. There is nothing wrong with buying old golf clubs from trusted websites such as eBay, but it's wise to be clued up on the procedures. Here are some tips on how to safeguard a purchase of left-handed golf clubs on eBay:
Check the seller rating of the person or company that the clubs are coming from. Any negative feedback should be treated with caution.
How many sales has the seller successfully completed? The more positive feedback sales the better.
If buying golf clubs from an eBay store then sometimes check out the reviews of the same product from previous buyers.
The nature of golf clubs means that they shouldn't break or be faulty but if worried about this then make sure to check the terms and conditions
Does the seller offer refunds/return policy if something is wrong with the product?
Conclusion
Basic details need to be considered when buying left-handed golf clubs which hopefully this guide has pointed out. To summarise:
If the buyer is only intending to play at your local park which only has small length courses then it may not be worth investing in complete sets that you won't need to use.
Does your ability and level of professional require you to spend hundreds of pounds or will second-hand clubs be more suitable?
If you are prepared to buy online then eBay is probably the best and easiest site to use in order to get the best deal for the type of clubs you want.
Old golf clubs are not necessarily bad golf clubs. The best way to use the site effectively is to simply search for "left-handed golf clubs" on any eBay page and click through the filtering options on the left hand-side of the screen. This gives you the ability to pinpoint which type of club, brand, condition, material and dexterity you'd like and then sort the results in order of price or of which listing is ending soonest. Review the precautions as noted earlier in this guide.
Left-handers historically felt excluded from the sport. Some analysis of golf courses even claimed that they are naturally designed to suit the right-handed players' game because the way obstacles such as the rough and trees are positioned. And with the misleading notion of a lack of equipment available on the market some players have been forced to play unnaturally with their wrong hand or been put off from playing at all.
This doesn't have to be the case however and for any left-handers out there, there is now a lot more variety and clubs targeted for your dexterity. The World Association of Left-Handed Golfers (WALG) has been established since 1979 which along with subsequent left-handed World Championships, gives left-handed players confidence and belief to progress with their game. With that and with the help of this guide, hopefully it's provided the assurance to go out there and purchase left-handed golf clubs with relative ease and confidence.