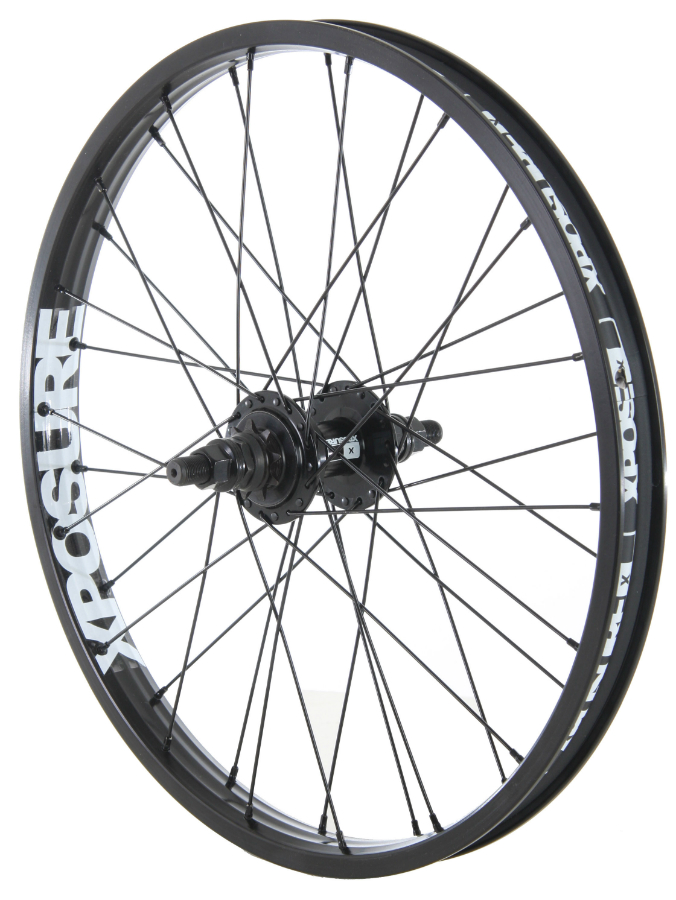 An experienced cyclist will insist that investing in a set of lightweight bike wheels will be extremely beneficial to the quality of the ride and will boost the bike's overall performance as well. It is essential to realise how important your wheels are to the performance of the bike, choosing a new set might be a daunting task.
Not only is there a confusing variety of different types of wheels,, but there is also an extremely wide number of price points so it's difficult to know whether or not the right choice is being made. Fortunately, this eBay guide will explain the quick and easy steps to choosing the right set of lightweight bike wheels.
Road Bike Wheels
There are no bike wheels more lightweight than road bike wheels. Road bikes are built for speed and if you own a racing or city bike, they will be the perfect lightweight wheels for the bicycle. The below helpful tips will highlight the reasons:
Road wheels are usually very thin and will come fitted with slick tyres, should a decision to purchase a set of wheels that come with tyres included is made.
The slimmer nature of the wheels will have the effect of making the bike faster as they have a smaller surface area which means they will generate less friction when they come into contact with the road and as a result, the bike will move faster than a similar bike which doesn't have road wheels fitted.
There are a number of different variables that you must consider if interested in buying a set of road wheels for a bicycle:
Firstly, what would you like them to be constructed from? If only interested in buying the lightest wheels, then carbon road wheels are going to be the best option.
If looking for a wheel, which will be durable for every day use for commuting to work or general travel around town, look for a steel or aluminium wheel. Although these metals are not as light as carbon, they will be a lot more hardwearing and will still be relatively light due to the minimalistic nature of road bike wheels in general.
Using eBay, there is the opportunity to find a wide variety of road bike wheels for sale. As already stated, there's the potential to practically spend as little or as much as is required for a new set of wheels.
Searching for a set on eBay expect to pay anywhere between £60 and £600 depending on quality.
Mountain Bike Wheels
Although it's not particularly difficult to find a set of lightweight road wheels, it's a little harder to buy lightweight mountain bike wheels because by design they are meant to have some weight behind them to give a gyroscopic effect of balance when a cyclist is riding over rough terrain.
Although it's advised that you decide on a slightly heavier wheel if a serious downhill or cross-country mountain biker who will need the support. However, if you only use your bike for recreational reasons or to commute to work, it's a great idea to find a lighter wheel to help the bike's performance on road surfaces. Here are some ideas of what to bear in mind if looking for lightweight mountain bike wheels:
Materials
The material that the mountain bike wheels are constructed from will make a huge difference to their weight. For a lightweight wheel, look at designs that a made from carbon,, carbon fibre or titanium.. A wheel that is made from more lightweight materials may be slightly more expensive than other designs cast from more hefty compounds, but they will be worth the money as they provide the added performance bonuses that come with lighter wheels.
Durability
Mountain bikes are designed to be much more effective in off-road and downhill cycling scenarios than a road bike would be for example. If you own a mountain bike, and only use it for cycling around town, it is practical on this occasion to take the bike off-road. If that's the case, the potential to need wheels that are not only lightweight, but durable is also a consideration. If durability is something that will be an important quality for your wheels, look at wheels made from alloys like chromoly.
Speed
The best way to find a fast mountain bike wheel will be to search for the thinnest wheel profile possible. The thinner the profile of the wheel, the less friction that it will generate when it is in contact with the road, meaning the bike can move faster along the ground. It's highly advisable that you don't pick a wheel with an excessively narrow profile if you have a mountain bike, as the frame is likely to be reasonably heavy and the wheel may collapse under the bike's weight.
If you think carefully about the properties that you would like your lightweight mountain bike wheels to have whilst browsing eBay looking for the perfect set. It's worth noting that if the buyer owns a mountain bike, they may have to compromise a small amount on the overall weight of the new wheels in order to purchase a set that will be strong enough to support a heavier bike frame.
This small compromise shouldn't be too much of an issue, as you'll still be able to find a great pair of lightweight wheels that will be perfectly suited to your bike design with eBay.
Safety
The most important thing whilst out cycling is to ensure that safety is adhered to at all times. The best and most important elements are highlighted below:
If looking at buying some lightweight bike wheels, it may also be worth making sure that the new wheels are as safe as possible at the same time.
The first thing when looking into buying new wheels is rim tape. Rim tape is a safety essential because it lines the inside of the rim of the wheel to prevent both pinch punctures or from allowing the sharp end of a spoke to puncture the wheel from within.
It's extremely important to make precautions against punctures because if travelling at high speed at a time when experiencing a puncture, the rider may be thrown from the bike, which could be especially dangerous if cycling on the road in the vicinity of traffic.
Another wheel safety feature to consider is wheel skewers. Wheel skewers are extremely important to the safety of the wheels on your bike because they allow you to firmly clamp a wheel into your bike frame so that you have the confidence of knowing that the wheel will not unattach itself from the frame whilst you are riding. Be sure that before you take your bike out for a ride that the wheel skewers are tightened as much as they can be to avoid all the safety hazards of having a loose wheel.
Wheel skewers come in a variety of different colours so choose some that will compliment the existing colour scheme of your bike. Most designs are also incredibly lightweight so be sure that installing a safety feature will not undo the work that already exists on your bike by finding a set of lightweight wheels. There is the opportunity to find a pair of wheel skewers on eBay for around £15.
Conclusion
In summary, it's easy to find lightweight wheels for your bike on eBay, just remember the advice in this guide and you will find a fantastic deal on the perfect set of bike wheels. To summarise the tips:
When looking for road bike wheels, always be sure that you know what the wheels you are interest in are made from. If they are made from carbon fibre, titanium or an alloy like chromoly, they are likely to be extremely lightweight, if they are made from steel or aluminium, they will not have the same properties as the ultra-light materials listed above.
Searching for lightweight mountain bike tires is slightly more difficult, but there are still some great deals to be found on eBay.
Just remember to pay special attention to the material the wheel is made from, as well as looking at factors such as the width of the wheel and how durable the wheel will be when fitted to a mountain bike.
Finally, it's important to keep safety at the forefront of your mind when looking for lightweight bike wheels on eBay. Whilst shopping for your wheels, why not also seek out a deal on rim tape or bike skewers, which will keep your new wheels firmly in place on your bike as well as minimising the risk of any punctures.
f you give some consideration to all of these factors whilst looking for new lightweight bike wheels on eBay, then you'll be sure to find the perfect set.