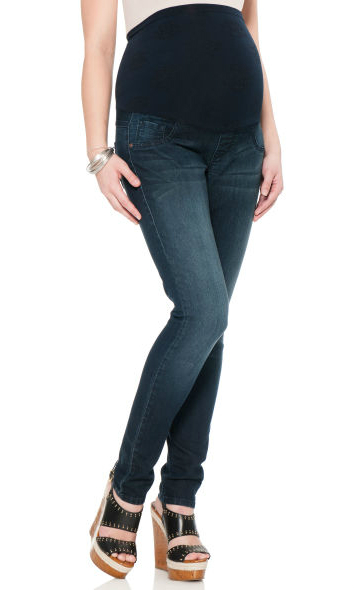 There was a time when women had to sacrifice style for pregnancy, but those days are long gone. There are lots of fashionable styles for women who are expecting, even the opportunity to carry on wearing jeans. Buying maternity jeans is a good option for keeping both casual style and comfort. As the body grows, the jeans worn pre-pregnancy will likely no longer fit. Maternity jeans have a stretchable band that can expand with the belly. This is a much better option than just buying jeans in larger sizes as jeans that are larger will bag in other parts of the leg. Maternity jeans will stay close to the body while also allowing comfort around the waist.
There are important factors to remember and keep in mind when looking to purchase maternity jeans. It is important to know what to look for when buying maternity jeans, how to correctly size for maternity jeans, and the types of maternity jeans available for purchase.
When to Start Wearing Maternity Jeans
There is often a period during pregnancy before maternity clothes become a necessity, but when regular jeans become tight and uncomfortable. For those first few months, a maternity band is an option that can be used during the remainder of the pregnancy as well. The maternity band, as well as maternity jeans, offers support to the lower back. Maternity bands fit right over regular jeans, which can just be left unbuttoned. Keeping regular jeans unbuttoned with a maternity band fitting over the top is an option for the first trimester. Usually towards the end of the first trimester is when maternity jeans start to become more important. Maternity bands come in a large variety of colours to fit many different outfits and styles. eBay offers a wide selection of both maternity jeans and maternity bands.
How to Find Individual Maternity Jean Styles
Evaluating favourite jeans that were worn pre-pregnancy is a good way to assess the objective look for maternity jeans. It's important to take note of fits, cuts and washes of jeans. Personal style doesn't have to disappear in lieu of pregnancy, so begin by evaluating pre-pregnancy style. Bootcut jeans are flattering on a variety of different body types, so bootcut jeans are a good option for maternity jeans as well. The belly grows during pregnancy, and different styles will be more suitable and form-flattering during different stages of the pregnancy. Buying a few different jean styles is recommended to ensure that jeans will fit and accommodate the growing belly.
Structure of Maternity Jeans
There are quite a few different styles of bands or panels to take into consideration when buying maternity jeans. Some bands are hidden in the material of the jeans, while others come up over the jean. The different varieties of bands do one of three things; a full panel band will stretch up over the belly, providing the most coverage. Another type of panel, the under bump panel, sits below the growing belly, and is typically made of jersey knit and is reinforced with an elastic band. The underbelly panel is ideal for the beginning terms of pregnancy. A third option both stretches over the belly or rolls down underneath the belly.
Maternity Jean Band Materials
A jersey basque is a front panel that is made out of jersey knit, and is extremely stretchy. A jersey basque is a good option for the duration of pregnancy because it stretches with the baby bump. It is important to make sure that the band is made out of a very stretchy material. Other stretchy materials for bands are elastane, cotton, lycra and spandex. The maternity bands on jeans come in a wide variety of colours to match with a large selection of shirts and outfits.
Maternity Jean Front Closures
Fly front maternity jeans come with a zipper and button on the front, but have adjustable straps underneath, hidden in the sides of the jeans to allow room for growth. Other fly front maternity jeans have hidden jersey panels underneath the panels instead of adjustable straps on the inner side of the jean. Drawstring maternity jeans have a tie in the front as opposed to buttons and zips. The elasticised band is typically hidden in the back on drawstring maternity jeans.
Cuts of Maternity Jeans
Just like regular jeans, maternity jeans include and are not limited to bootcut, skinny jeans, straight leg, capris and flares. Skinny jeans are jeans that hug the leg all the way down to the ankle. The female body, although pregnant, does not need to lose its curves in the folds of baggy pants. Bootcut jeans are slightly wider at the ankle and are large enough to fit well over a boot. Capris end at approximately halfway down the calf, and are a good jeans option for warmer weather as they allow the lower part of the leg to be bare. Flare jeans hug the leg but are flared out at the bottom of the jean. Straight leg jeans fall straight down from the hips and do not add a curvy appearance by hugging the leg as do, for example, skinny jeans.
Regardless of whether the jeans are tighter around the leg, like skinny jeans, or baggier around the leg like a straight leg jean, they will be designed with the growing belly in mind. Up towards the hips they will have a specially designed maternity band that comes up over or is built-in with the jean. It's important to note that even skinny maternity jeans have been designed with both the comfort and style of the wearer in mind.
Sizing for Maternity Jeans and Bands
Maternity jean sizing is very similar to regular women's sizing in jeans, which makes finding the correct size relatively convenient. Jeans worn pre-pregnancy will correlate with maternity jeans. Similar to pre-pregnancy brands, sizing can be slightly different, if there are any questions or confusion about sizing, take measurements and refer to the desired jean brand's own sizing chart.
Sizing for a maternity band to use before buying maternity jeans differs from maternity jean sizing. Sizing for maternity bands is also extremely important as a maternity band which is too large will not offer the necessary back support and will not hold up unbuttoned jeans. If maternity bands are too tight, they will be uncomfortable on the mother's growing belly. The sizing chart below can be used to find approximate maternity band sizes.
| Size | Bust | Waist | Hip |
| --- | --- | --- | --- |
| X-Small | 85.09 cm | 67.31 cm | 92.71 cm |
| Small | 88.9 cm | 71.12 cm | 96.52 cm |
| Medium | 93.98 cm | 76.2 cm | 101.6 cm |
| Large | 101.6 cm | 83.82 cm | 109.22 cm |
| X-Large | 110.49 cm | 92.71 cm | 118.11 cm |
It is important to remember that the sizing chart is approximate and that the brand's sizing chart should be checked once a specific brand has been decided upon.
How to Buy Maternity Jeans on eBay
A large selection of maternity jeans is available on eBay. To begin your search, type "maternity jeans" in the search box on the eBay home page. From there you can narrow the search down to your specifications by selecting trouser size, jean style, maternity and various other options. Searching eBay will likely return a large number of maternity jeans to choose from, allowing you to browse until you find a pair or pairs of maternity jeans that match your style. It is a good idea to look at the individual product specifications and to review the seller's feedback.
As more than one pair of maternity jeans is recommended to allow for growth, you may want to look into buying an eBay bundle from a seller. Buying multiple items from a single seller may also allow you to get a discount on postage. Maternity bands are also widely available on eBay. It may be possible to find a seller with both maternity bands and maternity jeans that can be bought in a bundle. Look at a seller's other auctions when browsing for your maternity wear.
Conclusion
Expecting a baby is a very exciting time in a woman's life, and an expectant mother shouldn't have to sacrifice her personal style because of her growing baby bump. During that intermediate period, before maternity jeans are necessary but when clothes are beginning to feel too tight, a maternity band is a good option. eBay has a large selection of maternity bands. Maternity jeans come in a very wide variety of styles, cuts and washes that are similar to the jeans worn pre-pregnancy.
Finding the right maternity jeans is as easy as deciding on which cuts and styles were preferred before pregnancy. Checking the labels on jeans worn before the pregnancy and matching them up with maternity options is the best way to decide on maternity jeans. Sizes are displayed the same on maternity jeans as on normal jeans, which means that sizes worn before pregnancy will be approximately the same as maternity jeans. It is still a good idea to check the brand's sizing chart before purchasing as sizing does vary by brand. eBay has a large selection of maternity jean styles to choose from and is a good place to start searching.