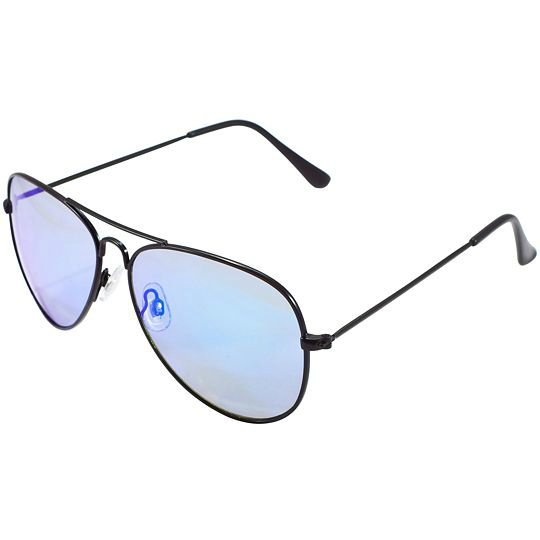 Men's aviator sunglasses were originally designed by Bausch and Lomb for the military before the Second World War. Subsequently, in 1936, the design was adopted by Ray Ban, with Air Force pilots particularly in mind. Within a year, Ray Ban was selling them to the public, marketing them as the 'Ray Ban 3025 Aviator Sunglasses', which were a huge success. What makes them different from ordinary sunglasses is that they are designed to cover as much of the eye as possible, to significantly reduce glare and prevent pilots from being blinded by having the sun in their eyes. The original lenses were a neutral grey colour which permitted the passage of only 20 per cent of available light.
Aviators are characterised by their thin metal frames, a double or even triple bridge between the lenses, and bayonet earpieces, or flexible cable temples, that hook all the way round the ears. These earpieces made them comfortable to wear whilst wearing a flying helmet vs. standard earpieces.
Following their popularity with the military in World War II, these glasses have attracted a massive following around the world.
Styles of Aviators
The originality and distinctiveness of the aviator style stems from the large, slightly convex lens, shaped to cover a greater percentage of the eye, combined with a thin frame, often made of metal. Since then, sunglasses manufacturers have reworked the classic style to fit whatever fashion is prevalent at the time, but their heritage is instantly recognisable as being that of the aviator. From the 1930s to the present day, their shape and overall design remains unmistakable.
Lenses
The distinctive large lenses that let very little stray light in, in conjunction with their gentle convex curves, make the design of aviator sunglasses a true classic. Whilst original lenses were exclusively grey, manufacturers have since innovated with a number of other colours. Aviators are now available in not only the traditional grey, they now include, but are not limited to blue, brown, red, and even purple. Lenses with a mirrored finish that completely obscures the eyes of the wearer are popular, and graded lenses that are darker at the top and lighter at the bottom are also available.
When choosing a pair of aviator sunglasses, look closely to see if it has been assigned a 'UVA' rating, similar to the UVA rating of sun cream. The higher the rating, the safer a pair of glasses are against UV rays from the sun. Also worthy of note is that aviator lenses are particularly vulnerable to scratches and other marks. Many sunglasses retailers offer a free, soft case when selling a pair of aviators, but it is worth investing in a rigid storage case to prevent the lenses being damaged, particularly if they are expensive.
Frames
The classic aviator's thin, metallic, frame is a hallmark of this design, but some later manufacturers have thickened them out somewhat, often adding their logo to the frame just behind the hinge. Worth noting, when looking to purchase, is the length of the arms of the frame. These should be long enough so that the bayonet end fits snugly behind the ear, rather than loosely resting along the top of the ear. The bayonets should lightly grip the wearer's head behind the ear to prevent the glasses falling off when the wearer bends over. The colour of the frames, whilst originally silver, has been adapted to complement whatever colour lenses the manufacturers have adopted.
Frames can now be found, not only in a silver colouring, but gold, black, and brown. The aviator frame is, again, traditionally characterised by a double or even triple nose bridge, and the nose pads are usually soft material designed not to pinch the nose too tightly or discolour with age. The arms of the frames should be readily adjustable by gently bending them to obtain a snugger, more comfortable fit for the wearer.
Suitable for Men of All Ages
The design of the aviator sunglasses is timeless, and that fact is evident in the age range of the wearers. Aviator styles for boys and men alike are widely available, for those of all ages who want to look stylish, and effectively protect their eyes from the sun at the same time. Aviator sunglasses also have the distinct advantage over many other styles of sunglasses in that they look good with almost any type or fashion of clothing, from casual daywear to formal designer evening suits. When purchasing aviators for younger men or teenage boys, it is always worth noting the size of the glasses. Whilst a pair of full sized aviators may look good on a grown man, they may look oversized on a younger, smaller man's head.
Designer Aviators
While still retaining the classic aviator shape and look, many top fashion designers now sell ranges of designer aviator sunglasses to complement their clothing ranges. Some designers have chosen to make the lenses as a single piece of shaded plastic that extends across the nose bridge, whilst others have made their designs half or fully frameless. Designer aviators now come in a whole range of colours, and their frames can be of one or a combination of materials and finishes. Whilst silvered metal is by far the most popular frame material, gold or blackened metal is prevalent. Some designers have done away with the metal entirely, instead casing their frames in plastic, with colours and finishes ranging from solid black and brown through to tortoiseshell and even flecks of gold or silver in the arms of the frames. The design, size, and shape of the lenses, though, marks them irrefutably as aviator glasses.
Famous Wearers of Aviators
General Douglas MacArthur was famously first photographed wearing a pair of aviator sunglasses during the landing on a beach in the Philippines in World War II and, by the 1960s, myriad pop stars and other celebrities were donning them. Musicians, such as Sir Paul McCartney, Ringo Starr, and Freddie Mercury have all notably worn aviators. For the pilots played by the two lead actors, Tom Cruise and Val Kilmer, in the 1986 film 'Top Gun', they were standard garb throughout. Following the release of 'Top Gun', sales of aviator-style sunglasses rose by whopping 40 per cent.
Aviators were also heavily featured in the 1986 film 'Cobra', starring Sylvester Stallone, and were worn by the lead actor, William Petersen in the 1985 movie 'To Live and Die in L.A.'. Robert Patrick, starring as the 'T-1000 Terminator' in the 1992 film, 'Terminator 2: Judgment Day', is seen wearing a pair of mirrored aviators. Other famous wearers of aviators in the movies include Russell Crowe, Nicolas Cage, Danny Glover, David Duchovny, and Kevin Spacey.
After suffering a slight decline in sales in the mid 1990s, sales of aviators rebounded with a new generation of film and television stars photographed wearing them in public. They remain extremely popular to this day and are often viewed as a style statement.
How to Buy Men's Aviator Sunglasses on eBay
Buying aviator sunglasses on eBay couldn't be easier. Simply type 'Men's aviator sunglasses' into the search box, and you will see hundreds, if not thousands, of glasses to choose from. From there, you may narrow in your search a little by typing extra keywords into the search box, for example, you might have a colour preference, such as brown, and add that to your search criteria to narrow the options down considerably. It pays to take sufficient time to choose from what can be a bewildering array of glasses the pair you think will suit your colouring and style best. Also, it never hurts to check out the supplier's return policy before placing your order, just in case you are not happy with the fit or style.
The cost of a pair of aviators varies widely. While some retailers are offering them at seemingly knock down prices, it is worth the potential purchaser checking to make sure they have an adequate build quality, but also that they give adequate sun protection, as judged by their UVA rating. See whether the retailer stocks rigid sunglasses cases as well, to protect your investment. While many offer free soft cases, these will not protect the delicate lenses from the everyday wear and tear of being kept in a bag or briefcase.
Conclusion
Since their first incarnation of the mid 1930s, Aviator sunglasses have undergone many different innovations in both the lens colour and look, however, a pair of aviator sunglasses will always stand out as being one of the most classic, instantly recognisable icons of the mid to late twentieth century to the present day. Initially worn by World War II American pilots, and ultimately on up the ranks to a five-star general, the distinctive aviator sunglass design has been adopted by many of the most famous people of their time.
Nowadays, they are worn by the famous, and not so famous, loved for their simple, yet elegant, form and function. While they were designed for pilots to help protect their eyes from the sun when in battle, today they protect the eyes of millions of people around the world. They are ageless in their design, and can be worn comfortably by both young and old alike, the wearer confident that they will look stylish, no matter what style of clothing they choose to wear.