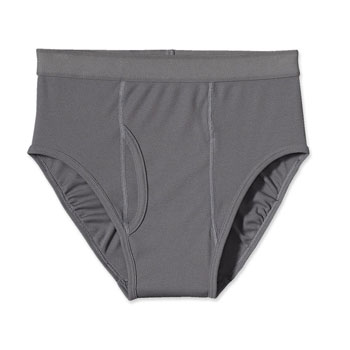 Most of the time, men do not give a second thought when it comes to their underwear. This is of course, very different from women who often take a lot of time choosing their underwear for a proper fit. However, men should also invest some time and effort in ensuring that their underwear fits properly, not only for aesthetic reasons but also because uncomfortable underwear can cause chaffing and damage to the skin of delicate areas.
When it comes to underwear, men usually have to make a simple decision, which is to choose between boxers and briefs, and choosing either one is really a matter of personal preference. Although men's briefs originally came in only an unflattering shade of white, they are now produced in various colours and designs, and are preferred to boxers for many reasons. You should learn about briefs and their advantages, as well as how to buy suitable ones for yourself, such as from eBay, in order to make an informed decision when purchasing underwear.
What are Briefs?
Briefs are a type of men's underwear and are designed to be tight on the crotch area and extend only up to the area that joins the pelvis to the thighs. Briefs first made their appearance in 1935 in Illinois, as an undergarment that provided similar support as a jockstrap. They made their appearance in the UK in 1938, and were instantly popular. The briefs are sometimes referred to as 'Y-fronts'.
Most briefs have a fly, which is an opening in front of the briefs; however, not all briefs have this opening, and many modern-day styles have removed this feature. The briefs also have a wide elastic band at the top, which firmly holds the briefs in place.
Advantages of Briefs
An often encountered argument is whether briefs or boxers are better for men. While both have their advantages and disadvantages, this section focuses on the advantages of wearing briefs. The compact nature of briefs offers several advantages over boxers. This makes them take less space in your wardrobe or suitcase when travelling, and also makes them more comfortable to wear with trousers, as they do not bunch up under the trousers like boxers tend to do.
Briefs are meant to offer good support, especially during exercising, so for this reason they are much better to wear than boxers when practising sports. Moreover, many women agree that briefs are sexier than boxers, and because of this many self-confident men wear swimwear in the form of briefs.
Despite their many advantages, briefs do have some minor disadvantages. These include the fact that they can look unflattering when they are not new anymore, especially because the fabric tends to lose its shape in time, making the briefs look baggy. Also, it is usually not acceptable for a man to lounge around in his briefs as it is for him to do so in his boxers. For example, in a movie, a man wearing briefs while having his morning coffee generally looks ridiculous while one wearing boxers in the same situation does not. However, underwear is meant to be worn under the clothes, not be displayed in public, making this disadvantage of briefs over boxers easy to overcome.
Types of Briefs
Briefs are available in different styles and with different features, usually depending on the brand. It is important to consider the features of the briefs that you want before buying them and the table below summarises the most common ones.
Feature

Common Options

Cut

traditional (full-cut)

mid-rise

low-rise

Design

with fly opening

without fly opening

with back seam

without back seam

Purpose

swimwear

daily wear

Fabric

cotton

Lycra

nylon

silk

blends of the above
There are mainly three different cuts that you can choose from should you decide to purchase briefs. The first is the traditional or full-cut, which is characterized by a wide elastic band, a Y-shaped fly, and a full design which completely covers the buttocks and extends from the waist to the upper thighs. The mid-rise cut is similar to the traditional cut, but is smaller in size and extends from below the waist (on the belly button) to the upper thighs. The low-rise cut is even smaller, and extends from around eight centimetres below the waist to the upper thighs. When deciding on the cut, you should consider the trousers you want to wear with the briefs; for low-cut jeans and trousers, mid-rise and low-rise briefs are recommended, so that the briefs will not be visible above the trousers' waistline.
How to Choose and Buy Briefs
Briefs can be purchased in a variety of locations, including department stores, underwear shops, and online from sites like eBay. When choosing and buying briefs, you should consider the sizing, cut, material, and stitching. In this section, some tips regarding these considerations are provided.
Size
Finding the right size when buying briefs is crucial for ensuring your comfort. Too loose and your briefs cannot provide the necessary support; too tight and they can create discomfort or even pain within minutes of wearing them. Typically, the sizing of men's briefs varies from brand to brand. Sometimes, they even vary between different product lines of the same brand. Therefore, it's a matter of trial and error before you find the exact proper sizing for you, but generally, before you shop, it's wise to measure your waist size, as this tends to be pretty standard. The bigger your waist, the bigger the size of the briefs you have to purchase. The waist size is usually indicated on the briefs' labels on their packaging.
Cut
It is a good idea to buy several pairs of briefs in different cuts. You should decide on the cut based on the type of trousers you intend to use the briefs with. Buying a full-cut pair of briefs is not suitable if you intend to wear low-cut trousers, though buying any cut is fine if you intend to wear high-cut trousers. However, take into account that briefs with high cuts can be more comfortable to wear than those with low cuts.
Material
The type of material you want your briefs to be made of depends on your preference. As a general recommendation though, cotton is best if you want a fast-drying, highly absorbent material, which is usually needed in the summer. When purchasing briefs for beachwear or if you like those with a tight fit, you should choose those made of Lycra or other slippery material. For men who want something luxurious even for their underwear, silk is an excellent choice.
Stitching
Besides the sizing, the stitching of the briefs you intend to buy is also important. You have to decide if you would like your briefs to have a fly stitched in or if you don't need one. You may also want to check the inseams of the briefs; some have gussets (an additional piece of fabric stitched onto the garment for more space and ease of movement) and panels which may result in a better fit compared to the traditional Y-shaped stitching style. If you dislike stitches, you can buy seamless briefs, which are also the best choice of underwear when practising sports, such as cycling.
How to Buy Men's Briefs on eBay
You should not have a problem finding suitable briefs on eBay as there are various designs you can choose from. To start, you can type what you want into the search bar on the eBay home page to get a complete list of all related products for sale. For example, you can just type in 'men's briefs', or to make your search more specific, you can type men's red cotton briefs', if this is what you are looking for. You can then browse through all the items and pick one that you like.
After selecting the briefs you intend to buy, you should view all information for the item, including the full item description, material, and shipping fee. Keep in mind that most sellers do not offer refunds or exchanges for underwear, for hygienic reasons. It is important to check all the details of your transaction before purchasing the briefs. You can also view the seller's information and feedback score by clicking on their name. If you have made a decision, you can then proceed to purchase the products you chose.
Conclusion
When purchasing underwear, men should know the advantages of wearing briefs instead of boxers, the different types and features of briefs, and how to choose and buy briefs. Briefs are the shortest among the different types of men's underwear, and have been around since 1935. They were designed similar to jockstraps, which is why they offer good support. Briefs are better than boxers because they are compact, offer better support, and do not bunch up under the trousers; instead they offer a tight fit.
When purchasing briefs, you should consider the sizing, material, stitching, as well as the cut of the briefs you plan to buy. Getting the right fit is important to ensure comfort all day long when you wear them. If you do not feel comfortable purchasing briefs from physical locations, or if you simply prefer the convenience of shopping from home, then eBay should be your first stop, because of the sheer number of men's briefs available at a wide range of prices.