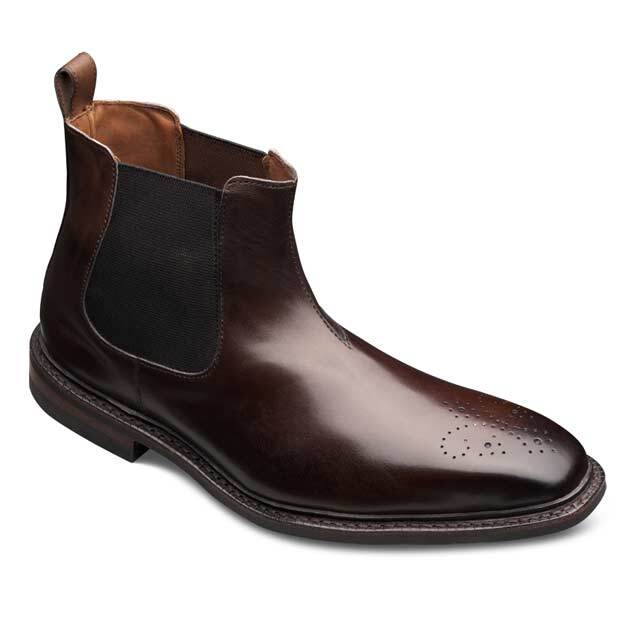 Chelsea boots are distinguished first of all by being short, secondly by having relatively thin soles and pointed toes, and thirdly by not having laces. "Short" means that they cover the ankle but not the shin. In some cases, they reach, rather than cover, the ankle. Often, they include a tab over the heel to make it easier to pull the boot onto the foot. The style is popular, and there are variants that buyers will want to pay attention to.
Because the Chelsea boot is a close-fitting style and the flexibility is in the side panel rather than over the instep, it is important to get near to the ideal size that matches the wearer's foot. The margin for error that laces permit is not there to the same degree although natural materials are more pliant than synthetics. This guide reviews the variations available, takes a look at some of the manufacturers and the materials they use, and points to easy ways of finding the right product on eBay.
History of Men's Chelsea Boots
Back in the 1960s, Chelsea was the hub of "Swinging London", when fashion-conscious young men adopted the stylish ankle-length boot and made it an essential part of the "mod" wardrobe. Long before that, Queen Victoria's bootmaker J. Sparkes Hall patented a design that exploited a new material, elastic, then made from rubber. It enabled Hall to perfect a boot that was functional, comfortable to wear, and convenient. Instead of long lace fastenings, or rows of buttons, elastic enabled the boot to cling to the foot flexibly. Hall claimed in his patent application that no less a person than Queen Victoria wore the boots every day.
Boots with the distinctive raked elastic panel were all the rage in the 1960s as popular culture exploded, and young people bought into the look of their favourite pop stars. The look was adopted by "mods", a subculture noted for its close attention to good taste in clothing, but it was The Beatles, a group with near-universal appeal, who were perhaps the most famous celebrity endorsers of Chelsea boots since Queen Victoria.
Variations on Chelsea Boots
Another common name for boots in this style is Dealer Boots. Although sometimes Chelsea boots are fastened with a zipper, there is wide agreement that Dealer boots are marked by having elastic panels to facilitate slip-on slip-off wear. Australian work boots also normally have elastic panels but are heavier in construction and feature tabs on both the heel and tongue for pulling them onto the foot. The Australian dance ensemble Tap Dogs wears a modified form of this boot. Finally, the U.S. Navy issues similar boots to flight deck personnel who work with liquid oxygen because orthodox military boot laces are prone to freezing on contact, which makes the garment potentially unsafe.
Chelsea Boot Brands
Well-known shoe brands normally offer a boot designated either as a "Chelsea boot" or a "Dealer boot" although web searches will often yield styles that do not quite match the classic look. Many offer several variants. Caterpillar, for example, has five Chelsea lines: Zachary, Vinson, Moe, Evander. and Drysdale, with Vern, described as "biker style", as another alternative. Kickers, on the other hand, have just one (their Osterberg model). eBay's live filters allow buyers to choose among the brands available at that time if the label is the most important consideration.
As well as familiar high street names, a feature of the Chelsea boot market is the number of designer brands offering premium products. Many of the well-known fashion brands have a line of Chelsea boots, including Gucci, Yves St Laurent, and Alexander McQueen. There are also shoemaker brands who offer superior quality products. When an unfamiliar named brand appears in an eBay listing, it is worth doing a bit of background research to find out more about the manufacturer.
Handmade Chelsea Boots
Partly because of the Chelsea boot's history as a gentleman's riding boot, there is also a market in handmade boots. On eBay they fall into three broad categories. The first is in the used boot market where a buyer might be lucky enough to find a pair of boots that were handmade for a specific client. If the longwise size is correct, then it would be pretty unlucky if the width were to make the boot an uncomfortable fit.
For most buyers, however, the handmade boot will be bought new, and here the remaining two categories are more relevant. The first is better described as "hand finished" because the item is made on standard lasts but with a craftsperson's attention to the selection of materials and the detailing of the finish.
Mr. J. Sparkes-Hall, Queen Victoria's bootmaker, offered ladies and gentlemen a remote service based on patterns that they send. One of the marvels of the internet is that nowadays, buyers can deal with manufacturers thousands of miles away on a different continent, who advertise their services on sites like eBay. The Korean firm Gentler, for example, will allow customers to specify certain aspects of their design. If a customer does not want a zipper in addition to the elasticated panel, they can request that it be left off.
Chelsea Boot Materials
After considerations like size, style, and perhaps brand have been taken into account, the most important aspect of a boot is the material used in its manufacture. Broadly speaking, there are four aspects to look for: the sole, the upper, the lining, and the type of fastener.
Soles
A traditional Chelsea boot has a leather sole, and this remains a preferred material for people who wear their boots mainly indoors because of the material's superior "breathing" characteristics, and the possibility, after extended wear, of replacing the sole altogether. Out of doors, leather is slippery in wet conditions, and a synthetic, patterned sole gives better performance. Some of the custom manufacturers offer a choice of sole type.
Uppers
Uppers are the part the public sees, by and large. Again the traditional material is leather made from cow hide, but suede has been a popular look since the 1960s, and premium brands might use more unusual hides, such as buckskin. There are many synthetic and fabric alternatives, some of them commanding a premium in their own right. Gore Tex is the obvious example; the advantage of synthetic materials is that they open up a range of design possibilities and attractive colours.
Lining
For continuing comfort, the boot's lining might be important. Although not every upper needs a lining, some boots offer attractive inner details, such as fleece for outdoor wear. Underfoot comfort matters more, but manufacturers often include less detail about this aspect, leaving buyers to trust the brand for a quality finish. Doc Martens, famed for their patented Airwear soles, are an obvious example of a trustworthy brand in that respect.
Fasteners
Finally, the defining feature of a Chelsea boot is its fastening. The implication of the term is that there is something extra like laces or buttons, but the elasticated material that is characteristic of a Chelsea boot is part of the essential shape. At the budget end of the market, sometimes buyers are cagey about elasticated panels and zippers because they can break and are difficult to repair. With modern synthetic substitutes for rubber now commonly in use, this need not be a worry.
Chelsea Boot Sizes
Evaluating one's shoe size can be tricky. Many people have experience of high-street shopping and know their size from the gauges commonly found in shoe shops. Although it is not something that one easily can do at home, some sellers offer advice about how to draw around your foot and take measurements. The hard part is converting raw inches or centimetres because these measures do not translate directly to one of the international size systems.
Men's Shoe Size Comparison Chart
Each part of the world has its own system for shoe sizes. The following chart compares shoe sizes in the United Kingdom, the United States, and Europe, alongside the raw size in centimetres.
| UK | US | Europe | Centimetres |
| --- | --- | --- | --- |
| 4 - 4.5 | 4.5 - 5 | 37 | 24.67 |
| 5 - 5.5 | 5.5 - 6 | 38 | 25.33 |
| 6 | 6.5 | 39 | 26.00 |
| 6.5 | 7 | 40 | 26.66 |
| 7 | 7.5 | 41 | 27.33 |
| 7.5 - 8 | 8 - 8.5 | 42 | 28.00 |
| 8.5 - 9 | 9 - 9.5 | 43 | 28.66 |
| 9.5 - 10 | 10 - 10.5 | 44 | 29.33 |
| 10.5 | 11 | 45 | 30.00 |
| 11 - 11.5 | 11.5 - 12 | 46 | 30.66 |
| 12 | 12.5 | 47 | 31.33 |
| 13 | 13.5 | 48 | 32.00 |
| 14 | 14.5 | 49 | 32.66 |
Other countries, such as Japan, Australia, China, and Mexico, have their own systems, so buyers should take care to ensure that the seller is using is using a familiar system in order to purchase boots of the correct size. With all that in mind, it should be possible to buy Chelsea boots, Dealer boots, Australian work boots, and similar items from anywhere in the world, provided that all relevant criteria have been met.
How to Buy Men's Chelsea Boots on eBay
To start looking for Chelsea boots on eBay, the quickest way is to type keywords into the search bar on the eBay home page.. The more specific your search terms are, the narrower the list of results will be, but if you make it too precise, you might filter out too many items and miss out on a good deal. A general search like "men's chelsea boots&" is a good way to start, and you can filter the results using eBay's category lists to make the list more manageable and eliminate boots you are not interested in. Among the filtering options are size, brand, material, and condition. You can also set a price range, whether you are shopping on a budget or seeking to eliminate cheaper brands. Additionally, you can choose how your results are sorted. The search box is always available and can be used to search within filtered results.
Lastly, buyers considering an overseas purchase should remember that the cost of shipping is likely to be much higher than from a UK-based source. In the event of a dispute, it might cost more to return the item than would be received in compensation.
Conclusion
Chelsea boots are a great addition to the style-conscious wardrobe; one might go so far as to say that they are essential. It is important to get the size right when you are planning a purchase. Other factors to consider are the style and finish, where you plan to wear them, and what your budget is. There are good-looking deals available whether you are looking for a low priced bargain or a top-quality pair from a leading designer.
If you are looking out for used items among eBay's many auctions, bear in mind that a good verbal description can be as valuable, if not more so, than a picture. There may be disadvantages to buying secondhand goods, but despite that, the benefits are obvious to the buyer on a budget.
At the same time, eBay features plenty of outlets selling new and unboxed items, making it a great place to shop for Chelsea boots. Take advantage of eBay's extensive filters, easy purchasing options, and useful researching and tracking tools to find your ideal match.