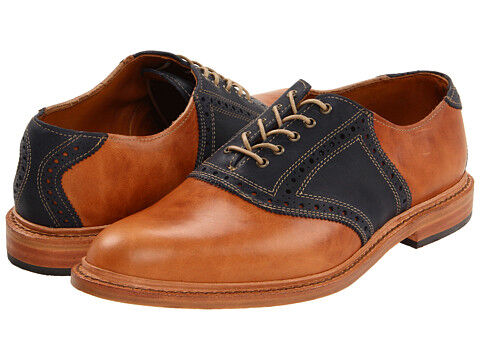 Any man's closet is never complete without at least one pair of dress lace ups. When a man starts investing in quality dress lace ups, it means that he is ready for serious business and classy evenings. Most men own the proverbial black lace ups that they wear to every semi-formal and formal occasion, whether it is a job interview, a wedding, or a funeral. But men with a more refined taste know that there are more types of men's dress lace ups aside from their ye olde faithful black ones.
You should never overlook the role of men's dress lace ups as a part of the whole attire because even if you are donning an impressive suit, the outfit is still a failure if you are wearing ill-matched lace ups. To start dressing impeccably for formal events, you should know the basics of dress lace ups, including the different types, variety of shapes, and colours that match the attire. This guide discusses important factors to consider when buying men's dress lace ups to ensure the buyer gets his money's worth.
Types of Men's Dress Lace Ups
There are at least four types of dress shoes, but when it comes to dress lace ups; there are only two major types. The stitching of eyelet tabs distinguishes one type of dress lace ups from another. For example, Oxford lace ups have a closed lacing, while derby lace ups have an open lacing.
Oxford Lace Ups
Looking back in history, the Irish and Scottish folks did not call this type of lace ups, Oxford. Instead, they called it Balmorals after the Balmoral Castle in Scotland. People only started calling them Oxfords after students at Oxford University popularized the half-boot version of the lace ups to rebel against ankle-high and knee-high boots that were customary during their time.
The first Oxford lace ups were plain, formal footwear, but now there is a variety of styles and materials to choose from. Although men's Oxford dress lace ups come in styles suited for casual occasions, many men still think of Oxfords as the more formal choice between the two types of lace ups. In effect, Oxfords are still the footwear of choice for black tie events and other strictly formal wear events.
The surface of an Oxford lace up is usually flat, and has a continuous flow of leather, only interrupted by embellishments like wing tips (a distinctive W pattern on top of the shoe) and brogues (stylistic perforations on the toe caps). Oxfords adorned with brogues and wing tips may look casual, but they can still pass as formal lace ups. You can spot the difference between Oxfords and the other type of dress lace ups by looking at their shoe eyelet tabs. Oxfords also have closed lacing, which means the eyelet tabs are stitched underneath the vamp of the shoes.
Derby or the Blücher
In 18th century, derby lace ups were originally called The Blücher, named after the Prussian general Gebhard Leberecht von Blücher, who commissioned the manufacture of the footwear for his army. The first Blücher was merely a boot with side pieces lapped over the front to replace the less effective footwear that soldiers wore then. In 1850s, derby lace ups became the de facto hunting and sporting boots, and by the turn of the 20th century, they became the acceptable lace ups to wear in town.
Although men's Derby dress lace ups are the more casual choice when compared to Oxfords, companies, especially offices with a relaxed atmosphere, are starting to recognize them as formal dress lace ups. Derby lace ups with brogues and other decorations on the toe caps are more casual; many men wear them with khakis and blazers, and some men pair their derby lace ups with jeans and a long-sleeved shirt to pull off a smart, casual look. To distinguish a derby from an Oxford, look again at its shoe eyelet tab. If you can see the lower end of the tab, it is a derby. A derby lace up has its eyelet tab stitched on top of the vamp.
Summary of Oxford and Derby Lace Ups Features
The table below shows the comparison between the Oxfords and derby lace ups for men in terms of origin, type of lacing, occasion used, and embellishments.
| Men's Dress Lace Ups | Origin | Eyelet Tab Stitching | Occasions Used | Embellishments |
| --- | --- | --- | --- | --- |
| Oxford | worn by Oxford students to rebel against boots | closed lacing | more formal | wing tips, brogues |
| Derby | war boots | open lacing | more casual | wing tips, brogues |
The origins of the two dress lace ups are very interesting; one deals with war, while the other deals with rebellion. The classic decorations for both Oxford and derby dress lace are brogues and wing tips.
Colour for Men's Dress Lace Ups
The darker the colour of the lace ups, the more formal they look. Black is the best choice for black tie events, but it does not mean that it is the only acceptable colour for every formal occasion. Brown is a great choice too. Take it from world-renowned Italian shoe designers who believe that brown is the most versatile colour in lace ups because it matches with many formal and casual attires. A pair of chocolate-brown dress lace ups matches either dark grey or navy blue suit trousers, and even khakis and jeans. When choosing the colour of dress lace ups to pair with your clothes, remember that the lace ups should never be lighter than the trousers.
Toe Styles for Men's Dress Lace Ups
There are four toe styles for dress lace ups. While all of them are widely available, some of them are only suitable for a certain width or length of feet.
Squared-Toe Style
At present, the squared-toe style is the most popular style of lace ups. Men who have wide feet find these comfortable, and men who want to increase the visual bulk of their footwear are partial to this style. However, some critics for men's fashion think that squared-toe dress lace ups look rather chunky and awkward on men. Critics advise men who favour this style to get one or two pairs and not buy their lace ups all in the same style.
Pointed-Toe Style
A pointed-toe style is a very flexible style, and men with short feet can benefit from the extra length it provides. Men's pointed-toe lace ups that look tapered are proper for all formal occasions. Avoid lace ups that are extremely pointed because they make the wearer look like he is wearing leprechaun shoes.
Cap-Toe Style
The cap-toe style is not a shape for lace ups but a seam that divides the vamp and the toe cap, making the front of the lace up looks as if it is a separate part. Other cap-toe dress lace ups do have another layer of leather that covers the toe cap area. A cap-toe style makes a lace up look shorter, so this style is for men with long feet. However, this style is not suitable for black lace ups intended for strictly formal occasions.
Split-Toe Style
Split-toe style, which is the opposite of a cap-toe style, is a vertical line that runs from the toe cap down to where the welt begins. The line on men's split-toe dress lace ups attracts attention but does not shorten the lace ups' visual appearance, so this style is great for men who are short.
Wingtip
As discussed, a wingtip is a distinctive W shape embellishment on the front of a lace up. Lace ups with wingtip style grab more attention than other decorated lace ups. Men's wingtip dress lace ups are great for casual occasions, but because they have decorative details, they are not acceptable for über formal events.
Maintenance of Men's Dress Lace Ups
For dress lace ups to last longer, you should store and care for them properly. Placing dress lace ups in their box after use protects them from dust accumulation. Shoe trees, which are a device that approximates the shape of the shoe, are placed inside the dress lace ups to stop the leather from having creases, and to preserve the shape of the lace ups. To keep the dress lace ups clean and shiny, routinely polish them using a brush with horse hair bristles and wax polish.
How to Buy Men's Dress Lace Ups on eBay
Even if you are getting your first pair or just adding to your men's dress lace up collection, it is more convenient to buy on eBay rather than going to a physical store because it saves you time and gas. eBay has a wide selection of both Oxford and derby dress lace ups. You can choose from many different colours, styles, sizes, and brands. It only takes a few clicks on eBay to buy men's dress lace ups, whether Oxford or derby. Doing a direct search by typing keywords like "men's dress lace ups" or "Oxfords" in the site's search bar gives more specific results than browsing through the various categories. You can also filter the search results by certain constraints, such as price and size. Be sure to check the seller's ratings and only buy from those with ratings and ask about a return policy. The most reputable sellers have a badge on their profile that says "Top rated seller".
Conclusion
Whether you are a top dog in a company, a savvy businessman, or even a regular guy, you need men's dress lace ups. And not just one but at least two pairs: Oxfords that are suitable for strictly formal events and derby lace ups for more casual occasions. When shopping for this type of shoe, do not be afraid to choose brown as a colour because brown offers versatility. When it comes to choosing the style of the toe caps, there are styles more suitable to a certain height, and a certain width or length of the feet. When you invest in dress lace ups, you also need to invest in care products, such as wax polish, a quality brush, and shoe trees. The society is critical of men's style now more than ever, so being well-dressed from the neck down to the toes has become important for men. Having well-chosen dress lace ups that you can use in both formal and casual settings means that you are a man of style and class.