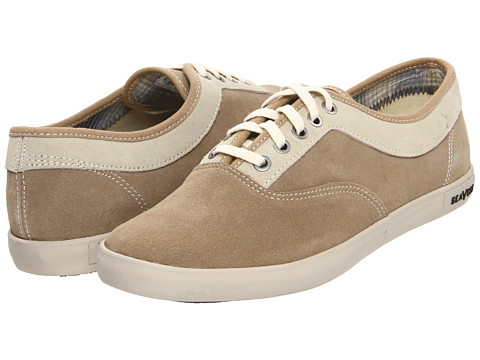 Wearing a pair of plimsolls in the past was just for doing calisthenics within the school compound and for teachers to have less damaging tools to smack unruly students with. However, these days plimsolls are the most common footwear seen practically everywhere. Whether at a shopping mall, a beach, or a corporate party, you can encounter other men wearing plimsolls.
Men's plimsolls have evolved into different styles and colours, so men can have a pair for different occasions. Since there are so many plimsolls to choose from, when buying in shops or on eBay, it is important to sort through them and determine what the general types are. It is also equally important to learn how to wear plimsolls as well as how to care for them because unlike other types of shoes, an air of deliberate casualness is needed when wearing or caring for plimsolls. Let this guide help you learn all about men's plimsolls.
Origin and Other Names
Even before it became customary for physical education students to wear plimsolls and for teachers to use them for corporal punishment, plimsolls were beachwear in the 1830s developed by the Liverpool Rubber Company. For this reason, people from other parts of the U.K. still call them sand shoes, or sannies. The word "plimsoll" came from the Plimsoll line on a ship's hull because the horizontal band between the sole and the upper part of the shoe resemble the Plimsoll line.
The name that people give plimsolls may change as you travel around the U.K. and outside of it. People call them gutties in central Scotland and Northern Ireland, sannies in Scotland, daps or dappers in parts of Wales and the West Country, and pumps in London, the home countries, much of the West Midlands, and northwest England. Instead of plimsolls, men across the pond use sneakers, tennis shoes, or deck shoes, depending on the style of the shoe and region. Plimsolls become canvass shoes in Australia and India, tekkies in South Africa, and in translation, deck shoes or sailing shoes in Germany.
Types of Men's Plimsolls
As a basic rule, to determine the plimsolls type, all you need to do is look at the length of the upper (the top part of the footwear) since the general categories of plimsolls only vary in terms of the length of that part of the shoe. Men's high-top plimsolls reach up to the ankles, and they are very popular amongst men both in and outside of the U.K. This type is a common choice for basketball players and fashion-forward men. You should not confuse high-top plimsolls with high tops that are dress shoes. The second type is men's low-top plimsolls or the low tops. They have a variety of designs and colours just like high-top plimsolls. A third type is men's mid-cut plimsolls. The upper of mid-cut plimsolls are somewhere between that of the high-top plimsolls and low-top plimsolls.
Sizes for Men's Plimsolls
When searching for the right size, there should be some room in the front for toes to have some room to wiggle. Plimsolls that are too tight, aside from being very constricting, can lead to a toenail injury called black toenail. A modern take on wearing a suit can involve donning a pair of plimsolls, and if you plan to grab this look, do not wear plimsolls that are too long. A suit that goes well with plimsolls has tapered trousers, and since tapered trousers adds length to shoes, wearing oversized plimsolls with tapered trousers makes your feet look eerily long.
Size Chart for Men's Plimsolls
The table below shows the different sizes of men's plimsolls. The U.K. sizes in the second row are the sizes you usually see when you buy plimsolls.
| Centimetres | UK | US |
| --- | --- | --- |
| 15.2 | 6 | 6.5 |
| 16.5 | 6.5 | 7 |
| 17.8 | 7 | 7.5 |
| 19.1 | 7.5 | 8 |
| 20.3 | 8 | 8.5 |
| 21.6 | 8.5 | 9 |
| 22.9 | 9 | 9.5 |
| 24.1 | 9.5 | 10 |
| 25.4 | 10 | 10.5 |
| 26.7 | 10.5 | 11 |
| 27.9 | 11 | 11.5 |
| 29.2 | 11.5 | 12 |
| 30.5 | 12 | 12.5 |
| 31.8 | 12.5 | 13 |
| 33 | 13 | 13.5 |
The table has both U.K. and U.S. sizes. This serves as a quick comparison chart if you are buying plimsolls with U.S. sizes
Wearing Plimsolls
Understated is the word to keep in mind when thinking about how to rock men's plimsolls. There are modern designs for plimsolls that are perfect for getting the preppy look, but normally plimsolls have that battered look, so breaking in plimsolls means getting it a little dirty. When it comes to trousers, straight-cut jeans are the regular partners of plimsolls. Thin-soled plimsolls are highly suitable shoes when wearing smart trousers, or trousers that are part of a suit. The chunkier plimsolls are great when you are wearing shorts; just make sure that you are wearing socks that do not go higher than the ankles, or better yet, wear socklets instead. Whether you opt for a high-top, mid-cut, or low-top plimsolls the important thing is to not fuss when wearing them. The whole concept of wearing plimsolls is to show people that it is as casual as it can get, and to be in that state do not worry if your pumps look battered enough. Cool is as cool does.
Caring for Plimsolls
Unlike other types of shoes, plimsolls are not very hard to maintain. In fact, style gurus recommend that plimsolls should be ragged for the wearer to achieve a carefree look. Squeaky-clean plimsolls with spotless white heels do not make a cool impression to your plimsoll-wearing friends. After purchasing a pair of men's plimsolls, use them for a couple of months without cleaning or wiping them. Use a damp brush to remove patches of stain or grime, and then use cloth to polish (as well as even out the traces of dirt) the plimsolls. In the 90s, men who wanted their plimsolls to have the brownish, dirty look would soak the soles in beer or pop. This process creates plimsolls that look muddled enough to pass as "cool". It is perfectly alright (and even awesome) to have little holes on the plimsolls as a result of constant wear. But after all the talk about roughening the plimsolls, proper hygiene is still important. Use odour eaters for the insides of the plimsolls, and if necessary replace worn-out soles with anti-bacterial soles that are available on shoe shops or on eBay. Even though plimsolls do not need cleaning as regular shoes do, you still need to make sure that despite having the muddled look on them they are still clean inside.
How to Buy Men's Plimsolls on eBay
eBay is a treasure trove of men's plimsolls. There are so many types, designs, and colours of plimsolls, and there are a lot of manufacturers that produce plimsolls at an incredible rate. The great thing is that you can find them on eBay. To start looking for men's plimsolls, just go to the website and start your search to find plimsolls that suit your taste. Doing a direct search with specific keywords like "high-top men's plimsolls", "mid-cut plimsolls", or "low-cut men's plimsolls" help you easily get to the plimsolls of your choice. You can also search by colour, such as "black men's plimsolls".
eBay even shows the site's popular plimsolls and related shoes when you do a search. Once you find a perfect pair, you can still save other favourite items by clicking "Add to Watch List" to track the items. Lastly, when buying on eBay, remember to make sure the sellers have a lot of good feedback and ask about a return policy.
Conclusion
You may favour the high-top variety over the low-top or the mid-cut variety, but whatever type of men's plimsolls you choose, what is important is to break them in by getting them a little dirty to achieve the ragged look. However, you must also deodorise the inside of the plimsolls as you would do to other shoes you own.
Men's plimsolls have become a ubiquitous type of footwear in the U.K. They are lightweight and very comfortable to wear. Plimsolls go well with jeans and shorts, but they also make a statement when worn with suits, which means people can wear them even in the workplace. This frees you from the arduous task of walking or commuting to work with a pair of awkward formal shoes. Realistically speaking, men's dress shoes are not really that awkward to wear, but in terms of comfort and versatility, nothing beats a well-chosen pair of men's plimsolls.
Ragged plimsolls are mostly suited for street wear, but less-conspicuous types are slowly making their way to the formal scene. For example, creative businessmen at an ad agency may still wear leather shoes, but they could be a pair of leather plimsolls. The avant-garde still wear crisp suits, and they even pair it with plimsolls. Be brave, be bold, and buy a pair of plimsolls and wear them to work.