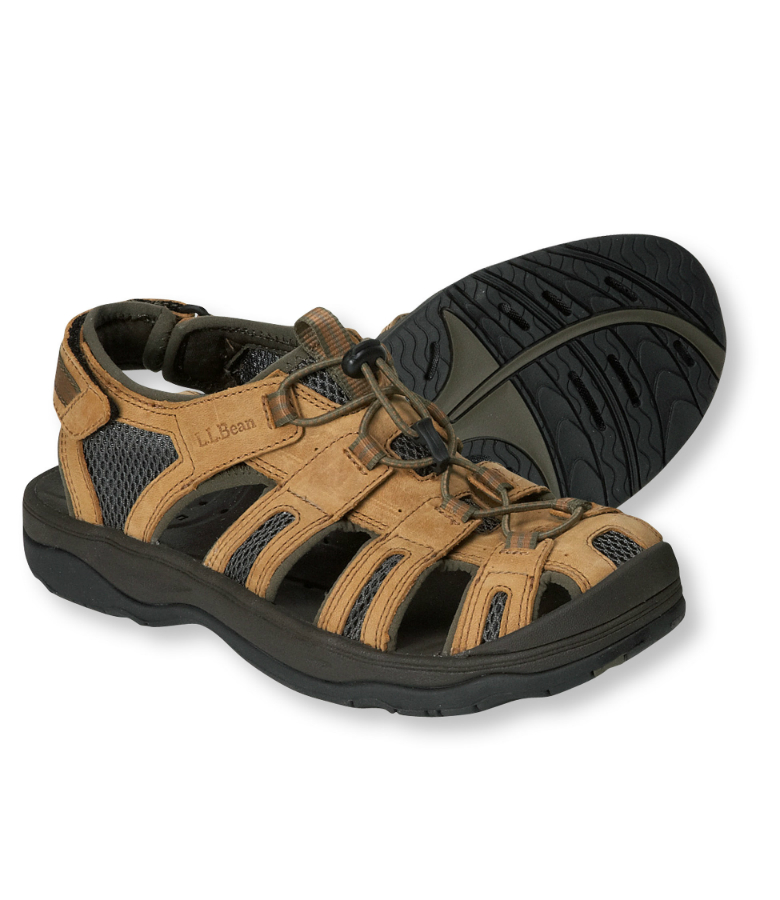 Sandals with straps have been around literally for thousands of years, and are among the first ever footwear archeologists have found. So it is of little surprise that there are now various types of strapped sandals. Whether for casual strolling or for serious walking, for playing sport or relaxing on the beach, there are strapped sandals suitable for just about any activity.
This makes it important to know a little about the various types of strapped sandal before setting out to buy a pair. The prudent shopper should have a clear idea of what he wants the sandals for. There are strapped sandals for walking or for hiking, as well as sandals designed for sport, and strapped sandals for casual wear. Strapped sandals are manufactured from materials that range from leather, to synthetics and woven textiles. Whereas high street stores will offer a fair range of strapped sandals, particularly in spring and summer, shoppers often find that the selection available in the high street is disappointing. For a wider choice, it is better to look at the online marketplaces such as eBay, who do not suffer the same stocking constraints as the high street. eBay offers a very large selection of strapped sandals, which greatly simplifies finding the ideal pair.
Types of Strapped Sandal
All strapped sandals have a sole that provides protection to the foot when walking. The straps for the most part simply hold the foot in place on the sole. This design concept differs from shoe to shoe and vary according to how much of the foot is protected by the uppers.
Although the basic concept of strapped sandals may sound very simple, the prospective buyer is often surprised by just how many different variations there are on the theme. Some of these variations are structural, such as the inclusion or exclusion of a heel strap. Others are related to the materials used in manufacturing the sandal, or design refinements which make it better suited to its purpose.
Walking or Hiking Sandals
Originally designed for practical use rather than fashion or aesthetics, walking and hiking sandals nevertheless make a great effort to look the part. Functional, utilitarian, but rugged and highly engineered is how their manufacturers like them to be perceived. These sandals need to be able to cushion the wearer's feet during hours of pounding the ground, and they need to last.
Important features of a good walking or hiking sandal include chunky, durable soles which are often synthetic, and must have a good grip pattern and proper arch support. These strapped sandals may also have a special lining to wick away the moisture generated by hardworking, sweating feet. Walking or hiking sandals need ample cushioning between the sole and the foot, and sufficient straps to form a rigid and durable frame.
Sports Sandals
Another type of strapped sandal which promotes a high-tech image, sporting sandals are often designed to be worn either on dry land or in the water. To achieve this they are frequently made to a pattern which will allow water to drain away quickly, particularly from the heel. They also use water repellent, synthetic materials such as neoprene for the lining and uppers. Sports sandals need good traction, including when used in the water. Many therefore feature a hard rubber tread cut into the soles and heels to grip the ground.
Compared with other strapped sandals, sporting sandals are often fairly heavily enclosed. Sometimes the straps cover such a large percentage of the uppers that they resemble training shoes with holes cut into them. This gives a sturdier sandal with the rigidity needed to protect the foot in sports activity, as well as to support it.
Casual Sandals
These are a much more laid back affair than either of the two types mentioned above. The traditional, and almost certainly the original sandal, casual strapped sandals frequently have just a couple of straps across the uppers and perhaps a heel strap. They tend also to have much flatter, less supportive soles, although more expensive pairs will have arch support and padding.
These sandals are ideal for strolling, socialising, shopping, and all the normal activities which are undertaken in everyday shoes. They are designed to be worn without socks, and allow the feet to stay cool and dry in the summer heat.
The Ideal Materials for Strapped Sandals
The first sandals were probably made from woven grasses or palm fibres. These days, they tend to be made from more durable substances, such as leather and synthetics. There is no 'right' or 'wrong' material for a pair of sandals. Each substance has its strengths and limitations, although some are certainly more suited to particular uses than others.
Leather
High on visual appeal as well as durability, natural leather is probably the material of choice for uppers where cost is not an issue. Strong, able to mould itself to the wearer's foot, and reasonably tolerant of water, if a pair of good quality leather sandals is looked after well it should last for many years.
The strength and rip-resistance of leather are particularly attractive qualities when considering strapped sandals, as the straps can receive a considerable amount of stress at the point where they insert into the sole. This can often lead to the strap snapping if the material is not sufficiently durable. Expensive sandals may use leather for the sole too, although these days this is less common.
Composite Leather
This modern addition to the range of available material has a lot going for it. Composite leather is made by processing the leather fibres from recycled leather or off-cuts from leather being used for other purposes. In this way, it may well claim to be environmentally friendly. Certainly, composite leather has advantages over other materials. It is cheaper than ordinary leather, and more easily handled as it is processed into standard sized rolls. It is hard wearing, and if it doesn't have exactly same tactile qualities as normal leather, it does have a leather-like look and feel.
Suede
Very much a choice for the style conscious, suede is not as hard wearing as ordinary leather but does look luxurious. Because it lacks the tough outer layer of the animal hide from which it was cut, suede is poor at repelling water and dirt. That said, most strapped sandals are worn in climates which are hot and dry, and they should not need to counter the wet.
Synthetics
Synthetics include artificial rubbers, and other high-tech materials which are somewhere between a plastic and a rubber, as well as synthetic fibres which are woven into textiles. The advantages of synthetics are their affordability, their lightness, and in many cases their durability. They are also water repellent, and will not rot. For all these reasons, synthetics are particularly popular for sports and walking or hiking sandals.
Woven Textile
Natural fibres such as linen and cotton make attractive but not very durable sandals. Modern synthetic fibres are much more durable, as well as being light in weight and water resistant. This makes them popular choices for strapped sandals where performance rather than luxury is at a premium.
Plastic
Plastic is a great choice for budget buyers, as it is easy to manufacture, unaffected by water, and fairly durable. Strapped sandals can easily be found with plastic uppers, although the soles will normally be synthetic. Unlike shoes, where the inability of sweat to escape from plastic uppers can be a problem, sandals are open to the air and therefore less severely affected by this constraint.
Buying Men's Strapped Sandals on eBay
If you are considering buying a pair of strapped sandals, the first thing to decide is what they will be used for. Then decide what type of material you prefer, and how much you are willing to pay. These points will go a long way to determining what your ideal sandals will look like. Finally, consider matters of colour and style details.
Internet marketplaces such as eBay carry a wide selection of strapped sandals. And because they do not suffer from the stocking constraints which affect traditional retailers, they generally offer a far broader choice than you will find in a high street store.
Searching for mens strapped sandals on eBay is easy. Simply enter a phrase such as men's sandals in the search bar, which can be found on each page, and then browse through the listings the search engine returns. You can narrow the search further by specifying the size, colour, style or other details that you prefer. The sheer range of sandals available on eBay makes finding the ideal pair much easier. The more specific your search query, the more honed the search will be. You can also sort the listing to only show those sandals listed by sellers who have the highest feedback scores. These sellers are referred to as 'top-sellers'.
Conclusion
Strapped sandals have been around for thousands of years, during which time they have developed into a whole range of specialised products which take advantage of different materials. Some strapped sandals are suited for hiking or walking, others for playing sports, and others still for general socialising. These latter tend to place a greater emphasis on style and comfort, whereas the former are more practical and utilitarian.
These differences make it important to find the right sandals before making a purchase. In order to do so, the prospective purchaser needs to first decide what he wants to use them for, and then decide how much money he is willing to pay. With these decisions made, he can begin looking.
The high street is limited in its options when it comes to sandals, as stocking constraints mean that only a small range can be available at any one time. Online marketplaces such as eBay do not suffer these constraints. eBay is therefore able to offer a wide range of all types of men's strapped sandals, which makes it easier to find the ideal pair.