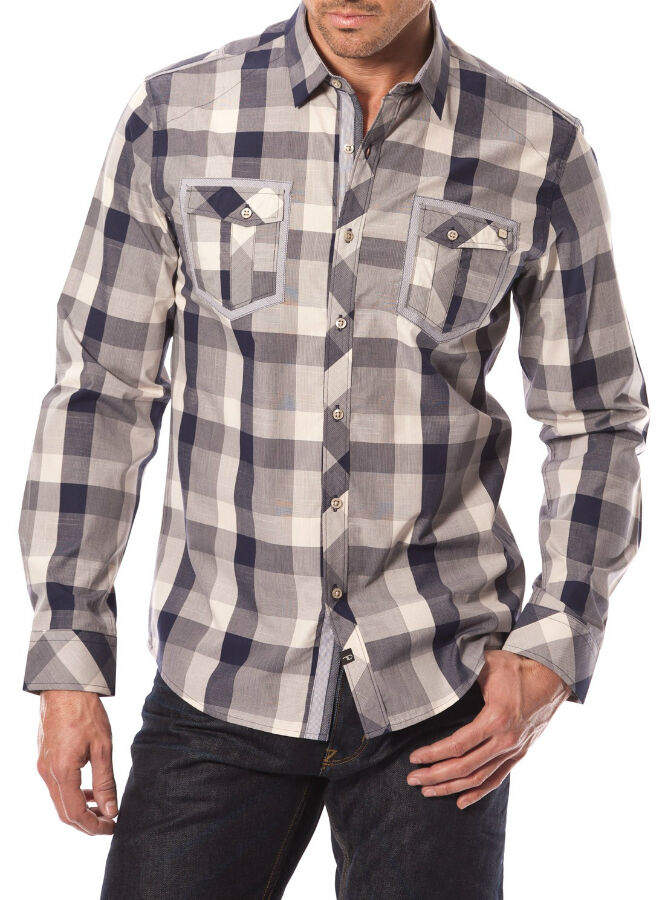 Men's vintage clothing is coming back into fashion and for good reasons. Many clothing items from past eras are handcrafted with precision and care and are of high quality. They are also often made to last for many years, and it is not too difficult to find vintage clothes in good condition. Vintage clothing items carry an air of history and wearing them is a great way of giving a nod of respect to the fashion statements of past decades. However, if you are buying vintage clothing for the first time, it is crucial to know how to select good quality items.
In this guide you can learn what vintage clothing is, what the main types of popular vintage clothing are, how to identify and inspect them when buying, and how to purchase them from online retailers such as eBay. All this information will be very helpful when shopping for clothing made in previous decades.
What is Vintage Clothing
People usually think that vintage clothes are just second hand clothes; however, this is not true as although many vintage clothes are second-hand items, they are actually any clothes that were produced between the 1920s and the 1970s, while clothes made before the 1920s are considered antiques. However, some people only consider clothes made up to the 1960s to be vintage. The majority of vintage clothes are second-hand items, while those that have not been worn are very difficult to find and are very valuable.
These clothes are the products of another era and can provide any man wearing them with a sense of classic sophistication and nostalgia. Most vintage clothes look great on anyone and are still relevant today as today's garments are ultimately inspired by creations from the past.
How to Buy Vintage Clothing
Any clothes produced between the 1920s and 1970s can be vintage. They include shirts, dinner jackets, blazers, hats, ties, sweaters, shoes, and more. Therefore, you only need to search hard enough to find the vintage item that you want. Places that may sell vintage clothes include thrift stores, flea markets, vintage clothes shops, and online shops such as eBay.
Identifying Vintage Clothing
Vintage clothes are quite easy to identify if you know what to look for. First of all, you should look at the design, colour, and general appearance of a clothing item. Vintage clothes from different years have their own style and they usually look different than modern clothes. However, there are many new vintage-styled costumes which look like vintage clothes. These clothes are not vintage as they are produced very recently and are only inspired by past fashion designs. Vintage clothes, especially the earlier ones, are often made of natural fibres such as wool or cotton; therefore, inspecting the fabric can help the buyer to quickly differentiate between vintage and non-vintage garments.
You should also look at the labels on the clothing. Labels on vintage clothes may include the city or place the garment was made in. They sometimes also have a more exaggerated typography meaning that the letters are more decorative and often times large. The labels may also be bigger and more ornate than today's minimalistic-design labels. Next, you should look at the price tags as many unused vintage clothes come with old price tags. They are often made of paper and have ink or staples which clearly look old.
Inspecting the Condition
Although vintage clothes may have been worn for many years, they are usually of better quality than modern ones. The majority of vintage clothes, especially older ones, are often made by hand and with high-quality fabric which can last much longer than modern fabrics do. It is not uncommon to find vintage clothes in excellent shape with minimal signs of wear but, since they are aged clothes, it is always important to thoroughly check the vintage item before buying it. To help you determine if the item that you want is in good condition, the following section discusses what to look for when checking the condition of a piece of vintage clothing.
Wears and Tears
Every part of the garment should be checked. Make sure you look at the elbows, cuffs, collars, armpits, hems, knees, and every other part that could have been subjected to stress if the item was worn. Clothes that usually undergo heavy wear are shirts, shoes, and trousers.
Any tearing in parts other than on the seams is not easily repairable and, if it is, the patched or repaired part is often difficult to hide when wearing the garment. You should use your discretion if you want to buy clothes with this kind of tears.
Stains
The buyer should check for stains especially where they can be seen when the garment is worn. Some stains can be removed, especially recent ones. But, in general, if there are stains on vintage clothes, they have been there for a long time and are very difficult to get rid of, such as those caused by mildew. Stains do not cause the fabric to deteriorate or tear, so it is up to you if you do not mind having a small stain on a hidden part of your clothing.
Fading Colours
To more clearly see any fading or irregular discolouration, you can set the item on a table or have it hung in front of you. This enables you to look at the whole garment and makes it easier for you to notice any discolouration. However, you should also turn the garment inside out and check the seams for any fading. If the vintage clothing has only minimal fading, it should be fine to buy.
Odours
Some vintage clothes might have odours on them because they have not been washed for a long time especially those found at flea markets and thrift stores. These odours should disappear when the item is either washed at home or professionally. However, it is important to know the right way to wash different materials as some vintage items can be damaged if washed wrongly.
Moth Holes
Some clothes, especially those made of wool and other natural fibres, are prone to be eaten by moths, even more so if they have been kept in a dark place for a long time. Moth holes are mostly irreparable so the buyer should check any vintage clothing thoroughly before buying it, especially darker ones as moths prefer darker-coloured clothes. If you do buy clothing that has moth holes, you should first dry clean it or wash it in hot water to get rid of any moth larvae to protect your wardrobe.
Others
Vintage clothes may be damaged by mildew. If there is any mildew damage on a clothing item, it is advisable not to buy it as the damage is permanent. Moreover, the buyer should check that all components or accessories of the garment, such as buttons and zippers, are present and functioning properly.
Vintage clothes come in many conditions and may sometimes be referred to as being in mint, very good, or other conditions. The following condition chart summarises the various conditions in which vintage clothes can be found.
Condition

Description

Mint

perfect condition

almost flawless

no signs of wear

Excellent

worn well

minor flaws

Very Good

worn frequently

minor wears or tears

can be repaired

Good

noticeable flaws

signs of wear

can be repaired

Fair

numerous flaws

might be repairable

Poor

damaged

irreparable

cannot be worn
Mint-condition clothes are very difficult to find as there are not many vintage clothes in perfect form. Vintage clothes in all conditions from mint through fair can still be worn, unlike those that are in poor condition. Clothes that have a good or fair condition should be given extra care so they can last longer.
Buying Men's Vintage Clothing on eBay
eBay has a large selection of clothes including men's vintage clothing. All you need to do to find a vintage item that you want is to search for it. On the eBay home page, just type in what you want into the search bar, for example, "men's vintage suits". When browsing through all the suits, you should check whether they are real vintage or vintage-styled suits for you to get what you really want. You can also browse eBay shops which sell vintage clothes. These shops are searchable from the eBay shops page by typing "men's vintage clothes" into the "Search for a Shop" bar.
You can select a suit that you like and see more information on it such as the size, the year it was made, and more. Also remember to look at the displayed item's condition. If it is new instead of used, you might want to ask the seller if the garment is genuinely vintage. Vintage clothes may not always be in perfect condition but you should still read the seller's return policy to make sure you can return the item in case it does not fit or for any other reason. If there is no return policy displayed, you can contact the seller directly to ask them.
Conclusion
Men's vintage clothes are gaining popularity because they are sometimes precious pieces of history and can look great when matched with the right outfit. Before buying any vintage clothing, you should first identify whether the garment is truly vintage or just vintage-styled, because the latter can look exactly like a true vintage item. Earlier vintage clothes are often made with natural fibres while later ones may also have synthetic materials too.
To search for vintage clothing, ask your friends where you can get one, visit flea markets and thrift stores, or search on online stores such as eBay. Inspect vintage garments to make sure you do not miss any flaw as vintage clothes usually have signs of wear and tear. If a vintage garment has irreparable damages, it is better not to buy it unless you do not intend to wear it. By being careful and knowing what to look for when scouting for men's vintage clothes, eBay can be a treasure trove with the perfect vintage item for you.