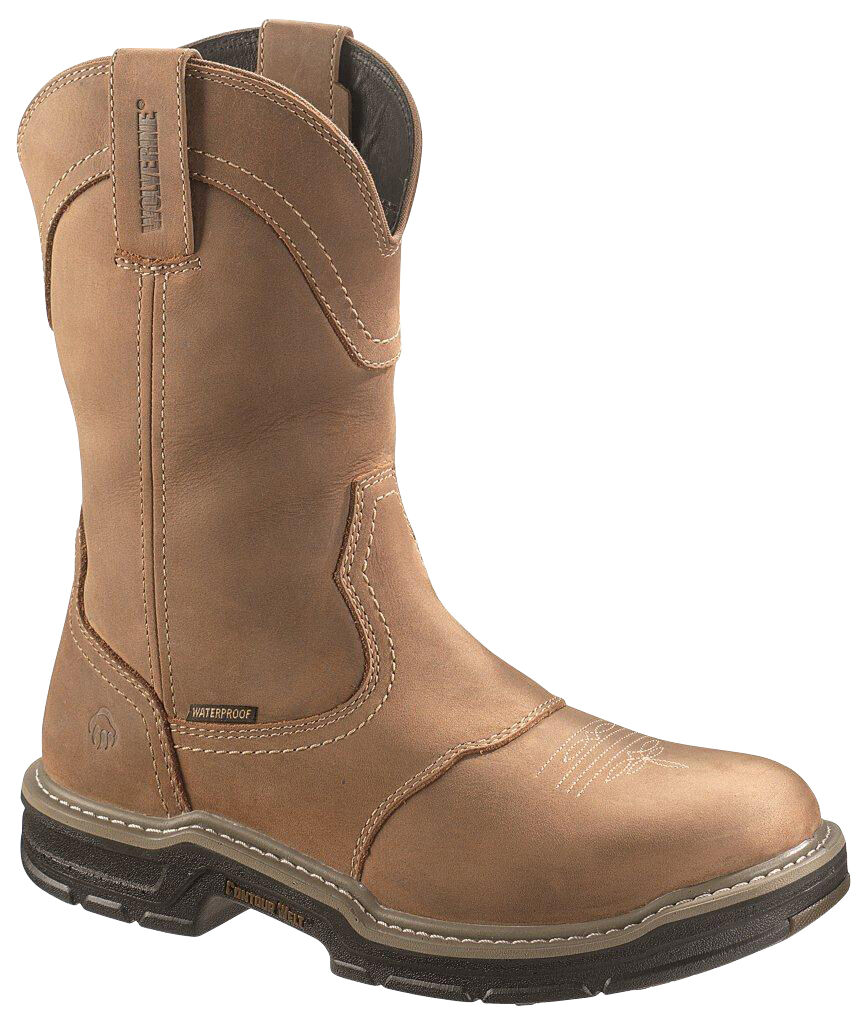 The Wellington boot originated in England in the 19th century when Arthur Wellesley, the 1st Duke of Wellington, had his shoemaker create a pair of Hessian style boots out of soft calfskin leather and modify them to fit closer to his leg than the original design. The heel of the boot was cut down and it only rose up to mid-calf rather than all the way up to the knee. The new boot design was sturdy and comfortable and could be worn for hunting or battle as well as in the evening while relaxing. The new boot design quickly caught on and was referred to as the Wellington in honour of its designer.
Today, the Wellington boot is as popular as ever and is made from various materials which serve different purposes all over the world, while protecting men's feet just as the original design was intended to do. Before a buyer purchases a pair of Wellington boots, he should learn about the different styles available and the different materials used to design the boots.
Different Styles of Wellington Boots
There are basically two different styles of Wellington boots available depending on what part of the world the buyer resides in and what they intend to use the boots for. Each style has advantages depending on the requirements of the buyer.
English Style
The English Wellington boot is mainly constructed out of rubber or polyvinyl chloride (PVC) to make it waterproof. The English style boot is usually cut just below the knee and is worn when people walk in muddy and wet area. The English Wellington is also commonly worn in colder climates where the bottom portion is rubber and the upper section is constructed out of leather or nylon for water resistance. This boot style is usually fur or fleece lined to ensure proper insulation when used in colder climates. The rubber Wellington is also commonly used in various industries which require a rubberised boot for safety reasons such as to prevent slippage or protect against chemical spills. This Wellington style usually has sturdier construction with reinforced toes to further protect the user's feet.
American Style
The American Wellington boot is actually styled more closely to the original design developed by the Duke of Wellington. The American Wellington is crafted from both leather and rubber, with leather being more commonly referred to as the Wellington. The rubberised version of the American style is often just referred to as the rubber boot. This boot is very popular for use in many of the same industries as its English counterpart. It is often insulated with fleece or other materials to provide warmth when used in cold and wet environments, such as in the fishing industry. The leather Wellington is often referred to as a ranch boot and differs from the traditional cowboy boot by having a more rounded tip than the pointed cowboy version. The Wellington usually has a rubberised sole for traction and comfort, and it is an ideal work boot for ranchers and farmers.
Materials for Wellington Boots
Although there are two main types of materials used to construct Wellingtons, they often incorporate different types of materials to change the use of the boots. Rubber and leather are the main materials used to construct Wellingtons, but the use of fleece and other materials serves to create much more versatile boots.
Rubber
Rubber is the most frequently used compound to construct Wellingtons because of its many beneficial characteristics. Rubber, PVC and other synthetics are popular materials because they are waterproof and also resist chemicals. This is important when used for safety in industrial plants or in areas which are frequently muddy and wet. Rubber is very easy to clean and it does not stain, and when combined with other materials, it is used to fashion boots that are capable of handling the harshest and coldest climates on earth. Rubber is also a very prevalent material that is inexpensive to produce and is widely available, so Wellingtons made from rubber are cost effective and easy to find.
Leather
Leather is a very traditional material used to construct Wellingtons because of its durable nature and comfortable characteristics. Originally, Wellingtons were designed to be worn in battle or during extended hunting trips, so durable materials and rugged construction were very important. They were also designed to be comfortable enough to wear for long periods, and leather was the perfect material to accomplish this. Today, leather is very popular in American styled Wellingtons as well as in English snow boots that have rubber bottoms. Leather is readily available, but it is more expensive, making leather boots more expensive than rubber boots. However, a pair of leather Wellingtons gives the wearer many years of faithful and comfortable service.
Fur
Fur is a material that is used to augment the comfort and insulation inside Wellingtons constructed of other materials. Oftentimes, cold weather Wellingtons utilise fur as an insulating material to provide warmth against the cold. Fur traps air close to the feet and helps to keep the feet warm, so it is an ideal material to add to Wellingtons designed for the snow. Fur is more difficult to produce, so it makes for more expensive boots.
Nylon
Nylon is a sturdy and water-resistant material used in the construction of the upper portion of cold-weather Wellingtons. These boots are lined with either fur or fleece to act as insulation against snow and wind, making these Wellingtons both lightweight and warm. Nylon is very durable and has good abrasion resistance. It dries very quickly and is easy to care for, so it makes for an excellent material for the upper part of cold-weather Wellingtons. Nylon is easy to produce and inexpensive, making it a great value in boots.
Fleece
Fleece is a synthetic material used in the lining of both rubber and leather Wellingtons to help insulate against cold and wet climates. Wellingtons which are designed for cold and wet climates are usually lined with fleece instead of fur, because fleece retains its insulating properties even when wet, where fur does not. Fleece is very comfortable to wear and helps to wick moisture away from the skin, which helps to further insulate feet against cold weather. Fleece is easy to produce and inexpensive, making it an ideal alternative to fur or wool as a boot lining.
Wool
Wool is very similar to fleece in its qualities, but it is a natural fibre. Wool has excellent insulation characteristics and can also absorb large amounts of moisture and still maintain its insulating properties. Since wool is a natural material, it is expensive to produce and not as readily available as fleece. Wool-lined boots are often the most expensive, but offer the highest quality of insulation and construction.
How to Buy Wellington Boots on eBay
When shopping for Wellington boots, a smart shopper utilises the search tools available on eBay to find Wellingtons at great prices. Shopping on eBay is both easy and safe, and the wide variety of Wellingtons offered make finding your next pair very convenient. Simply go to the eBay homepage and enter a keyword such as "black Wellington boots" into the search box. A list of auction items will be displayed that relate to that keyword. You can either search through the various listings until you find a pair of Wellingtons that you like, or you can narrow your search by selecting various categories such as brand or colour. You can also enter a specific brand name of Wellingtons into the search box if you already know what you are looking for.
Verify Seller Feedback
Once you have settled on a particular pair of Wellingtons, the next step is to make sure that the seller has a good reputation on eBay. The eBay community utilises buyer feedback to rate each seller on the transactions they conduct. Sellers which have good feedback ratings can be relied upon to conduct their auctions in a professional manner, because they value their reputation. Highly rated sellers put customer satisfaction first, so they can be trusted to complete the transaction in an honest fashion.
Conclusion
Wellington boots have their origins in the 19th century and are based on a Hessian boot designed nearly a century prior to that. Wellington boots link their heritage to royalty, but they have become boots which are worn by men all over the world for many different purposes. Wellington boots are made from several types of materials depending on the specific use they are intended for. Rubber Wellingtons are commonly used in wet and muddy conditions to keep the wearer's feet dry. In cold and snowy climates, Wellingtons are insulated with fur, fleece, or wool in order to protect the user's feet from the cold. Rubberised and insulated Wellingtons are boots commonly found in the fishing fleets of nations all over the world, and leather Wellingtons with rubber soles are a mainstay of ranches and farms all across America.
When shopping for Wellingtons, it is important to shop around for the best deals available prior to making a selection. Whether you shop in stores or online at auctions or retail websites, it is important to find a reputable seller which has a large listing of boots at good prices. It is easy to accomplish this all in one easy and convenient auction site such as eBay.