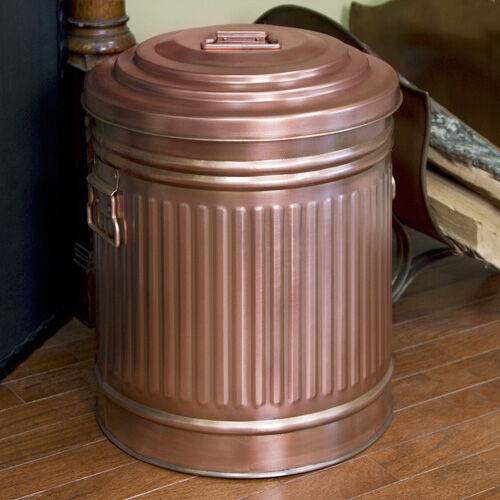 Bins are household necessities that are used to store rubbish and waste until it can be properly disposed. Choosing a metal bin is a good idea, as this element prevents bacteria from spreading and is very good at trapping bad odours. Metal bins are available for use both outdoors and indoors, and there are plenty of variations to choose from. Depending on where the bin will be stored, one type will be more suitable over another, and buyers should buy bins that are appropriately sized for their surroundings.
eBay has plenty of new and used metal bins, often at much lower prices than those found in stores or on other websites. The following guide shall examine the various metal bins for sale on the site, and discuss which ones are suitable for where. This guide shall also assist buyers in finding a metal bin on eBay.

Rubbish Bin Materials
Modern bins are mainly manufactured from two materials, plastic and metal. Both can be used indoors or outdoors, but depending on the finish and the place of storage, buyers may find one material more suitable than the other.
Plastic or Metal?
Rubbish bins that are manufactured from plastic are usually durable and able to withstand impact and trauma. Bins that use thick plastic will last a lot longer than models made from thinner plastic.

Plastic bins also tend to be quite inexpensive, which is a reason for their popularity. Thick plastic rubbish bins can be kept in kitchens, bedrooms, bathrooms and in the garden. However, there are a number of reasons why some people avoid using this material.

Plastic does degrade over time and is susceptible to scratches, dents and cracks. A plastic rubbish bin filled with heavy waste can buckle under pressure. Plastic also absorbs food stored in it, and a bin filled with food waste will begin to smell. Plastic rubbish bins that have absorbed odours require a thorough cleaning with hot water and soap to remove the smell. Plastic has a large impact on the environment, and although it is recyclable it is not biodegradable.

There are a number of reasons why people choose metal rubbish bins over plastic models. Metal is a strong element that can withstand a lot of pressure, and it requires a strong force to dent or damage it.

Metal bins are lightweight while maintaining strength. Unlike plastic, metal can handle high and low temperatures without any sort of physical reaction. One of the main reasons why metal rubbish bins are so popular is this material will not absorb odours, regardless of what type of waste is stored in it. A metal bin with a lid or strong door will trap any odours and keep a kitchen free from unwanted smells. It is a lot easier to clean a metal bin, and one wash will get rid of any of the bacteria left inside.

Metal bins are more hygienic and it is hard for bacteria to survive in them. This makes these bins suitable for use around the house and outdoors. Metal rubbish bins are also more visually attractive, and there are many finishing options to suit the décor of any room.

Metal Rubbish Bin Materials
Metal rubbish bins can be made from a few different types of metal, but the following are the most common found in and around houses today. There are also a number of finishes for metal bins, including matt steel, brilliant steel and powder-coated steel.

| | |
| --- | --- |
| Aluminium | Aluminium is strong, light and highly resistant to rusting. Aluminium is one of the most popular metals used in bin manufacturing, and aluminium rubbish bins are inexpensive. Aluminium rubbish bins can be used indoors and outdoors. |
| Iron | Cast iron is extremely strong and durable, and has a very long lifespan. Iron is the most commonly used metal in the manufacturing of public rubbish bins, but these bins have a protective coating. Iron is susceptible to rusting and is not suitable for outdoor use unless it has been treated. Smaller compact iron bins can be bought for use at home. |
| Stainless Steel | Again very durable with a long lifespan. Stainless steel has a very high resistance to corrosion and cannot be scratched or buffed easily. Stainless steel is also the most hygienic metal to use, and stainless steel bins are found in hospitals across the world. This type of metal rubbish bin is aesthetically pleasing and very popular in modern kitchens and bathrooms. Stainless steel bins are for use indoors. |
| Galvanised Steel | Galvanised steel bins are mainly bought for outdoor use, but it is possible to buy smaller models that can be stored indoors. Galvanisation is the process of applying a protective zinc coat to iron or aluminium, and this coat keeps the underlying metal safe from corrosion. Zinc is durable and scratch resistant. The lifespan of a galvanised bin depends on the amount of zinc coating it, but most bins can last up to seventy years without needing maintenance. |

Metal Rubbish Bin Models
Buyers should spend some time thinking about where the bin will be kept and what type of waste will be stored. There is a great variety of metal rubbish bins on eBay to choose from, so spend a while browsing through the various models.

| | |
| --- | --- |
| Sensor Bins | Sensor bins are a relatively new product, but are becoming extremely popular. As the name implies, the bin has a built in sensor that will activate when a person approaches. The lid will lift and remain open until all the waste has been deposited. A benefit of using a sensor bin is it reduces that risk of bacteria spreading. This makes it an ideal bin for use in houses with very young children. These bins tend to be quite expensive. Sensors bins are typically used in kitchens only. |
| Pedal Bin | Pedal bins are very common in houses across the world. A pedal bin comprises of the bin and a small pedal at the front, which when stepped on opens the bin lid. Removing pressure from the pedal will cause the lid to drop. Again, these bins help stop the spread of bacteria and this is a reason for their popularity. Pedal bins range in price but it is easy to find a low-priced model. This type of bin can be used anywhere in the home. |
| | To open these bins, the lid must be pressed down. It will either retract into the bin or pop open. This type of bin is one of the cheapest options, but there is the risk of bacteria spreading. Used mainly indoors. |
| Open Bins | Although not as common as they once were, many people still use open bins. And open bin has no lid, and is not suitable for storing food waste, as there is no way to trap the smell. These bins are more frequently used in bedrooms and living rooms to store non-organic waste. |
| Dustbin | The dustbin is a very common type of outside bin. Dustbins tend to be made from galvanised steel, making them durable and strong against bad weather conditions. Using galvanised steel also keeps them light, as they are often much bigger than bins used indoors. Dustbins are suitable for the storage of organic and non-organic waste. |

Buying Metal Rubbish Bins on eBay
When buyers have some idea of the type of bin they want, they should head to eBay.co.uk to being a search. Take the following steps to successfully locate an adequate metal rubbish bin.
Click on the Shop By Category drop down menu, followed by the See All Categories link.
Scroll down to the Home, Furniture & DIY heading. Click on the Cookware, Dining & Bar link. This will load the Cookware listings page.
On the left hand side of the page under the Categories table, click on the Food and Kitchen Storage link.
Type Metal Rubbish Bin into the search bar and press enter.
Searching Tips
Enter as much detail about the bin as possible into the search e.g. type of metal, type of bin, where it should be kept.
The listings page contains all the metal bins for sale on the site, and the amount of bins listed per page can be changed by clicking on one of the numbered boxes at the bottom of it.
Buyers can choose to list new or used metal rubbish bins, but it is advised that buyers search for new bins only. This will guarantee that the bin will be clean and hygienic when it arrives.
Read the description box on the item page for further information about the bin e.g. the bin's dimensions, what type of finish it has.
Review the Seller's History and keep and eye out for negative feedback. If a seller has a large number of negative comments then search for a different bin listing.
Use the Wish List feature to let other eBay users know about a desired bin that may not be currently listed on the site.
Contact Customer Support for help in navigating the site, and the Resolution Centre for help in dealing with sellers.

Conclusion
Rubbish bins are an important waste disposal tool needed in every household. Rubbish bins can be made from plastic or metal, but metal bins are far more advantageous. Metal bins are durable, hygienic and good at trapping odours and stopping the spread of bacteria. These bins can be used in and around the house, but remember to check the composite material as some metals are susceptible to rusting. There are different styles of bins available to buy, but the models that reduce the risk of bacteria spreading are far more expensive than their simpler counterparts.
eBay is a great place to search for metal rubbish bins, and the site has a great selection at unbeatable prices. Spend some time browsing through the bins on offer, and think about where the bin will be kept and what sort of waste will be stored in it.