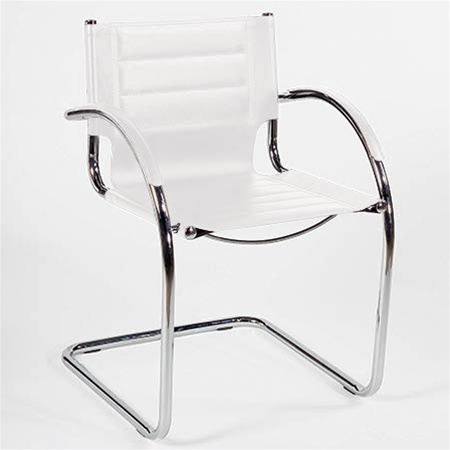 Dining chairs tend to be the glue which holds together dinner parties and nightly family dinners. Modern dining room chairs come in a wide variety of options. Regardless of the type of design style a consumer enjoys, having comfortable dining chairs means having an elegant, well put together area for eating and catching up with family and friends. The multiple variations of the modern dining chair make it easy for consumers to select a style that appropriately fits their decor, personality, and space requirements.
Comfortable, complementary chairs are an important part of the overall design of a dining space, as they help to pull together all the other pieces of furniture in the room and provide one of the most used surfaces in the entire house, after the bed. A nice, relaxing dining environment helps parties, as well as day-to-day mealtimes run smooth.
Modern Dining Room Chair Design
Modern dining room chairs come in a variety of options. The neverending myriad of options, including high and low profiles, various building materials, and infinite other options, makes it easy to find dining chairs that are perfectly at home in one's existing kitchen or dining area. It is for consumers to take the time to sift through the countless options before making a final decision, as this piece of furniture is one of the most important in the modern home.
Several factors come into selecting the perfect set of dining chairs. However, one important factor to consider first is the type of profile the chairs should have, whether it be high, low, or backless.
High Back
High back dining chairs, as the name suggest, feature a full-length back panel, making long evenings around the table ultra-comfortable. A well designed high back chair is usually quite ergonomic, reducing back pain and pressure with the aid of support and improving posture all the while. These chairs also tend to be very attractive and frequently, modern high back chairs are fully padded. Though they clearly do not fit every design scheme, these are a good investment, particularly for individuals who spend a lot of time around the dining table and want a comfortable spot to relax while they spend time with family and friends.
Low Back
Another type of chair is low back or low profile. These chairs do not support the back as fully as the high profile option. Instead they mainly cup the lower back and bottom. However, they work well from an aesthetic point of view, when it comes to low or small tables. They tend to be wider than high back chairs, though this is not always the case. Low back chairs that are flush with the top of a long table make a striking but minimalist addition to many modern dining areas.
Stool
Modern stools, which traditionally feature no back at all, typically offer either a square or round shaped spot on which to sit. They may come with a short raised area to partially support the back, though this is not as common. Some stools are ultra-high, while most are squat, basically a chair without the back coming only a few feet off the ground. Some individuals enjoy having a dining room table that is completely surrounded by stools, while others use them in conjunction with chairs, benches, or other stylish, modern seating options.
The Bench and Chair Combo
Many modern dining room sets feature a combination of chairs and benches instead of only simple chair arrangements. This is a great, space-saving option, particularly for large families. Often, the benches, which are akin to church pews, line the long sides of a rectangular shaped table. Benches, which are usually backless, can often comfortably accommodate two or three individuals at a time. Some benches also feature a pop-up top and hollow center, creating a convenient but camouflaged bit of storage space.
All Wood or Fabric Covered
Many dining chairs feature some sort of upholstery, usually leather or a strong textile like burlap, while others are solid wood. Both of these options has its merits, both aesthetically and other. Finding the right style of covering largely depends on what would best complement the kitchen decor, as well as personal preference of the designer.
Solid Wood
The solid wood dining chair is classic and stately. Though largely out of favour for quite some time, the security, stability, and ease of cleaning afforded by solid wood chairs has helped the style to regain a footing in the modern world of interior design. Long-lasting, it is important to care for solid wood chairs with regular polishing. Some types of solid wood knick easily, leaving the legs of chairs appearing battered and bruised.
The Covered Chair
Covered chairs are attractive. They usually feature some cushioning, part of the covering's purpose, making them softer and more comfortable for long periods of sitting. However, covered chairs also have a tendency to get dirty, especially those which are covered in a light or bright shade of fabric, and depending on the style may be difficult to clean or reupholster. This is the biggest downside to the covered chair. Of course the best option for preventing this sort of damage from occurring is to keep the actual chair shielded using a complementary slipcover.
Other Chair Body Options
As if modern dining chairs did not come in enough variations with the availability of multiple sizes, shapes, and coverings, there are also different options for body makeup. There are sturdy hardwood chairs, carved from a variety of different woods, as well as space age, easy-to-clean, plastic options.
Plastic
Heavy-duty plastic chairs are both simple-to-clean, practical, and resistant to damage. Though plastic chairs were once relegated primarily to the garden, high-quality plastics today are as durable and attractive as the alternative options. When purchasing plastic dining chairs consumers have the option of fully plastic versions or, more commonly, plastic molded seats attached to metal legs. The plastic and metal combination is generally the best value and certainly capable of better supporting heavier weights.
Wood
Wooden dining chairs are a sturdy, traditional favorite. Today's wooden bodied, modern dining room chairs, may feature cushioning or be presented as a solid wood piece. Either way, when properly put together, these chairs tend to be very sturdy and provide the most classic look for a dining room area. Popular woods for the development of modern dining chairs include birch, oak, and teak.
Metal
Metal chairs provide an austerior, industrial appearance. They are a regular component of modern minimalism; easy-to-clean, and attractive. Some types of metal may require routine polishing in order to retain their intended silvery gleam, while other varieties are more resistant to scratching and smudging.
Stackable Chairs
Particularly when it comes to metal and plastic styles, some modern dining room chairs are what is known as "stackable". What this means is that the chairs feature a body design that allows for easy stacking of the chairs on top of one another. For the consumer, it is a simple process for getting chairs stacked up and out of the way when it is time to sweep and mop.
Before Making a Purchase
There are some considerations that must be made when purchasing dining chairs, particularly when they are purchased for a specific table that is already in place. Making sure the chairs both match and fit the existing table is very important. Otherwise, one may end up with chairs that fit awkwardly or not at all.
Measurements
It is definitely important to take a few simple measurements before purchasing a set of chairs for a specific table. Dining chairs come in a variety of heights and widths. Some may be too tall or too wide to fit a specific table. Measure the distance from the floor to the bottom of the table, as well as the distance from one side of the table to the other. Be sure that table sides will be tall enough to accommodate the height of chair and wide enough to fit the number of chairs that is intended for placement on each side.
Complementary Design with Table
Whenever possible it is a good idea to find chairs that complement the table so the two look nice together when assembled. It is a good idea to try to find chairs in colours or types of woods that will look nice against the table. Matching oak with oak, or dark woods with dark fabrics is often a simple solution to ensuring compatibility of design.
Finding Modern Dining Room Chairs on eBay
eBay sellers offer consumers multiple modern dining room chair options. Finding the right set of dining room chairs, new or used, is a simple matter of searching for the right terms, using eBays convenient search engine. Vague terms, such as "dining chairs&" are likely to uncover a high number of searches. More specific searches, like "blue dining chair&" or "solid oak dining chair&", offer results for listings that are more tailored to the consumer's need. Refinement options from eBay make it possible to narrow results even further, for better, more specific search results.
Get to Know the Seller
Before purchasing a set of dining room chairs, or any other item on eBay, you may be able to research the seller with whom you intend to do business. This can typically be done by visiting their eBay seller's profile to read feedback from previous clients, send them a message, or find out what other items they currently have on offer.
Conclusion
The dining room is a central part of many homes. It is the place where families come together to eat, do homework, and discuss recent events. Having a comfortable, stylish place to sit during these times is an important part of a healthy family life and an integral part of satisfactory interior design.
Whether solid wood, covered in leather, or matched with a set of benches, the modern dining room chair can be just about anything. From shabby chic to funky retro, there are millions of options of dining room chair and table sets, meant to match anyones personal design taste. Thanks to the availability of the Internet, today's consumers can search the globe to replace a single missing chair from a set, add to a collection, or totally replace a set of chairs with a complementary alternative.